Avengers Campus at Disney California Adventure in Anaheim has an official opening date. At the annual shareholder's meeting it was announced that Avengers Campus will be opening July 18, 2020.
Disney has also released new information about the Marvel themed land which will include a new ride, shows, and restaurants all directly tied to the Marvel Cinematic Universe.
What We Can Expect From Avengers Campus
Guardians of the Galaxy: Mission Breakout will be joined by WEB Slinger: A Spider-Man Adventure. Guests will join Peter Parker in his lab as he tries to give everyone the chance to experience superpowers, but things go horribly wrong when his Spider-Bot assistants begin to wreak havoc and multiply.
RELATED: SEASON 3 OF DUCKTALES PREMIERING IN APRIL AND REVEAL OF AMAZING CELEBRITY VOICE CAST
The ride will be an interactive video game style ride with similarities to Toy Story Mania. Riders of any height will help Spider-Man by flinging webs to try and stop the Spider-Bots. After the ride people can also create their own customized Spider-Bots at the WEB Suppliers.
The Sanctum is Doctor Strange's domain where he will train new recruits in the mysterious ways of the multiverse. Strange will show off his mystic abilities and at night the Orb of Cagliostro will glow with magical energy. New recruits will get the chance to meet heroes all throughout the Avengers Campus such as Black Panther, Ant-Man and The Wasp, Thor, and Guardians of the Galaxy. Spider-Man, can also be spotted performing death defying stunts high above the buildings. Recruits will be able to train with the warriors of Wakanda, the elite Dora Milaje.
At Avengers Headquarters heroes like Iron Man (in his new Mark 80 armor), Captain Marvel, Black Widow, and Captain America, will meet recruits while staying on the lookout for the notorious villain Taskmaster, who will be featured in the upcoming Black Widow film.
RELATED: A BEAUTY AND THE BEAST PREQUEL IS BEING DEVELOPED AT DISNEY+
When Taskmaster does inevitably show up the heroes will fend off him and his crew of mercenaries battling all throughout and even on the roof of Avengers Headquarters. On top of Avengers Headquarters sits the Quinjet, that will eventually be home to a new ride unlike anything ever seen before.
When hunger overtakes new recruits they can find sustenance at Ant-Man and The Wasp inspired Pym's Test Kitchen, where food and drinks will grow and shrink using the famous Pym-Particles.
Featuring décor such as gargantuan soda cans and condiment bottle as well as humongous cell phones repurposed as menu boards. Food will include the "Pumnini" a gigantic panini that can be served whole for a group or in individual slices, "The Not So Little Chicken Sandwich" a giant crispy breaded chicken breast in a shrunken bun, and much more. For the adults, there will also be cocktails and draft beers available at Pym Tasting Lab.
Guests can find other fare at the Shawarma Palace based on the Avengers after credit scene and desserts at the Terran Treats food cart influenced by Guardians of the Galaxy.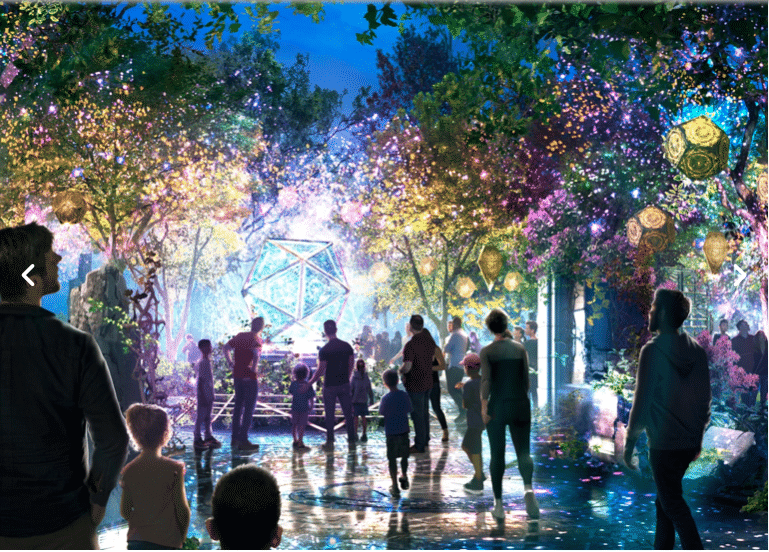 READ NEXT: SUPER NINTENDO WORLD IS COMING TO UNIVERSAL STUDIOS WORLDWIDE STARTING IN SUMMER 2020
What are you most looking forward to from the Avengers Campus? Let us know what you think in the comment section below or on social media?
Source: Slashfilm