While this episode wasn't the Beast Morphers' Dino Crossover episode people were expecting. "Making Bad" serves as a decent callback to some of the older villains of the franchise while also introducing a familiar foe from Ranger history!
RELATED: POWER RANGERS BEAST MORPHERS EPISODE 12: FINDERS KEEPERS
The majority of this Beast Morphers episode was a clip-show, with Evox and his crew trying to decide which powerful villain from Ranger past they should reanimate to defeat the Rangers. Throughout the episode, the villains debate recruiting faces such as Karone and Koragg. However, they decided to pass on those two as both ended up turning good in the end.
They also brought up a Reanimizer candidates were Lord Zedd and Psycho Red. They decided against bringing back Lord Zedd, as they figured he would just betray them because of what he did to King Mondo and his crew back in Zeo. They chose not to use Psycho Red due to his blind hatred for the Red Ranger, which caused him to be ultimately destroyed.
RELATED: THE DRAKKON STORYLINE WAS SO POPULAR IT ALMOST BECAME A POWER RANGERS TV SERIES
Meanwhile, with the Rangers, they see that various jewelry stores have been being robbed. Ravi makes the connection that Evox must be involved. He also notices that they are hitting the stores in alphabetical order giving them an idea of which store will get hit next.
The Beast Morphers Rangers go to the next store and find out that the monster of the week has the ability to turn invisible. They use a special device to see where he is and effectively defeat him as they return the diamonds to the store.
RELATED: POWER RANGERS BEAST MORPHERS 11 REVIEW: THE GREATER GOOD
Later on, Sledge's crew (minus Sledge) go to the next store to steal their diamonds when the rangers (minus Nate and Steel) confront them. The Rangers learn that they are stealing the diamonds to use for the Reanimizer. They destroy Sledge's crew and stop them from stealing any more diamonds. Meanwhile, Nate and Steel defeat the latest Gigadrone.
A Familiar Foe Comes to Beast Morphers!
Back in the Cyberdimension, Evox finally decides which former villain they are going to revive. And that former villain is none other than Goldar himself (with a couple of upgrades albeit)!
Sledge questions the strength of Goldar, making Goldar mad, causing Sledge to finally be destroyed once and for all (we think) ending the episode.
RELATED: POWER RANGERS BEAST MORPHERS: DID TWITTER ACCIDENTALLY REVEAL A NEW RANGER?
Overall I thought that this was another great episode, especially considering it was a clip show. I know fans were fairly upset over Hasbro re-dubbing over some of the archive footage however, I don't think it was any fault of theirs. It's highly unlikely that Hasbro has the original recordings from all the way back in MMPR and In Space, considering those seasons were under Saban Entertainment. I thought it was nice to see those older characters return regardless.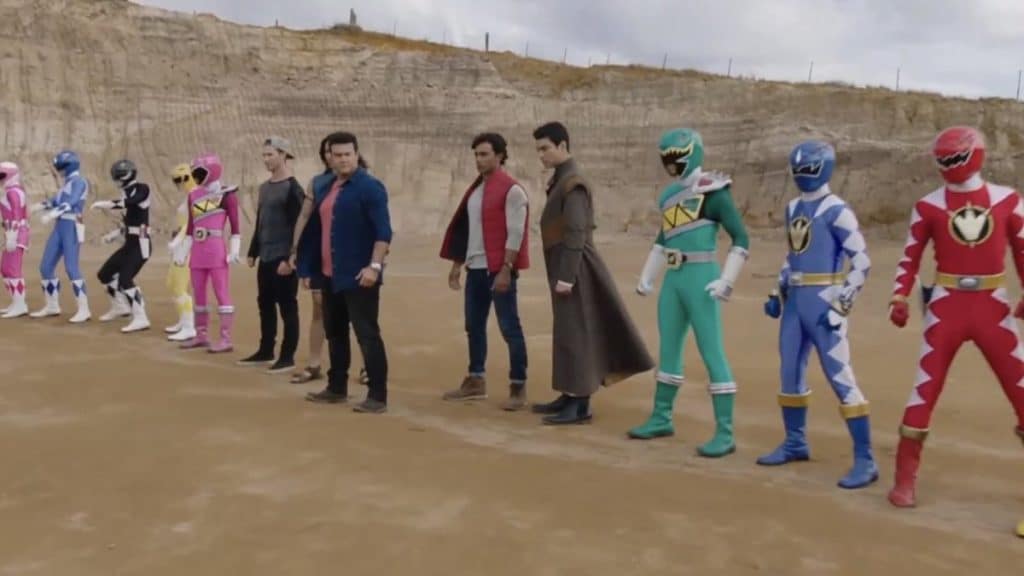 We're almost there! Were you guys surprised to see Goldar return in Power Rangers Beast Morphers? Does his return make you any more excited for the big crossover? What was your favorite moment in this week's episode? Let us know in the comments below and be sure to come back to The Illuminerdi for more Beast Morphers content like this in the future!
KEEP READING: DAVID YOST CONFIRMS THAT AUSTIN ST JOHN IS THE ONLY ORIGINAL POWER RANGER RETURNING FOR BEAST MORPHERS TEAM-UP