The 2020 Emmy awards found a way to break the Internet last night, most impressively without much of the actual content from the virtual awards show or its winners. Marvel Studios finally made their presence felt all over the world once again, releasing the very first full trailer for the now debut show on Disney+, WandaVision!
The full trailer can be seen below:
WandaVision Official Trailer
Not only was this trailer the very first for WandaVision, or any of the new Disney+ mini-series for that matter, it's the first new material from Marvel's Disney+ venture since the debut Super Bowl trailer and the first new MCU footage of any kind in at least six months. Even though there is only 80 seconds of footage, there is so much teased and laid out for what's about to come in this trippy show, and we're here to break down the action for you!
WandaVision Trailer Breakdown
Marvel once again starts things off with a new black & white logo to set the tone before the couple is shown as newlyweds and forming their new life at home. The I Love Lucy tribute is absolutely spot on with this 1950's setup for the show's beginning, although it does include Wanda's telekinetic powers fully used and Vision pulling a fast face-change into his Paul Bettany disguise.
After that, things get really crazy, really fast, with the couple hosting dinner with likely their neighbors. The conversation quickly goes through where they came from and the pressure to have kids, and it's clear that everything in Wanda's head isn't as picture-perfect as she hoped it would be.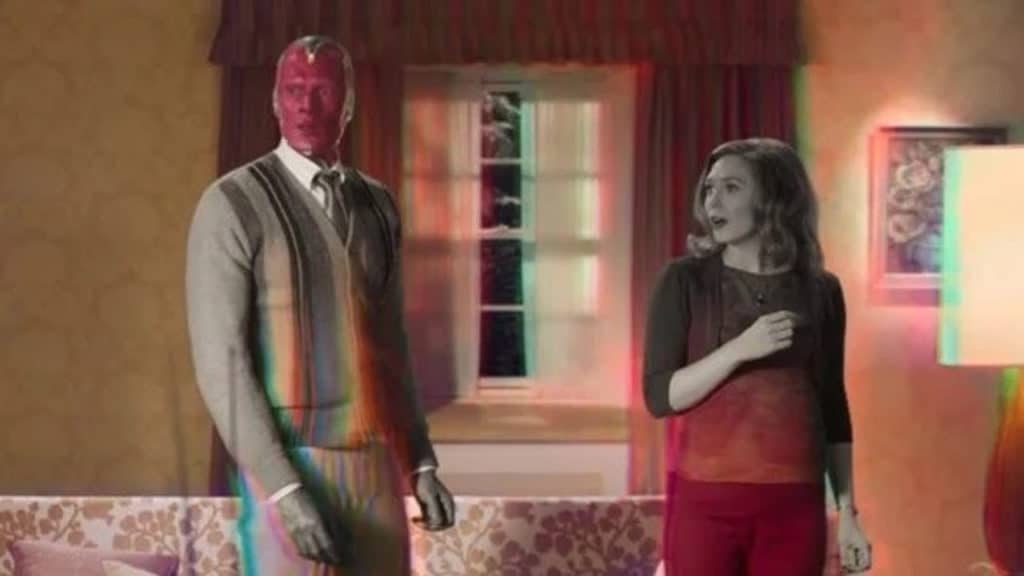 The colors fill in (including showing a clear baby bump from Wanda) and the teases start coming quick and in a hurry (more on that later). There are bursts through later decades before the trailer turns its focus to Vision in all his glory, looking seemingly as alive as ever.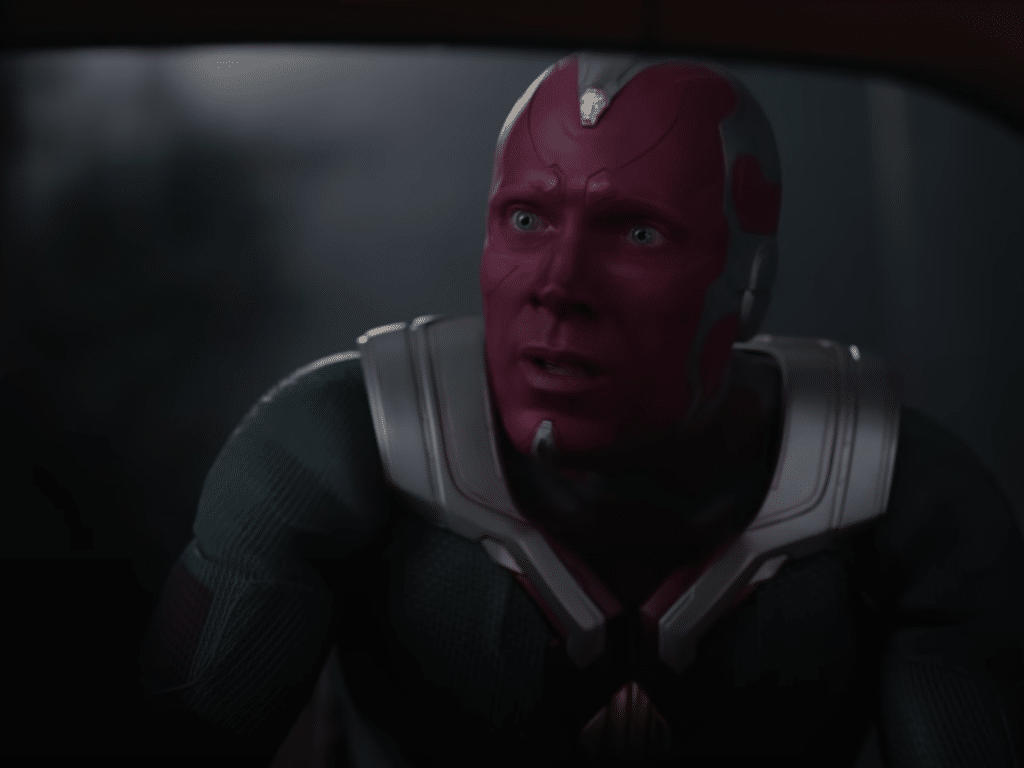 He takes flight around town before meeting Kathryn Hahn's mystery character, who confirms with him that he's actually dead before giving an awfully evil cackle, even considering she's dressed as a witch.
RELATED: NEW LOOKS AT THE FALCON AND THE WINTER SOLDIER'S MODERN COSTUMES
The last bits of action give an ever so slight look into possibly what's really happening, including what looks like Teyonnah Parris' Monica Rambeau being blasted through the air, and maybe multiple dimensions. There are teams of agents and a huge facility in a field, setting up an absolutely wild ride from beginning to end.
Best Easter Eggs in the WandaVision Trailer
Marvel Studios has mastered the practice of laying Easter Eggs in every single project released, no matter how much importance they hold for the future of the franchise. In just this trailer alone, there are already a few great ones that detail the time and efforts the studio has put into making this run on Disney+ as good as the theatrical movies. Below are some that stood out the most:
The label on the wine bottle Wanda is pouring from is adorned with the phrase "Maison du Mépris," which translates to "House or Contempt." Could this be teasing the wildly popular "House of M" storyline for Wanda in this series?
Wanda's comic book accurate costume was teased once again, as it was in the Super Bowl spot, and Vision gets the same treatment while he goes out for Halloween!
Theories have pointed to Katheryn Hahn's witch-costumed character actually being Agatha Harkless, meaning she could be some potentially villainous trouble for Wanda and Vision.
In a "blink and you'll miss it" moment, Kat Dennings' Darcy Lewis can be seen making her MCU return in the huge crowd of agents, thought to be from the MCU's interpretation of S.W.O.R.D. It will be exciting to find out what capacity she serves there!
The trailer shows a possibility of two different versions of Monica Rambeau. Is the Multiverse being explored this early already?!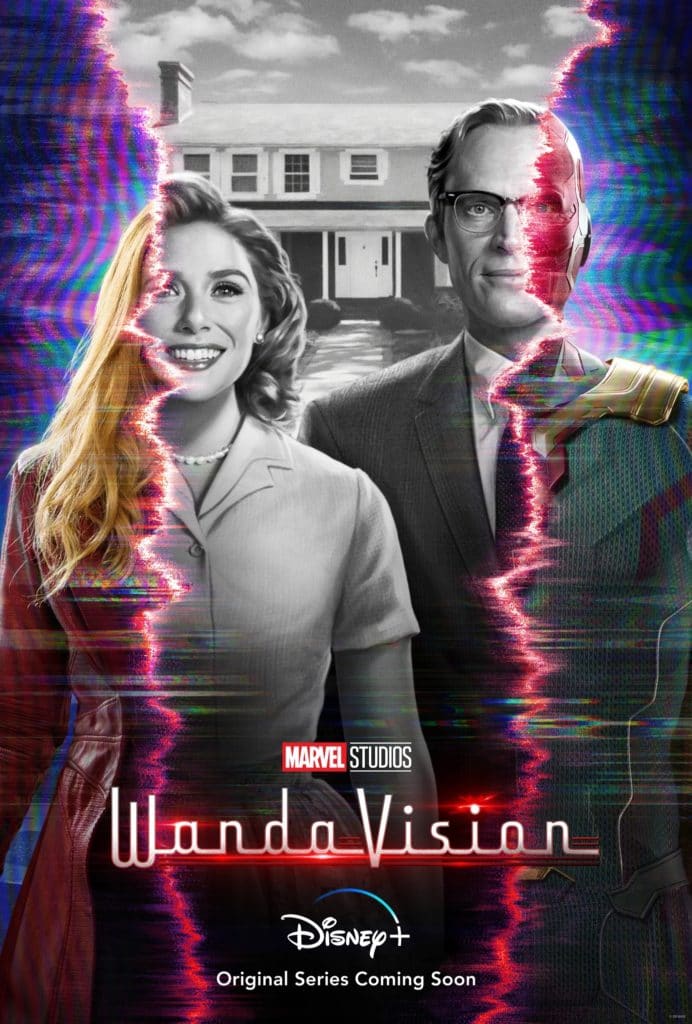 It's safe to say this series is going to up the weird-factor more than any project to ever come out of the MCU (not including 2022's Doctor Strange in the Multiverse of Madness), and MCU fans across the world are eating it up like shawarma. Thanks to the official press release too, WandaVision is all set for release on Disney+ in December, confirming that 2020 will not end without new MCU material!
KEEP READING: WATCH NEW DISNEY+ SPOT CONFIRM WANDAVISION FOR 2020; NO UPDATE ON THE FALCON AND THE WINTER SOLDIER RELEASE