We are just a little more than a week away from the long-awaited release of Wonder Woman 1984 and Warner Bros just celebrated with the film's digital red carpet premiere on DC Fandome.
The event was hosted by Tiffany Smith, who was joined by Gal Gadot, director Patty Jenkins, Chris Pine, Pedro Pascal, Kristen Wiig, Lynda Carter, along with a panel of lucky Wonder Woman fans, many of whom in full costume. The panel answered fan questions and talked about the experience of both making the film, and the emotions of finally sharing the film with the world more than a year after its initial scheduled release.
RELATED: NEW SHADOW IN THE CLOUD TRAILER BREAKDOWN POINTS TO A THRILLING CREATURE FEATURE
As the Wonder Woman 1984 premiere wrapped up, Gadot and Jenkins had two more special surprises. The first was a surprise visit to composer Hans Zimmer who was putting the final touches on the film's theme song, along with superstar percussionist Sheila E. Gadot and Jenkins joined in by banging on the drums and then rejoining Smith on the main stage.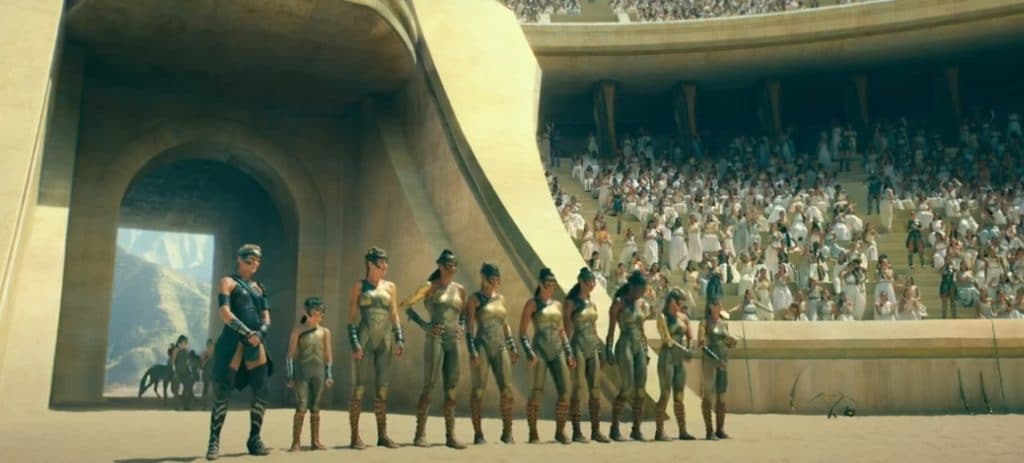 There the Wonder Woman duo revealed the final surprise. They screened the opening of Wonder Woman 1984 for the world to see.
In the scene, we see a young Diana on Themyscira sprinting into the Amazonian version of the Olympics, with a voiceover by Gadot. Once she arrives with the other competitors she is given a gentle warning by Robin Wright's Antiope. Young Diana then runs up a structure while the film smash cuts to 1984 where we see an adult Wonder Woman putting her physical training to use. Enjoy the clip:
DC Fandome Wonder Woman 1984 Opening Scene
Full Wonder Woman 1984 Virtual World Premiere
Wonder Woman 1984 Official Synopsis
Fast forward to the 1980s as Wonder Woman's next big screen adventure finds her facing two all-new foes: Max Lord and The Cheetah. With director Patty Jenkins back at the helm and Gal Gadot returning in the title role, "Wonder Woman 1984" is Warner Bros. Pictures' follow up to the DC Super Hero's first outing, 2017's record-breaking "Wonder Woman," which took in $822 million at the worldwide box office.

The film also stars Chris Pine as Steve Trevor, Kristen Wiig as The Cheetah, Pedro Pascal as Max Lord, Robin Wright as Antiope, and Connie Nielsen as Hippolyta. Charles Roven, Deborah Snyder, Zack Snyder, Patty Jenkins, Gal Gadot and Stephen Jones are producing the film. Rebecca Steel Roven Oakley, Richard Suckle, Marianne Jenkins, Geoff Johns, Walter Hamada, Chantal Nong Vo and Wesley Coller are the executive producers. Patty Jenkins directed from a screenplay she wrote with Geoff Johns & David Callaham, story by Jenkins & Johns, based on characters from DC.

Joining the director behind the scenes are several members of her "Wonder Woman" team, including director of photography Matthew Jensen, Oscar-nominated production designer Aline Bonetto ("Amélie"), and Oscar-winning costume designer Lindy Hemming ("Topsy-Turvy"). Oscar-nominated editor Richard Pearson ("United 93") is cutting the film. The music is by Oscar-winning composer Hans Zimmer ("Dunkirk," "The Lion King").

Warner Bros. Pictures Presents an Atlas Entertainment/Stone Quarry Production, a Patty Jenkins Film, "Wonder Woman 1984."

This film is rated PG-13 for sequences of action and violence.
Wonder Woman 1984 will release in theaters and HBO Max on December 25th, 2020. What did you think of the new opening clip for Wonder Woman 1984? Did you watch the red carpet premiere on DC Fandome? Do you think Warner Bros should use this format with all of their new releases coming to HBO Max? What was you favorite part of the new clip? Let us know in the comment section below or on our social media!
KEEP READING: WONDER WOMAN 1984 HAS A SECRET ENDING NO ONE HAS SEEN YET
Source: WB