WandaVision stars Elizabeth Olsen as Wanda Maximoff aka Scarlet Witch and Paul Bettany as Vision. Both characters were introduced in Marvel Cinematic Universe films, but this will be an opportunity to get to know the characters like never before. Olsen's Wanda Maximoff is notoriously one of, if not, the strongest Avenger and the films have only scratched the surface of her powers. WandaVision will dive deeper into her abilities and how they connect to the multiverse.
Not only will more of her powers be explored, but her relationship with Vision and more of her personality will be shown in WandaVision. Elizabeth Olsen spoke with SFX Magazine (via The Direct) about how well showrunner Jac Shaeffer understood Wanda and how she has been portrayed in the Marvel Cinematic Universe so far,
"Jac really wrote it with me in mind, so it really quickly had Wanda's voice. They wrote really understanding her in a really beautiful way, and the thing that I wanted was already inherent in the story. In the Marvel movies, I've been given really beautiful storylines and arcs. But often I'm like the grounded, emotional character [amid] all the fun, humor, and comedy. And she's not necessarily a funny character. She truly is someone who deals with a lot of questioning of purpose, and grieving and processing. She's a very internal person."
Olsen then spoke about how in this series more of Wanda's personality comes out.
"The thing that WandaVision allowed for me was to really have a good time with her, and find so many elements of her personality: her humor, her flirtation, her sassiness and so many things that the story hasn't required of her. It was really nice to just have playful levity through this, and it be a part of the story."
RELATED: WANDAVISION TO FEATURE NEW SERIES OF BTS GALLERY EPISODES ON DISNEY+
It makes sense that more of Wanda's humor would be shown in WandaVision given that the series will be playing in the world of television sitcoms throughout the years. WandaVision will explore Wanda's powers in a way the MCU hasn't before, with the series exploring alternate realities that she has created based on classic television sitcoms throughout the years. This will begin with the classic 1950s sitcom heavily influenced by the famous Dick Van Dyke Show.
ELIZABETH OLSEN DISCUSSES HER FAVORITE ERAS IN WANDAVISION
Elizabeth Olsen spoke with SFX Magazine (via The Direct) about filming the different episodes and the different television eras. She noted the difficulty in filming in front of a live audience for the 1950s episode. When asked which era was her favorite she had a hard time choosing just one.
"The '50s was actually very hard for me because there is this struggle having an audience there, as you're playing for the camera. And it put me in this place of not forgetting that! The '70s and the '80s were delicious because there's a lot of playful humour, so you get to play the cheese of it, and there is something that was really enjoyable and freeing about that. Then in the '80s, what I loved about that was you get to lean into the sincerity, which is also like playing into the cheese in a different way."
It sounds like WandaVision is going to be a thrill to watch not only for the crazy twists and turns of Wanda's powers, but the inherent nostalgia that is built into the series' DNA. WandaVision is really going to give Elizabeth Olsen and Paul Bettany an opportunity to shine with not only humor, but the craziness that comes from alternate realities created by Wanda.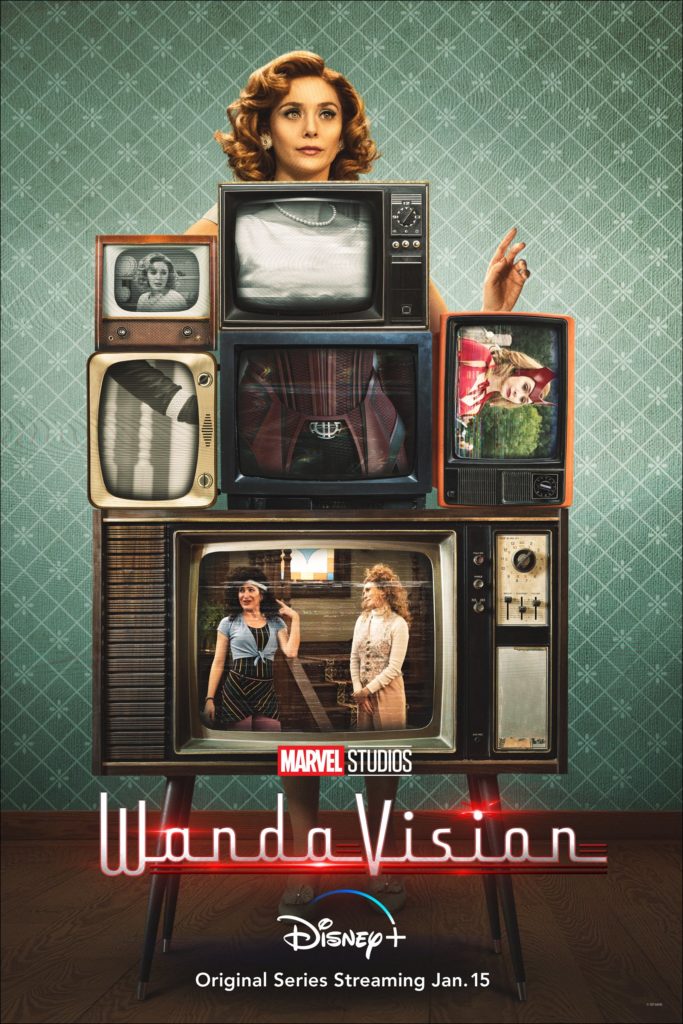 WandaVision premieres on Disney Plus January 15, 2021. Are you excited to watch for the MCU on Disney Plus? Which aspect of of the show are you most excited about? Leave your thoughts in the comments below or on our social media.
KEEP READING: WANDAVISION CHARACTER POSTERS TEASE NEW COSTUMES, SITCOM MOMENTS, AND MORE IN THE DISNEY+ SERIES
Source: SFX Magazine