Tom Holland stans, it's your time to shine. The Russo Brothers have shared several new Cherry stills and have confirmed that the first trailer will drop tomorrow.
After dropped little hints here and there over the course of three days, the filmmakers have now finally confirmed that the first trailer for Tom Holland's upcoming movie will drop on January 14, 2021.
RELATED: WATCH THE HILARIOUS HONEST TRAILERS FOR WONDER WOMAN 1984
They unveiled three stills with firstly "$$$", then "$$" and today "$" as a caption and a "3", "2" and "1" on the dollar featured in the image hinting at a trailer drop in three days (from January 11th).
Cherry Inches Closer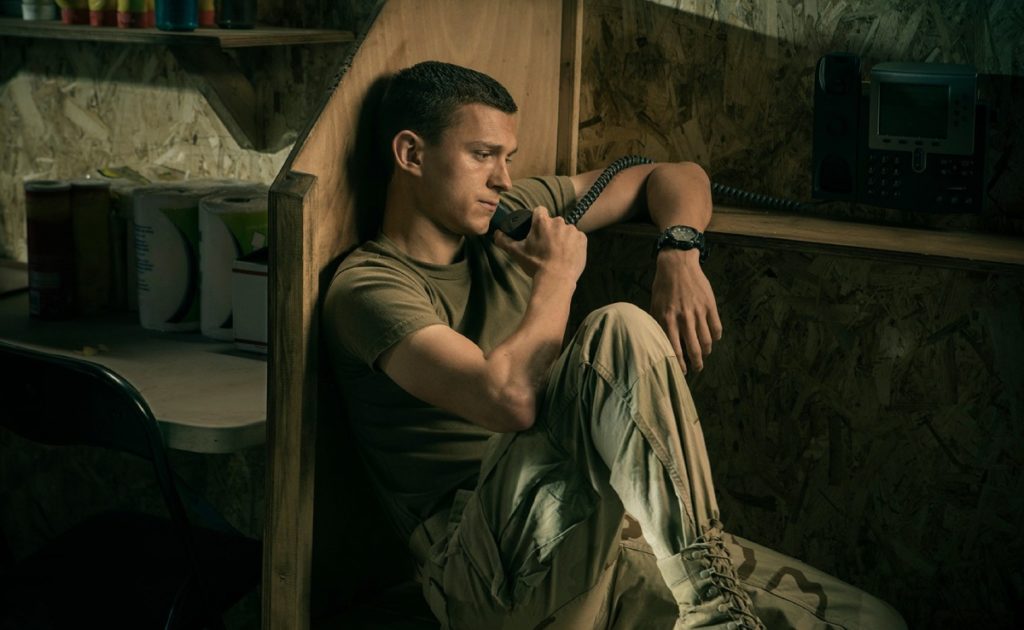 Check out the first set of stills below:
Ahead of the trailer, the directors of the upcoming indie added even more new stills to their repertoire.
The first image shows Cherry (Tom Holland) sitting in University, listening to music. The second image shows him and Emily (Ciara Bravo) kissing, probably just after they got together. The third takes us back to when he was a soldier in training, before they were ordered to Iraq.
The fourth image shows Cherry as an addict waiting for his drug dealer and in the fifth we see Cherry in disguise robbing a bank as his dollar note is saying:"I HAVE A GUN".
The synopsis of Cherry says: An Army medic suffering from post-traumatic stress disorder becomes a serial bank robber after an addiction to drugs puts him in debt.
Cherry is based on the book with the same name, written by Nico Walker. It hits select theatres February 26 and Apple TV+ March 12, 2021.
What do you guys think? Are you excited for the trailer tomorrow? Have you read the book? Let's discuss everything in the comments down below and on our Twitter.
KEEP READING: NETFLIX BRINGS THE SPIRIT OF ALOHA WITH FINDING OHANA