Body Brokers is written and directed by John Swab. The film stars Frank Grillo, Michael Kenneth Williams, and Jack Kilmer.
Body Brokers follows Kilmer's character, Utah, a drug addict who gets clean and then is brought into the world of body brokering for drug treatment centers by Williams' character, Wood. Body Brokers is a scathing indictment on the rampant insurance fraud in the drug treatment industry.
The Illuminerdi had the opportunity to speak with writer/director John Swab about what he hopes people take away from his film, Body Brokers Also the director expanded on how the drug treatment industry could be regulated to stop not only the insurance fraud, but help those most vulnerable in this system, the addicts who want to get sober.
"The most unfortunate part of this story to me is that there are people every day reaching out for help and trying to get help and better their lives and they're told and assume that the best place to go to do that is drug treatment and in fact, it's not. They're being taken advantage of and a lot of them are not getting better they're actually getting worse and a lot of cases losing their lives. So, that was kinda the motivation to write this and get it out in the world."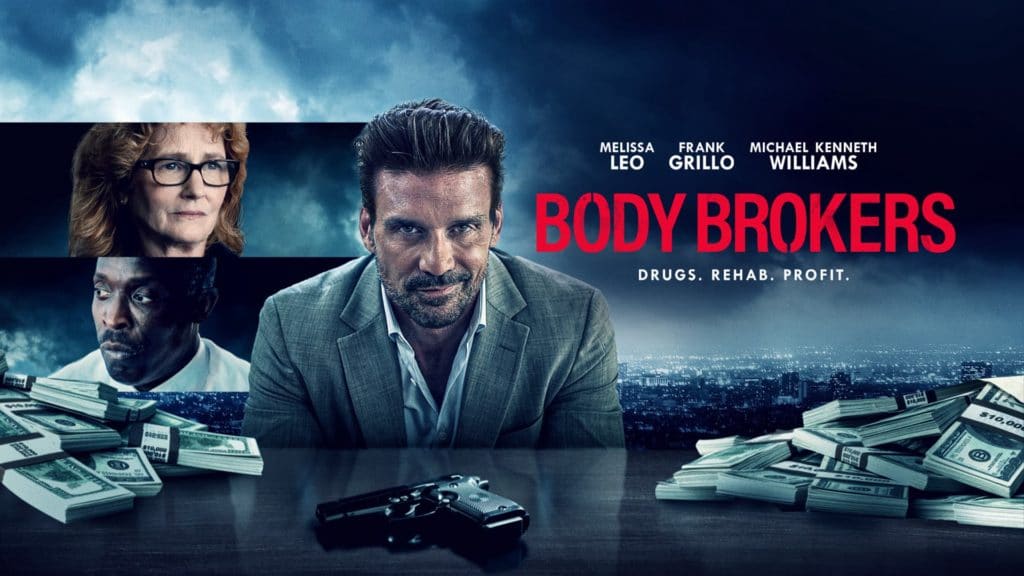 Something that was featured in Body Brokers – not only in a scene with Kilmer's character Utah but also at the end – is a reference to how 12-step programs can help people trying to get sober. Swab revealed that they debated quite a bit about whether or not to include this message at the end of Body Brokers, but explained why he felt it was important to include it.
"I have such a hard time watching these movies that kind of, they tell you about this problem and they tell you about this great tragedy that's happening but they don't tell you what to do about it. They're just like 'here it is, see ya later' and it's like, well now what am I supposed to do, I don't even know what to do. And didn't want to paint recovery as this thing that's just like a never-ending battle or a lose-lose situation, 'cause it's not. I have sobriety. I have a lot of people in my life that are sober and by and large most of them have achieved that through 12-step programs.

There's a saying in 12-step programs where it's attraction not promotion. And you're not necessarily encouraged to out yourself as being in recovery, but I feel like with a story like this, people need to know that there is a place to go and it doesn't cost any money. And the only incentive the people get to help you in those 12-step programs is that it helps them spiritually or their own recoveries. So, we kind of went back and forth on, is it too much of an infomercial or anything like that but I didn't feel like there was any other way to leave people but with a little bit of hope after an ending like that."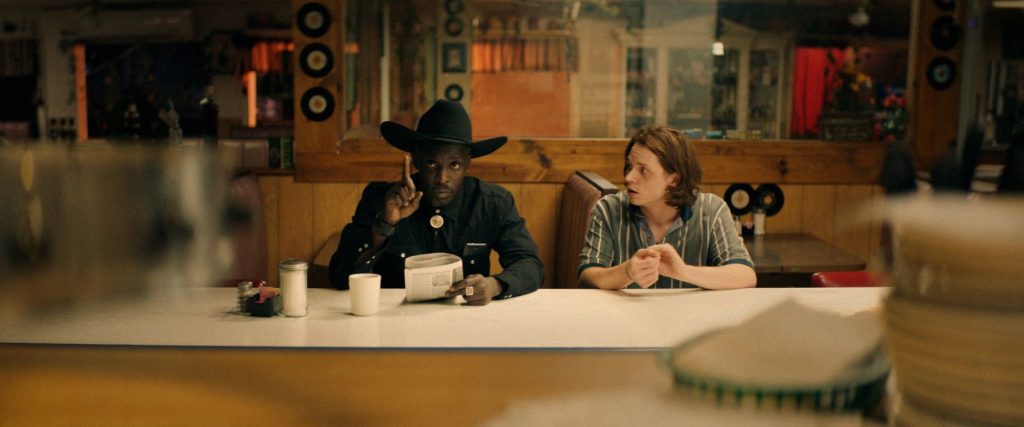 Swab wanting to be sure that there was a bit of hope in a movie that exposes the corruption in the system, feels like an important and meaningful inclusion. Swab also revealed what he hopes people take away from Body Brokers.
"I hope people take away that people are always talking about the opioid epidemic and the crime from drugs and all this kind of stuff but nobody really looks at the other side of it which is the treatment side. And that the hardest thing people can do in life a lot of times is ask for help. And if you finally get the courage to ask for help and then the people that are supposed to be helping you are taking advantage of you then there's a real problem with the system.

So, I'm hoping that as a society, people maybe will take a hard look at that and put some regulation or oversight on these treatment centers and then the treatment industry. And get these people the help they deserve and for raising their hand and asking for help."
RELATED: NOMADLAND REVIEW: CHLOE ZHAO'S MESMERIZING FILM LOOKS LIKE AN EARLY AWARDS FAVORITE
Swab then explained how easy it would be to regulate the drug recovery industry.
"Well for instance, it says it at the end of the story a lot of these laws that govern these treatment centers have not been updated since the 1970s. And there's a bill to forbid and punish such patient brokering in California right now that's been sitting in the Senate for I think three years now that has no hearing scheduled to deliberate on it.

There's things that could be done in legislature that could stop this stuff immediately and it's pretty much just updating the semantics of current laws and language. So, it's not a major overhaul, it's just kind of a few people getting in a room and getting some rules kind of lined out. I mean you need more certification to cut hair in the state of California than you do to run and own a treatment center which is terrifying. So that alone kind of just sums it all up in a nut shell to me."
It's clear that the drug treatment industry needs to change and the fact that laws have not been updated for decades is something that truly needs to be addressed. Swab's revelation about the minimal certification needed to own and run a treatment center is truly heart breaking and horrifying. Hopefully, Body Brokers brings these issues to light and lights a fire under those who can affect change to help the people who want help in bettering their lives.
BODY BROKERS TRAILER AND OFFICIAL SYNOPSIS
Utah (Kilmer) and Opal (Englert) are junkies living on the streets of rural Ohio until a seemingly chance encounter with the enigmatic Wood (Williams) brings them to Los Angeles for drug treatment. Utah appears to find sobriety with the help of treatment center therapist, Dr. White (Melissa Leo), and tech turned love interest, May (Rothe). They soon learn that drug treatment is but a cover for a predatory business, enlisting addicts to recruit other addicts. Utah is no exception. Wood and his drug treatment mogul partner, Vin (Grillo), take Utah under their wing, introducing him to the good life, though Utah's addiction remains his biggest obstacle.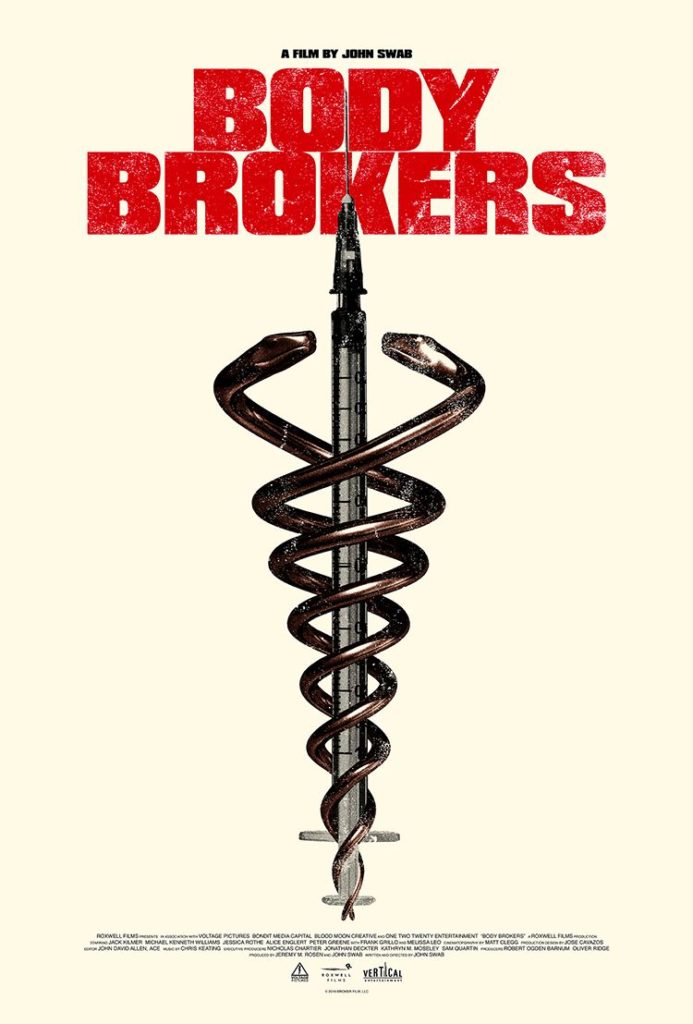 Body Brokers is directed and written by John Swab (Run with the Hunted, Let Me Make You a Martyr) and stars Frank Grillo (The Purge franchise, Captain America franchise, The Grey), Melissa Leo (Prisoners, The Fighter, Frozen River), Jack Kilmer (The Nice Guys, Palo Alto), Michael K. Williams (12 Years a Slave, Boardwalk Empire, The Wire), Jessica Rothe (Happy Death Day franchise), and Alice Englert (Beautiful Creatures, Ginger & Rosa).
Body Brokers is available on Digital and On Demand now. Are you going to watch Body Brokers? What do you think about what John Swab regarding reform for regulation of drug treatment centers? Leave your thoughts in the comments below or on our social media.
KEEP READING: BODY BROKERS' DIRECTOR ON WORKING WITH FRANK GRILLO, MICHAEL K. WILLIAMS, AND FILMS THAT INSPIRED HIM