Our review for the sci-fi actioner Cosmic Sin, starring Bruce Willis and Frank Grillo.
It's well known that the latest movies starring Bruce Willis haven't been very successful nor critically acclaimed. Now he has starred in two movies written and directed by Edward Drake and two more are in post-production. So you might start wondering, does this actor-director pair work well together? Are they making good movies together? While we don't know the answer for the first question, I can definitely answer the second one.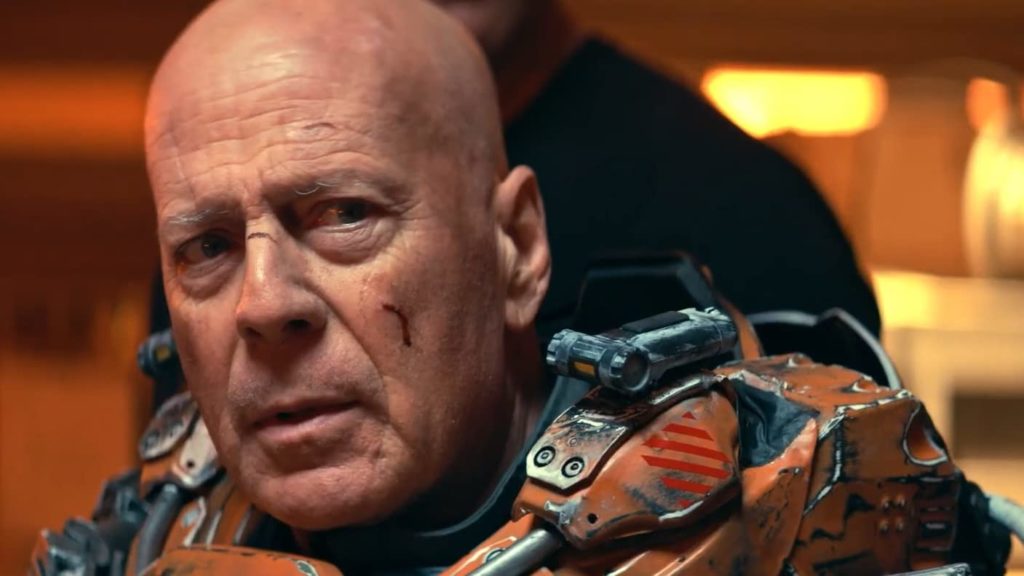 There is nothing good that can be found in Cosmic Sin. It's set in the year 2524, but every aspect of the world building looks just like our Earth now, except with added neon lighting and a robot bartender. The weaponry in the film is just normal looking guns, that we see in every action movie set in modern times, just with a bit more sci-fi sound design.
The same goes for the aliens, who look like normal people wearing evil looking Halloween costumes. You can just tell that there wasn't nearly enough budget to tell this story properly, so we often get to see blurred looks at the aliens to hide the fact that they look really fake.
Cosmic Sin Official Trailer
Does Cosmic Sin tell an interesting story that needed to be told, with great performances from its cast? No.
The film has an uninteresting story, uninteresting characters, an uninteresting threat, along with uninterested actors delivering uninterested performances. There simply is not a single reason, that makes Cosmic Sin worth watching. The movie might not even work for fans of trash movies like Sharknado, that know that they aren't good, but embrace the ridiculousness and makes for an entertaining watch. However, Cosmic Sin simply takes itself way too serious to get anything out of it.
Cosmic Sin is a bland low budget sci-fi action movie, that doesn't effectively use its stars and fails to tell an interesting or original story. This ultimately leaves audiences with little reason to watch it.
1/5
Cosmic Sin Official Synopsis
Bruce Willis and Frank Grillo star in the new epic sci-fi adventure set in the year 2524, four hundred years after humans started colonizing the outer planets. Retired Military General James Ford (Willis) is called back into service after soldiers on a remote planet are attacked by a hostile alien fleet. The threat against the human race escalates into an inevitable interstellar war. General Ford teams up with General Eron Ryle (Grillo) and a team of elite soldiers in a race to stop the imminent attack before it is too late. (Paramount Movies)
Cosmic Sin is Rated R for language including some sexual references and violence and will hit theatres and VOD on March 12, 2021. It was co-written and directed by Edward Blake and stars: Bruce Willis, Frank Grillo and Brandon Thomas Lee. What do you guys think? Are you planning to watch Cosmic Sin? Have you seen it already, if so how did you like it? Let's discuss everything in the comments down below and on our Twitter.
KEEP READING: DREAMCATCHER REVIEW: A SOLID SLASHER DELIVERS JUST ENOUGH TO BE INTERESTING FOR GENRE FANS