Disney's new live action adaptation, Cruella, explores the origins of one of Disney's most wicked villains, Cruella de Vil. Not the traditional adaptation, Cruella instead tells a new story with the focus on the villain of the animated classic 101 Dalmatians taking place during the 1970s in London.
The Illuminerdi was able to attend a press conference for Cruella where director Craig Gillespie talked about the soundtrack as well as the supporting cast of characters in Cruella, including the dogs.
A huge part of Cruella is the soundtrack. The music not only brings audiences into the 1970s when Cruella is set, it helps set the tone for every scene throughout the film in a fantastic way. With classics like The Doors "Five To One", Nina Simone's "Feeling Good", The Clash "Should I Stay or Should I Go", and many more, every song brings the film to the next level.
Director Craig Gillespie On The Music of Cruella
Director Craig Gillespie explained how he films specifically with music in mind and the last minute decision to add Nancy Sinatra's "These Boots Are Made For Walkin'".
"I actually designed the movie knowing we're gonna have music. So, you have to design shots that give space for music. And then very often on the set, I cut on the set as I go, so I'll be putting music on the scenes as we're shooting them. So, that Doors track, when we first meet The Baroness, that I threw on the day that we were shooting it and it never changed, you know?

Oh, there's a great Nancy Sinatra song, which was kinda spontaneous when we were shooting, and she's in, Liberty's, and she's in the elevator, and we did, like, four takes. And then I thought, I feel like you'd be singing here, maybe, a song. And I just went to my phone. I'm like, "How about Nancy Sinatra's "Boots Made for Walking?" Emma's like, "Okay." [CRAIG LAUGHS] And she came out dancing to that. So, there's always music in my mind as we're going through it and looking for opportunities throughout."
Cruella features an impressive supporting cast including Joel Fry and Paul Walter Hauser as Jasper and Horace respectively. Although these are not the traditional buffoon henchmen, the pair definitely bring a lot of comedy to the roles, but they also are the heart of the film. Director Craig Gillespie talked about working with Fry and Hauser and praised their talents talking about the layers they add to these characters.
"That was the heart of the film, and it's sort of this dynamic, is they're our family, the three of them. And they all play very different roles. And Paul, I worked with on I, Tonya obviously. And I love working with him. Because when he's doing his humor, you feel this sort of, the human being underneath it, and the pain, and where that humor might be coming for, or what it's deflecting, or what he's hiding. He gets to do all those layers with his humor.

And then Joel is so accessible, and he's such a big heart. And he was the heart of the show. And he was sort of the moral compass for Cruella, and he would call her on it in a sort of a brotherly way. And just that dynamic between the three of them, I felt really worked beautifully. And, I'd give them room to improvise and they could play off of each other so well. They're all so talented that way. So, it really made it feel like effortless, natural, to have them in the room together."
RELATED: CRUELLA DESIGNERS REVEAL THE DIVERSE INSPIRATION BEHIND EMMA STONE'S COSTUME, MAKEUP, AND HAIR STYLINGS
But Horace and Jasper aren't Cruella's only support in the film, John McCrae plays Artie. Artie is a fantastic character in every way and Craig Gillespie shared the inspiration for this character during the press conference.
"Obviously there's a big Bowie influence going on, [CRAIG LAUGHS] I would think with that. And we wanted to sorta cast a person that would be fluid and of the time. And sort of, not necessarily defined. And, Artie was so great with that nuance and just finding that personality. He actually ended up bringing a lot more than was on the page to that. And, we even went back and shot an extra scene with him and Emily [Emma Stone] because he really brought so much to that character.
And of course, the canine co-stars served an important purpose in Cruella as well. Craig Gillespie manages to incorporate Dalmatians into Cruella in an unexpected and story driven way. Gillespie explains the decision to include the dogs in Cruella and how they were supporting characters.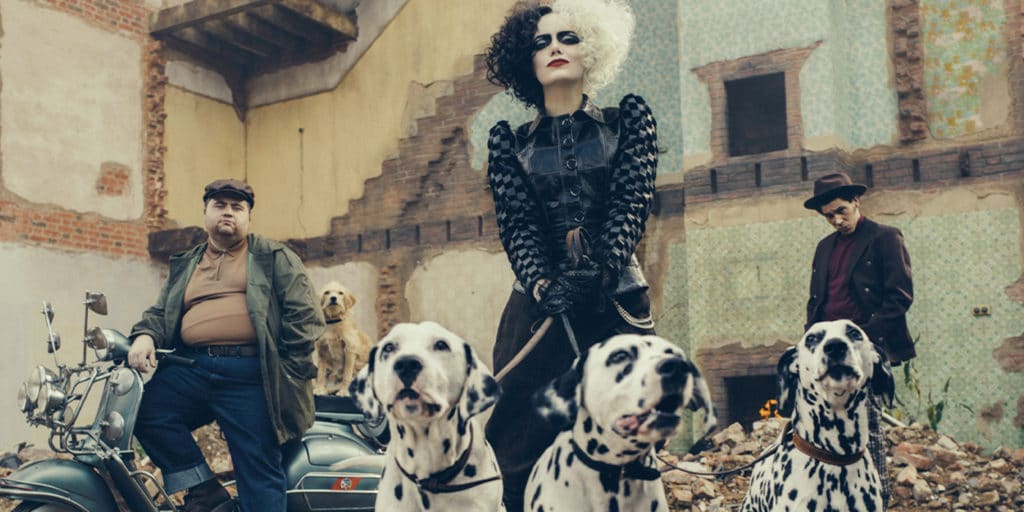 "Obviously the dogs are a large part of all of 101 Dalmatians. But I wanted to bring them in, in a more grounded way. And, definitely we worked on story a lot with the role of the Dalmatians and her relationship to them which you get into obviously as you get to know the plot of the story. And they're very intertwined with her emotional journey.

And then also, having these mutts that were part of their crew, and just been able to have fun with that and design these set pieces that were almost grounded in reality, and plausible for dogs to be able to do. And they were supporting characters in a way, and they had their own personalities and concerns. And it was great to sort of just, always be, keeping an eye on that, and be like, 'All right, just, you know what, we should cut to a reaction shot of them here.' [CRAIG LAUGHS] When she's going off about this and say just to keep them engaged and present. But they always have some great little moments."
RELATED: CRUELLA STAR EMMA THOMPSON SHARES THE ONE ADMIRABLE TRAIT OF HER UNFORGETTABLE VILLAIN ROLE
Cruella features a killer cast, soundtrack, and look from the wardrobe to the production design. The fact that this live action origin story takes place in a real world setting and more deeply explores a character who while evil has little known about her past is intriguing to say the least. Each element of Cruella elevates it and is sure to be a win for Disney.
CRUELLA OFFICIAL TRAILER AND SYNOPSIS
Academy Award® winner Emma Stone ("La La Land") stars in Disney's "Cruella," an all-new live-action feature film about the rebellious early days of one of cinemas most notorious – and notoriously fashionable – villains, the legendary Cruella de Vil. "Cruella," which is set in 1970s London amidst the punk rock revolution, follows a young grifter named Estella, a clever and creative girl determined to make a name for herself with her designs.

She befriends a pair of young thieves who appreciate her appetite for mischief, and together they are able to build a life for themselves on the London streets. One day, Estella's flair for fashion catches the eye of the Baroness von Hellman, a fashion legend who is devastatingly chic and terrifyingly haute, played by two-time Oscar® winner Emma Thompson ("Howards End," "Sense and Sensibility"). But their relationship sets in motion a course of events and revelations that will cause Estella to embrace her wicked side and become the raucous, fashionable and revengebent Cruella.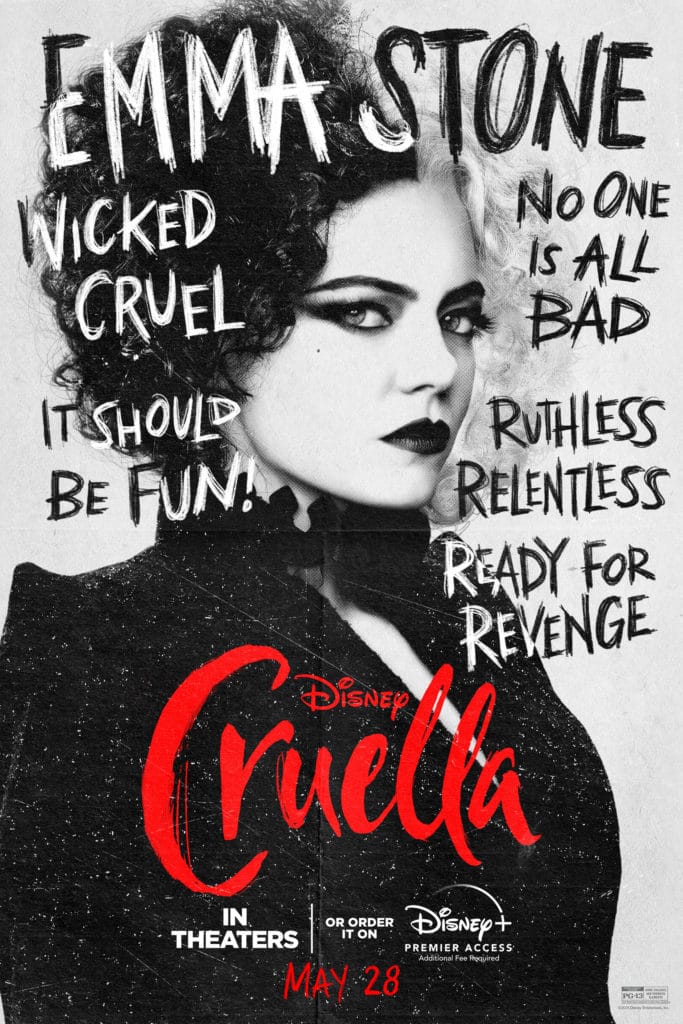 Cruella stars Emma Stone, Emma Thompson, Joel Fry, Paul Walter Hauser, Emily Beecham, Kirby Howell-Baptiste and Mark Strong. The film is directed by Craig Gillespie, with screenplay by Dana Fox and Tony McNamara, story by Aline Brosh McKenna and Kelly Marcel & Steve Zissis, based upon the novel "The One Hundred and One Dalmatians" by Dodie Smith. Cruella is produced by Andrew Gunn, Marc Platt and Kristin Burr, p.g.a., with Emma Stone, Michelle Wright, Jared LeBoff and Glenn Close serving as executive producers.
Cruella will be in theaters and available on Disney Plus with Premier Access Friday May 28, 2021. Are you excited to see Cruella? Leave your thoughts in the comments below or on our social media.
KEEP READING: CRUELLA: DARK DISNEY PREQUEL IS DEVILISHLY FUN