It's been nearly three years since Hasbro had their big presentation at Power Morphicon 2018 to reveal the replacement to Bandai America's Legacy Collection of 6in scaled figures with the Power Rangers Lightning Collection. This event set the stage for what could be expected with the figures in this line compared to what was the status quo of the time. Each figure was promised to come with a swappable actor likeness and hands, weapons, extra details, and optional effect pieces at the same price point.
Bandai took the approach of picking teams and then revolving an entire Wave to be about half of two teams, having them close to finished in less time. Hasbro would launch their line using an anthology approach, picking from numerous seasons and being inspired by fan-favorite characters.
THE LINE SO FAR
For the first year and a half, the line followed the highlights they showcased for the most part. Wave 1 would consist of Mighty Morphin White, S.P.D. Shadow, Dino Charge Red, and Lord Zedd. This was a perfect way to kick it off, nostalgic characters, fan favorites, Tommy, Red Rangers, villains, each era of the series, few others could make for such a good lineup.
While the anthology approach allowed Hasbro to jump around the franchise from all forms of media, this did have the downside of having the fear of teams being left incomplete for long periods of time. Fresh in the minds of Power Rangers collectors was Bandai's promise at New York Toy Fair 2016 to have their Legacy figure line get around to making "every Ranger ever", a daunting task that ended up falling short.
Hasbro was able to avoid this by not making such a bold promise, but with the potential for complete teams to take years, it meant the line had to have its loyal supporters who would be willing to stick it out. This Freshman and Sophomore year outings of figures for the Lightning Collection brought with it no complete teams until September of 2020 with the release of Mighty Morphin Green, one could argue the Psycho Rangers were finished by the summer of 2020 by excluding Psycho Silver, but he's technically a "fake' Psycho Ranger.
It wasn't surprising that Mighty Morphin would be the first complete team in the line, but what would this mean for other teams. This far in the line Beast Morphers, the current season at the time, was 3/5ths complete, Zeo was halfway done, and most of the other teams started had at least two members released. Many seasons still had no representation while others like In Space and Dino Thunder starting getting releases, adding to the number of ongoing but incomplete teams.
HASBRO'S CHANGE OF PACE
In 2020 the Power Rangers team over at Hasbro saw some changes behind the scenes, one of the most significant was the addition of John Warden, previously of the Transformers team, taking over as the global design lead. This has led the Lightning Collection down its current path.
With the time that it takes to pick figure choices and manufacture them, it's around now that the changes John and the new team have implemented have started to be seen. The first sign of this new direction came from the Hasbro Pulse Con event in September 2020. During a questions segment, the team stated they would be focusing more on completing teams going forward, and announcements since have proven that to be the case.
RELATED: HASBRO PULSE CON REVEALS NEW POWER RANGERS GOODIES FOR FANS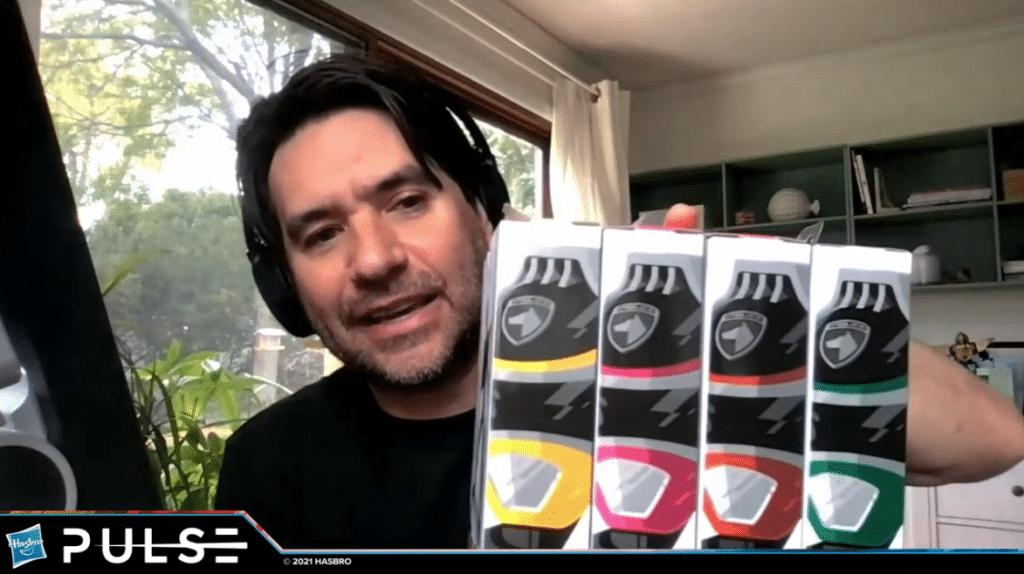 LIGHTNING COLLECTION IN 2021
So far this year there have been no new teams joining yet. Zeo is now 5/6 of the way complete, with Yellow rumored to come soon in Wave 10, Lost Galaxy is halfway done, In Space and Dino Thunder are only missing 2 members, and S.P.D. is well underway with 6 Rangers already released for that large team.
Waves 8-9 really showed the new risks the line has been willing to take in its third year, Wave 8 was the first to not include a Mighty Morphin release while Wave 9 was the first not to include a Red Ranger. These new Waves are still mixing fan favorites such as Bridge from S.P.D. with less showcased characters such as Kai from Lost Galaxy.
This is a big change from the lineup of 2019, which introduced a new team with nearly every Wave and release. The changes are clear with each new figure announcement, but what is also clear is a possible compromise that allowed this new direction to occur.
MORE MMPR
Mighty Morphin has, and always will be, the big seller/evergreen version of Power Rangers for years to come. 2021 has so far seen Hasbro reveal 25 figures, 10 of which can fall under the MMPR branding. Many fans are disgruntled about this, though it could be more than possible that to keep general interest in the line strong to allow for the more team filler Rangers, they have to lean back on the Mighty Morphin nostalgia to keep the line successful.
This has included rereleasing harder to get MMPR Rangers into the line, even going as far as to make most of the remaining Metallic Armors. While this focus is heavy, at the very least 2021 is pulling more from Season 2 and Season 3 moments and characters than the abundance of Season 1 from 2019-2020.
The Lightning Collection continues to go strong nearly three years later, with the line nearing its 100th figure release. To stay up to date with all the news for the line Power Rangers fans can check out The Illuminerdi's Josh Perry on his weekly Lightning Storm YouTube series every Saturday at 9:00 am Pacific or on Twitter at @LightningFigPR. What Rangers do you want to see Hasbro add to the Lightning Collection? Leave your thoughts in the comments below or on our social media.
KEEP READING: NEW POWER RANGERS LIGHTNING COLLECTION FIGURES REVEALED AT HASBRO FAN FEST