Where was the cast of Black Widow during the events of Avengers: Infinity War & Avengers: Endgame? We explore this question through some comments from one of the film's stars, David Harbour.
In a recent interview with ComicBook.com, reporter Brandon Davis asked Harbour, who plays Alexei Shostakov/Red Guardian in the upcoming MCU movie "…Where was Red Guardian during the Thanos fights in Infinity War and Endgame?" Mr. Harbour responded with a laugh and a smile, saying-
"…I mean the fun thing about this entire thing is that we go back and we build out this structure for something new. So all this new content with a lot of information about the movies that moves forward with these other projects, the new Phase. And you also get to introduce these new characters. Cate Shortland and I had all kinds of speculations about where Red Guardian ends up with this, and what happens to him. There were a lot of fun ideas that we had, but I haven't asked Feige himself. I'll do that later."
BLACK WIDOW'S FUTURE AS A FRANCHISE IS UNCLEAR
Before analyzing David Harbour's response, a brief reminder is in order. The words of actors in franchises, particularly mega-franchises such as the DCEU, MCU, and Star Wars, cannot be trusted. This is especially true when the project they are discussing has yet to release. Understanding that, let's dive headfirst into what the quote above could mean.
The first thing that Harbour mentions is a "structure for something new". Immediately, this is recognizable as truth through Yelena Belova's confirmed inclusion in the upcoming Hawkeye Disney+ series. Whether or not characters like Rachel Weisz' Iron Maiden or David Harbour's Red Guardian have similar futures remains to be seen. 
RELATED: BLACK WIDOW'S DAVID HARBOUR ON ANTHONY MACKIE AND IF HE WOULD TEAM-UP OR FIGHT CAPTAIN AMERICA
Harbour later says "There were a lot of fun ideas that we had, but I haven't asked Feige himself", and that's what truly matters. It is more than likely that this lovely actor is being quite truthful, and is legitimately in the dark on the future of Alexei Shostakov. Even if that is the case, we must remember that the actors are not always privy to those sorts of details, especially when plans are still in early development.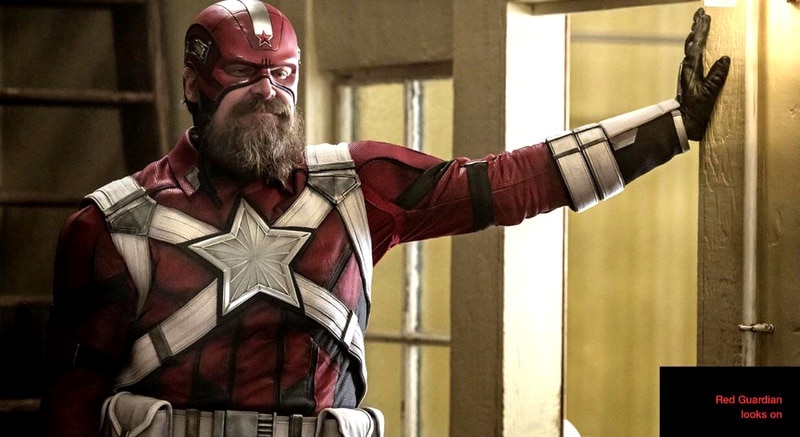 BLACK WIDOW: WHERE COULD RED GUARDIAN REAPPEAR?
If Black Widow is successful, a sequel film starring Florence Pugh in the title role seems more than probable. Were that not the plan, a future for characters like the new Black Widow and Red Guardian through supporting roles, not unlike Natasha's beginnings in the franchise, is also possible. While Feige and his team may be waiting on the reception of Black Widow to finalize plans for these characters and this new franchise, it is all but guaranteed that discussions are well underway by now. 
Perhaps Red Guardian could someday lead the Marvel Cinematic Universe incarnation of The Winter Guard, a team who effectively serve as the Russian Avengers. Other members of the team have included Crimson Dynamo, a classic Iron Man villain, Ursa Major, the best talking bear in comics history, and Red Widow, one of the Red Room's most brutal weapons ever. 
RELATED: 7 EXCITING CORNERS OF THE MARVEL UNIVERSE THAT NAMOR'S INTRODUCTION COULD REVEAL
Whether or not Red Guardian resurfaces after the events of Black Widow is merely a matter of survival. If Yelena's father figure sacrifices himself to save his faux-family or falls in the fight against Taskmaster, that lowers his chances significantly. As this is a comic book based franchise, death is never really the end, but it can certainly be a tricky obstacle to overcome.
One simple way for the character to perish in the film, yet reappear in the MCU, would be through a role in Black Widow's episode of the upcoming Disney+ series What If…?
Earlier this month, we exclusively reported on an episode of the series that will showcase Natasha Romanoff in a reality where the fight against Ultron was not victorious. As Black Widow takes place after Avengers: Age Of Ultron, Red Guardian could be a supporting player in the episode. That being said, it's just as likely that the universe's Red Guardian fell to Ultron's horrific wrath prior to the events of the episode. Regardless of his future after the movie, fans of David Harbour and Alexei Shostakov can look forward to his appearance in Black Widow.

Black Widow is directed by Cate Shortland and stars Scarlett Johansson, Florence Pugh, Rachel Weisz, and of course David Harbour. The film releases in theaters and on Disney+ premier access on July 9th, 2021. Where do you think we could see Harbour's Red Guardian next? Let us know in the comment section below and over on our social media!
KEEP READING: LOKI: IS THE VARIANT GAMORA THE TVA'S NEXT UNEXPECTED TARGET?