The long wait for Marvel's first Phase Four film is nearly over! Black Widow dives into Natasha Romanoff's past and introduces a whole host of new characters including her sister figure, Florence Pugh's Yelena Belova, her mother figure Rachel Weisz's Melina Vostokoff, and her father figure David Harbour's Alexei Shostakov aka Red Guardian.
The Illuminerdi attended a virtual press conference for Black Widow where David Harbour not only opened up about his character he also revealed who in the MCU he'd like to see his character interact with and why he think a fight between Captain America and Red Guardian in his glory days is worth exploring.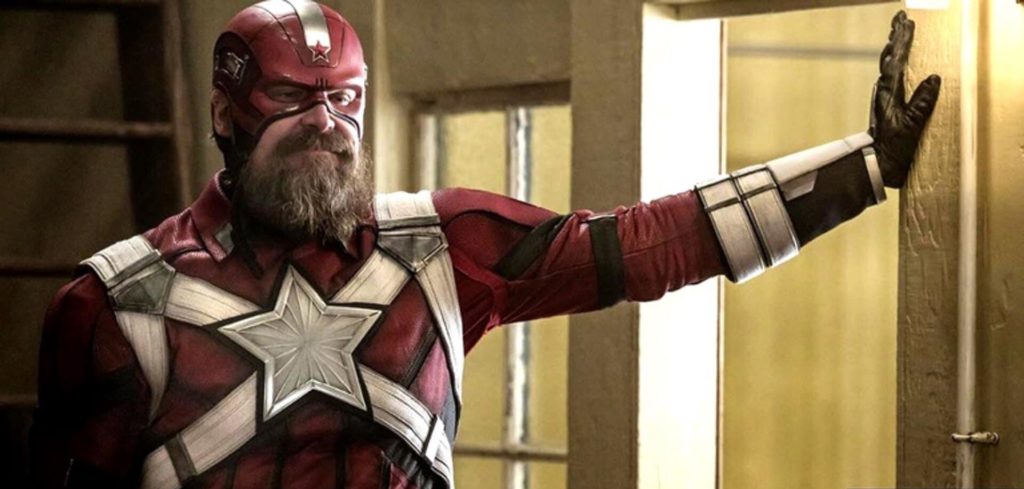 RELATED: MARVEL PRIMES FANS FOR ITS BLACK WIDOW LAUNCH WITH A FINAL TRAILER BOASTING BRAND NEW FOOTAGE
"I mean the funny thing about him is that it's sort of built out of the same or it hatches from the same egg, the pathos and also the humor of his character. Because he is filled with grief and remorse about the choices that he's made like emotionally, spiritually, nutritionally. I've used that one before.

But he definitely, you know the comedy itself comes out of the ego that is built to defend against the feelings of that remorse. So, in other words he has to be so bombastic because he can't stop and feel these things, the failures that he made. So, he has to build around him a world of like a confabulatory psychotic reality where he is the hero. And that's inherently silly, I mean that's inherently funny.

And also, the family dynamics themselves are just so fun. Because what I found developing too was, there's almost a traditional shot which I feel like is the perfect image for this movie is all of us around a table in these very specific positions. Which I remember talking about that day that we shot it, but we're all in super suits, right?

But you have this almost Norman Rockwell thing of like, Dad coming in last to sit at the head of the table while eldest child sits here and mother and baby sit over here. And I found us all sort of falling into these traditional cliché roles and then like riffing off of that. And that was really fun and satisfying as well."
DAVID HARBOUR REVEALS WHY HE WANTS A RED GUARDIAN VS. CAPTAIN AMERICA FIGHT
David Harbour is able to infuse the role with comedy and tragedy in a skillful way that makes his performance unforgettable. And the intriguing family dynamic that the film introduces opens up a number of interesting and hilarious dynamics for these characters to explore in Black Widow.
When asked who in the MCU he'd like to see Red Guardian team up with, David Harbour made it clear he wouldn't necessarily want to team up with a character, but the possibility of exploring a dynamic with the new Captain America could be fun.
"Who'd I like to team up with? I mean, oh God, none of them. I consider myself so extraordinary, so above all their mere pedestrian powers. I mean I don't know if it's team up with, but I really love the Falcon character. I love Anthony Mackie just as an actor too. And now that he's wearing the Cap suit and everything and the amount of complexity that Alexei has with Cap in general.

Whoever wears the suit, like he hates that guy and he hates what it represents. But also, there was in the film, I mean some of the funniest stuff to me is where he's like, "You know he actually was a colleague of mine I mean I know we had a lot of respect for each other." I just think that that dynamic would be really fun."
RELATED: BLACK WIDOW: WATCH NEW LEAKED FOOTAGE REVEAL FROM FEATURETTE CURRENTLY PLAYING EXCLUSIVELY IN THEATERS
The possibility of a Red Guardian origin story was brought up during the Black Widow press conference to which Harbour jokingly asked if Kevin Feige was there, he was, and had heard that. Red Guardian has a lot of unexplored history and it's hard to tell how much of what he boasts about from his past is true. And Harbour definitely showed interest in exploring more of Alexei's past as the famed Red Guardian.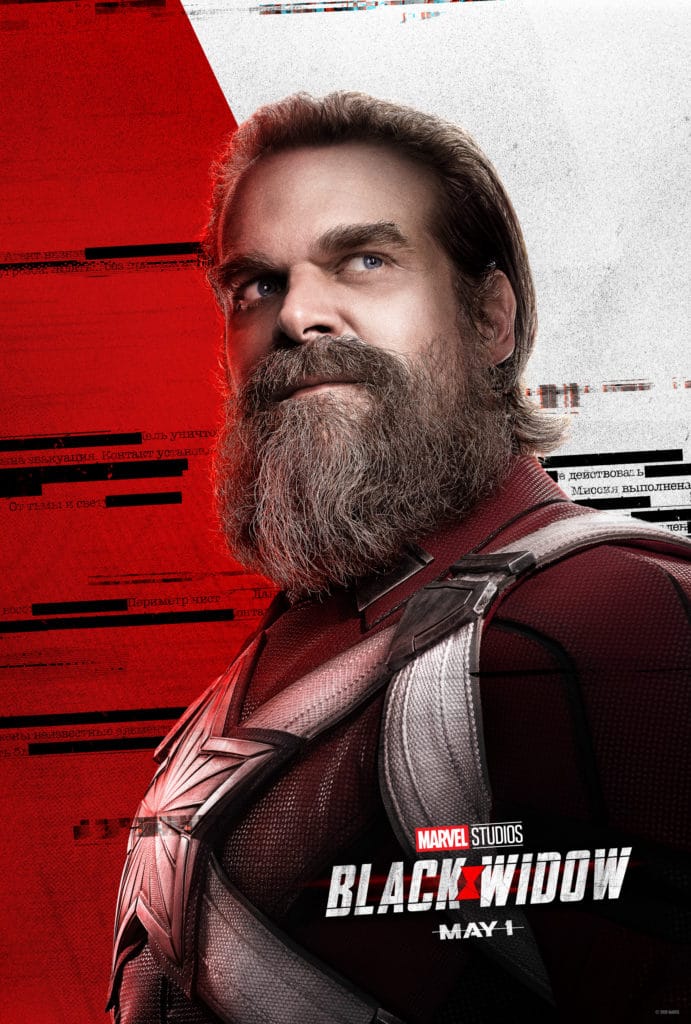 "Yeah of course. You know what's funny about Alexei is like you have this big 25 year gap that we don't know about like we see him in Ohio and then we see him in the prison. And even before the prison there was a time when he was the Red Guardian, he wants to put the suit back on, right? There is this period of time where he talks about, he has all these stories about his life and about what went on.

And there are questionable whether or not they're real and I like exploration of what is real and what isn't real and how hard he had to construct these realities for himself and how durable those realities are. But I do think that the classic Cold War thing is a really fun and funny dynamic between these two guys and the fact that they basically came up as nuclear war heads like in an arms race together. I think it's just a really great concept that could be explored further."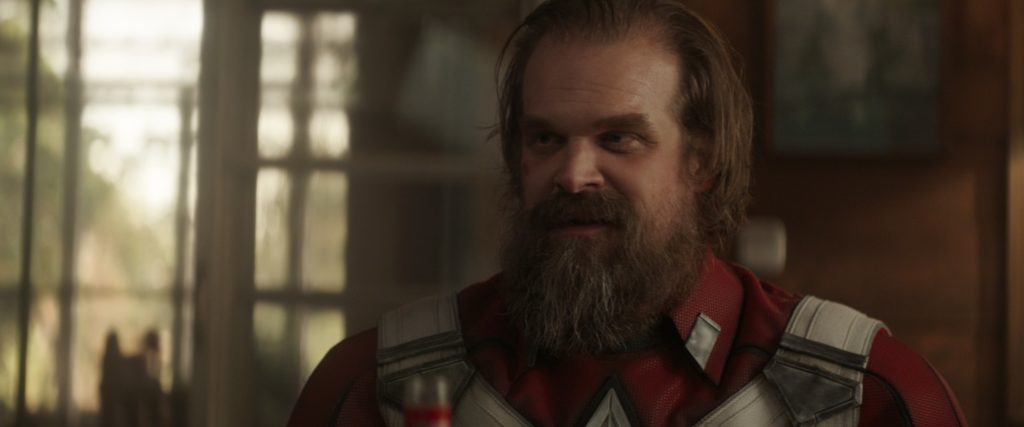 Although Steve Rogers' Captain America was still in the ice during Red Guardian's heyday, an origin story for this dynamic and hilarious character could be a thrilling film. Kevin Feige did tease that prequels were a possibility on the table earlier in the press conference "But the notion of exploring the past, present, and future of the MCU is certainly in the cards for all of our characters."
RELATED: NEW BLACK WIDOW SET PHOTOS GIVE CURIOUS FANS FIRST LOOK AT O.T. FAGBENLE'S RICK MASON
So fingers crossed fans will get to see more of Russia's super soldier after Black Widow. It would be interesting to see how a Red Guardian film would tackle Alexei's time as the Red Guardian, to see the hero in his prime. David Harbour gives a fantastic performance that will undoubtedly leave the audience wanting more and it seems like that could actually be a possibility.
BLACK WIDOW TRAILER AND SYNOPSIS
In Marvel Studios' action-packed spy thriller "Black Widow," Natasha Romanoff sks Black Widow confronts the darker parts of her ledger when a dangerous conspiracy with ties to her past arises. Pursued by a force that will stop at nothing to bring her down, Natasha must deal with her history as a spy and the broken relationships left in her wake long before she became an Avenger.

Scarlett Johansson reprises her role as Natasha/Black Widow, Florence Pugh stars as Yelena, David Harbour portrays Alexei/The Red Guardian, and Rachel Weisz is Maline. "Black Widow" – the first film in Phase Four of the Marvel Cinematic Universe – is directed by Cate Shortland and produced by Kevin Feige.

Black Widow will premiere in theaters and on Disney Plus with premier access July 9, 2021. Do you want to see Red Guardian go up against Captain America? What would you want to see in a David Harbour led Red Guardian film? What is your favorite David Harbour role? Leave your thoughts in the comments below or on our social media and check back with The Illuminerdi for more Black Widow and MCU news.
KEEP READING: WATCH MARVEL STUDIOS' BLACK WIDOW SURPRISE PROMO VIDEO FOR NATIONAL SUPERHERO DAY