The adventure genre is a classic, spawning franchises like Indiana Jones, The Mummy, and Disney's own Pirates of the Caribbean. Jungle Cruise is Disney's newest addition to the fun filled, action-packed genre.
Based on the classic Disney attraction, Jungle Cruise incorporates elements of the beloved ride while expanding the story far beyond what parks fans will expect. The Illuminerdi had the opportunity to attend a virtual press conference for Disney's Jungle Cruise which featured the film's stars Dwayne Johnson, Emily Blunt, Jack Whitehall, and Édgar Ramiríez.
During the press conference Emily Blunt, whose character Johnson referred to as "the female Indiana Jones", talked about how rewarding it is to revitalize the genre. Édgar Ramírez, who plays the villainous Aguirre, talked about how difficult it is to find the right tone for adventure films. Édgar Ramírez praised his co-stars for balancing the different elements that go into creating a film like Jungle Cruise.
"I loved everything you did and what you did is very difficult. That tone to be witty and romantic and funny and snide, but cute at the same time. I mean that is a very difficult, I mean we, as actors, we know that tone is very difficult to achieve and you guys killed it. I mean people figure that oh yeah adventure that's easy, no that is a very difficult tone to achieve that."
RELATED: INDIANA JONES 5: NEW DETAILS ON MADS MIKKELSEN'S VILLAIN CHARACTER AND FILM'S CONNECTION TO OUTER SPACE: EXCLUSIVE
The adventure genre has been a favorite for decades with films like African Queen in 1951 to the many examples in the 1980s including the Indiana Jones franchise and Romancing The Stone, and Disney's Pirates Of The Caribbean franchise which began in 2003. When asked what it feels like to revitalize the genre for the current generation, Emily Blunt shared not only how rewarding it is, but how they were able to find the heart of Jungle Cruise as an adventure film.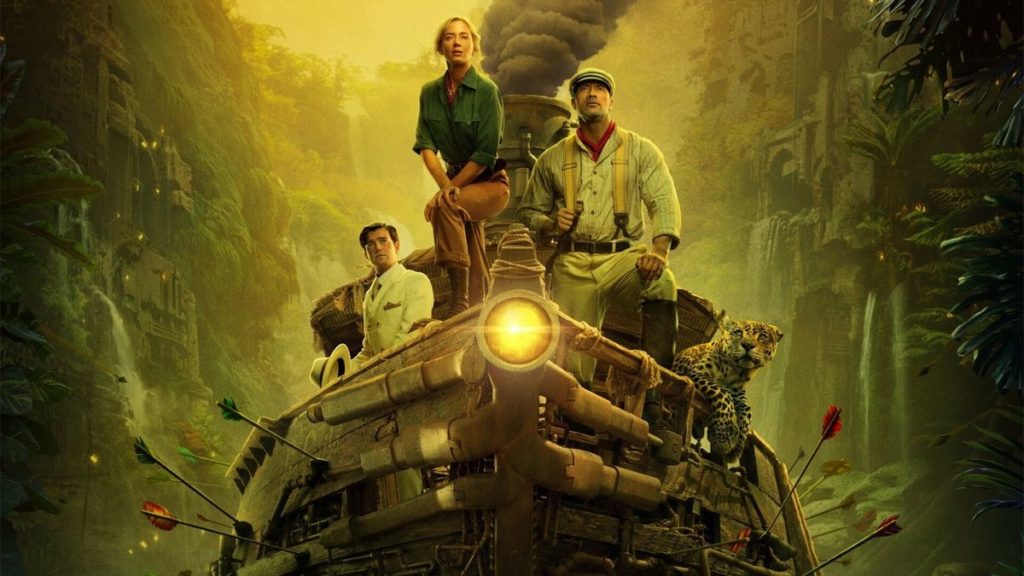 RELATED: JUNGLE CRUISE: DISNEY DROPS CAST CAMARADERIE FEATURETTE & MORE
"It has been immensely rewarding. To what Edgar was talking about, tonally we just needed to strike a chord that was really well crafted and that we curated with so much love. And was made in the spirit of the films that we all grew up watching. I mainlined those movies into my veins, I just loved Indiana Jones and Romancing the Stone, African Queen they are just joy bombs and they're nostalgic.

And I think we just needed to pierce people's hearts directly with the spirit of those films that we all loved as children. And it just took a lot of tempering and beautiful conducting from Jaume who was just extraordinarily free spirited with us in this massive spectacle of a movie.

Such a world builder which you need for those adventure movies, you need it. But I know when [Dwayne Johnson] and I first met Jaume, we both asked him the same question and we said "Well, what do you feel this movie is about." And he goes "You know, it's about love." And it was so perfect because you could have talked about all the action and the spectacle and the myths and the legends and all of that. But that's when I knew in Jaume we had an innate romantic and a world builder and that's what you need for this type of movie."
Jungle Cruise includes love, action, adventure, comedy, and incorporates elements of the classic Disney attraction including the famed puns. The fun filled adventure of Jungle Cruise feels like the perfect family movie for the summer. Disney fans will recognize multiple elements and Easter eggs from the ride, but the story elevates it beyond the attraction in an exciting and heartwarming way.
JUNGLE CRUISE TRAILER AND SYNOPSIS
Join fan favorites Dwayne Johnson and Emily Blunt for the adventure of a lifetime on Disney's "Jungle Cruise," a rollicking thrill-ride down the Amazon with wisecracking skipper Frank Wolff and intrepid researcher Dr. Lily Houghton. Lily travels from London, England to the Amazon jungle and enlists Frank's questionable services to guide her downriver on La Quila – his ramshackle-but-charming boat.

Lily is determined to uncover an ancient tree with unparalleled healing abilities – possessing the power to change the future of medicine. Thrust on this epic quest together, the unlikely duo encounters innumerable dangers and supernatural forces, all lurking in the deceptive beauty of the lush rainforest. But as the secrets of the lost tree unfold, the stakes reach even higher for Lily and Frank and their fate – and mankind's – hangs in the balance.
Jungle Cruise is directed by Jaume Collet-Serra. Jungle Cruise stars Dwayne Johnson, who is also a producer on the film, Emily Blunt, Jack Whitehall, Édgar Ramiríez, Jesse Plemons, and Paul Giamatti. Jungle Cruise hits theaters Friday July 30 and will simultaneously be available on Disney Plus with Premier Access the same day.
Are you excited to see the Jungle Cruise? Are you a fan of the ride? Are you excited for a new adventure film in the vein as Indiana Jones? Leave your thoughts in the comments below or on our social media.
KEEP READING: HAUNTED MANSION: INTEREST IN TIFFANY HADDISH AND LAKEITH STANFIELD TO STAR AND EXCITING STORY DETAILS: EXCLUSIVE