Jungle Cruise is Disney's newest summer blockbuster, an adventure film based on the classic Disney attraction. The film includes an impressive cast of compelling characters and rich lore. Jungle Cruise will simultaneously be released in theaters and on Disney Plus with Premier Access Friday July 30. The Illuminerdi had the opportunity to attend a virtual press conference for Disney's Jungle Cruise which featured the film's stars Dwayne Johnson, Emily Blunt, Jack Whitehall, and Édgar Ramiríez.
Édgar Ramírez plays a Aguirre who could easily be a more two-dimensional villain, but Jungle Cruise manages to flesh him out in a way that makes him a richer, more interesting character. Emily Blunt praised Édgar Ramírez for his villainous Aguirre, "I loved that you were like this operatic bad guy."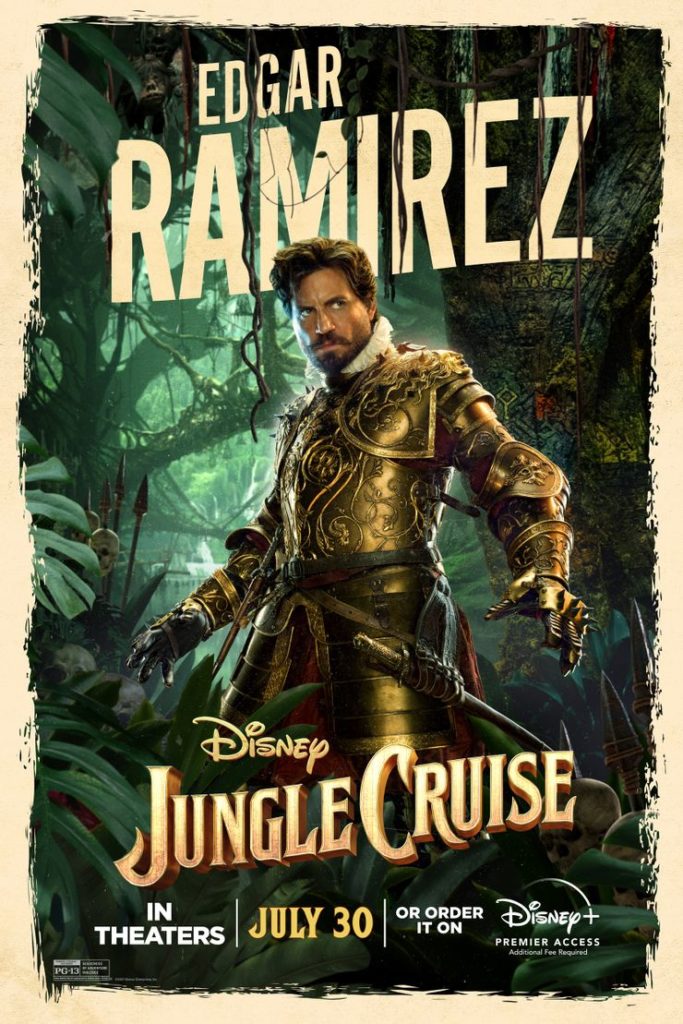 Édgar Ramírez revealed what he loved about his villain Aguirre and Jungle Cruise as a whole:
"Aguirre is a great character, a beautiful character to play, complex…'Cause what I love about the movie in general is that it has so many beautiful and great characters that allow you to be on a journey and what I love about the Conquistadors and Aguirre specifically is that it really puts you in a journey into the past and that is beautiful. It's like you have all these fantastical elements and that's what I go to the movies for. I want to be on a journey. I want to be disconnected from my reality and be able to dream of fantastical places and fantastical characters and creatures."
RELATED: JUNGLE CRUISE: DISNEY DROPS CAST CAMARADERIE FEATURETTE & MORE
And Jungle Cruise is indeed a fantastical adventure, but there are very human moments in this story as well. And one such moment takes place between Jack Whitehall's MacGregor and Dwayne Johnson's Frank. The pair share an important scene in the film where Whitehall's character MacGregor comes out to Johnson's character Frank and although he never uses the word "gay", which isn't a shock given that the film is set during World War I, his meaning is clear. Whitehall's character could have easily been shown as simply the brother of Emily Blunt's character, Lily, and the comedic sidekick to her intrepid adventurer.
RELATED: 2ND NEW TRAILER FOR JUNGLE CRUISE SHOWCASES DEATH-DEFYING ACTION AND ADVENTURE
The scene is beautifully done and it reveals an important part of the character's backstory that will help audiences truly understand him as a well-rounded, fully fleshed out character. It's also a moment that forms a bond between McGregor and Frank. When they were asked about the scene during the press conference, Dwayne Johnson was the first to answer explaining what he likes most about the coming out scene in the film,
"Really, I felt that the scene was exactly what it was, which was two men talking about what they loved and who they loved and it was as simple as that and we were sharing a drink."
Jack Whitehall not only talked about the scene itself, but why it is so important to fully flesh out these characters. Without this scene MacGregor's motivations and backstory is not as rich and intriguing. The scene reveals why MacGregor is so loyal to his sister and why he is on this Amazonian expedition.
"I think it was a scene that we really wanted to get right and I think, to what Edgar was talking about earlier, I think what's so great about this movie is that all of the characters feel so fleshed out. And all of them have interesting backstories and are fully realized.

And in a lot of movies of this kind of genre sometimes you'd have characters that are a little bit, kind of two dimensional, but I think it's so great that we get to understand so much about each of these characters. And they all have reasons for being where they are and interesting and rich textured backstories. And it makes you invested in them. And it makes you care about them. And it makes you really on that journey with them."
Jungle Cruise is an adventure film with an impressive cast of characters, including rich and comedic villains as well as the adventurers at the center of the story. The characters are layered and interesting in a way that doesn't always happen in these adventure films, where at times story, action, and comedy can overtake character to a degree. Jungle Cruise manages to explore these characters in a way that develops and enriches the plot.
JUNGLE CRUISE TRAILER AND SYNOPSIS
Join fan favorites Dwayne Johnson and Emily Blunt for the adventure of a lifetime on Disney's "Jungle Cruise," a rollicking thrill-ride down the Amazon with wisecracking skipper Frank Wolff and intrepid researcher Dr. Lily Houghton. Lily travels from London, England to the Amazon jungle and enlists Frank's questionable services to guide her downriver on La Quila – his ramshackle-but-charming boat.

Lily is determined to uncover an ancient tree with unparalleled healing abilities – possessing the power to change the future of medicine. Thrust on this epic quest together, the unlikely duo encounters innumerable dangers and supernatural forces, all lurking in the deceptive beauty of the lush rainforest. But as the secrets of the lost tree unfold, the stakes reach even higher for Lily and Frank and their fate – and mankind's – hangs in the balance.
Jungle Cruise hits theaters Friday July 30 and will simultaneously be available on Disney Plus with Premier Access the same day. Jungle Cruise is directed by Jaume Collet-Serra. Jungle Cruise stars Dwayne Johnson, who is also a producer on the film, Emily Blunt, Jack Whitehall, Édgar Ramiríez, Jesse Plemons, and Paul Giamatti. Are you excited to see Jungle Cruise? Are you a fan of the ride? Are you excited to dive into the world and characters of Jungle Cruise? Leave your thoughts in the comments below or on our social media.
KEEP READING: HAUNTED MANSION: INTEREST IN TIFFANY HADDISH AND LAKEITH STANFIELD TO STAR AND EXCITING STORY DETAILS: EXCLUSIVE