Jungle Cruise, the family blockbuster of the summer, is finally here courtesy of Disney, Dwayne Johnson and Emily Blunt.
Inspired by the famous Disneyland theme park ride, Disney's Jungle Cruise is an adventure-filled, Amazon-jungle expedition about a charismatic riverboat captain and a determined explorer on a research mission to discover the Tree of Life.
RELATED: JUNGLE CRUISE STARS ÉDGAR RAMÍREZ AND JACK WHITEHALL EXPLAIN THE RICH CHARACTERS
Disney's latest live-action adventure is not one of their many beloved animated classics. In fact, it's not even adapted from a previous film or book. Jungle Cruise is loosely adapted of the famous Disney Park Ride and is the studio's attempt to create the next big blockbuster franchise, in the veins of their Pirate franchise, Pirates of the Caribbean.
Jungle Cruise Promises Good Family Fun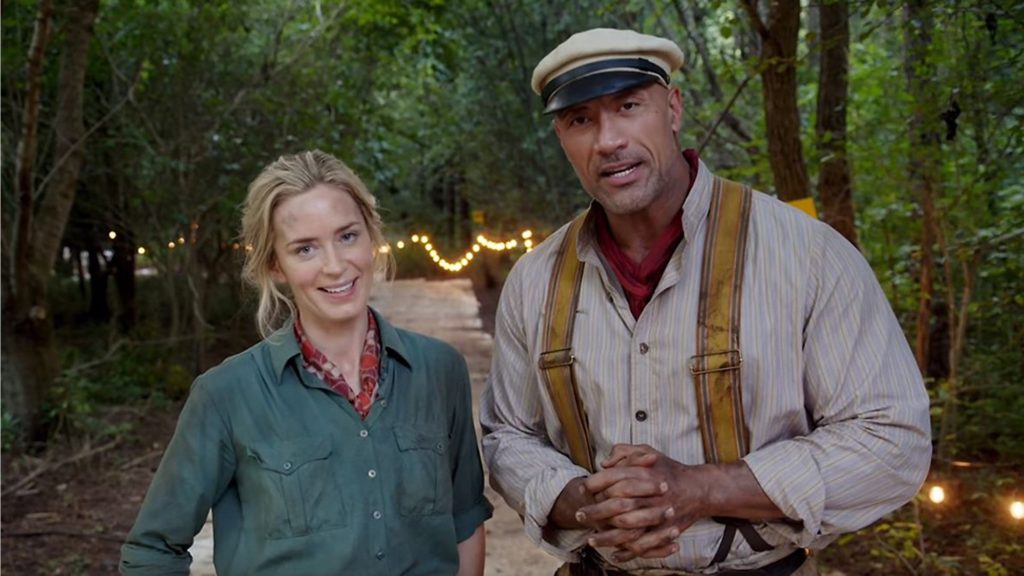 The family adventure shines through the charming and undeniable chemistry between Dwayne Johnson and Emily Blunt. Their verbal banter is charming and hilarious at the same time. You can clearly tell that the cast had a great time doing this movie. Jack Whitehall's McGregor steals some scenes as well as the great Jesse Plemons, whose villain Prince Joachim often steals the show through his accent and playfully evil performance.
Another highlight is the score by James Newton Howard, which perfectly underlines and sets the tone for every scene. They should have used the score more often as their is one flashback sequence with a, let's say interesting choice of music. Jaume Collet-Serra's confident directing is promising and another sign that his and Johnson's next collaboration, the DC film Black Adam could be a hit.
The plot is fairly simple and evolves around a McGuffin Arrowhead, that is wanted from every party for different reasons. While the simple structure could work it gets tiring really fast as the film becomes very repetitive through running gags, that work as various plot points. It also features a lot of heavy mythology, to build up on in a potential sequel that stretches the runtime enormously. While 127 minutes isn't particularly long, the film feels a lot longer than that.
Jungle Cruise is a mixture of many films: Indiana Jones, who found his successor in Emily Blunt's Lilly, who really reminded me of the iconic archeologist played by Harrison Ford. There also is Jumanji and as mentioned Pirates of the Caribbean. This mixture of films will give audiences a summer blockbuster than can be enjoyed by the whole family. There are many lovely CG animated animals for kids to enjoy, as well as some jokes and darker scenes (dark in a sense of Pirates of the Caribbean dark) oriented at the grown ups.
The cast (and their chemistry) shines in their respective roles and make Jungle Cruise an adventure worth taking, whether in theatres or on Disney+ with Premier Access. It will be interesting to see if Disney's latest adventure mostly set in the water will spawn a new franchise.
3/5
Jungle Cruise hits theatres and Disney+ Premier Access July 30th. It is directed by Jaume Collet-Serra and stars: Dwayne Johnson, Emily Blunt, Jack Whitehall, Edgar Ramirez, Jesse Plemons and Paul Giamatti.
What do you guys think? Are you planning to watch it, if so in theatres or on Disney+? Have you seen it already, if so how did you like it? Let's discuss everything in the comments down below and on our Twitter.
KEEP READING: BLACK ADAM COSTUME HYPED & POTENTIAL SEQUEL TEASED AT JUNGLE CRUISE PREMIERE