Free Guy is a rarity at theaters today, in that it is a big budget, bombastic original movie. Not a story based on previously existing IP, Free Guy uses IP for references, cameos, and Easter Eggs, notably in the third act, but it's entirely self-aware of these moments which makes them even better. The film features different styles of comedy as the characters and story evolve, fantastic action that perfectly fits the world, and a surprising amount of heart that makes the story truly beautiful. Perhaps one of the most surprising elements of Free Guy is the depth and layers in every character and the story itself which is sure to start compelling, even philosophical conversations among audiences.
Free Guy is largely set in the world of a brutally violent open world video game Free City, reminiscent of Grand Theft Auto, and follows Ryan Reynolds' Guy. Guy is a bank teller and as he soon discovers, an NPC or background character in the video game. He meets Jodie Comer's Molotov Girl, aka Millie, puts on a pair of the special sunglasses and everything changes, which leads to Guy's decision to help the people of his world and become a hero.
RELATED: FREE GUY DIRECTOR ON MAKING A FUN MOVIE FOR GAMERS AND NON-GAMERS AND RYAN REYNOLDS ON KEEPING THE FILM "AUTHENTIC"
Outside of the game Free Guy features a villainous video game publisher, Taika Waititi's Antwan, who's only focus is money. As he plans to launch a new version of the game and shut down the current one, Guy's entire world is threatened and he, along with Millie must work to save his world and all the NPCs living in it.
HOW FREE GUY UTILIZES THE VIDEO GAME SETTING FOR SPECTACULAR ACTION AND COMEDY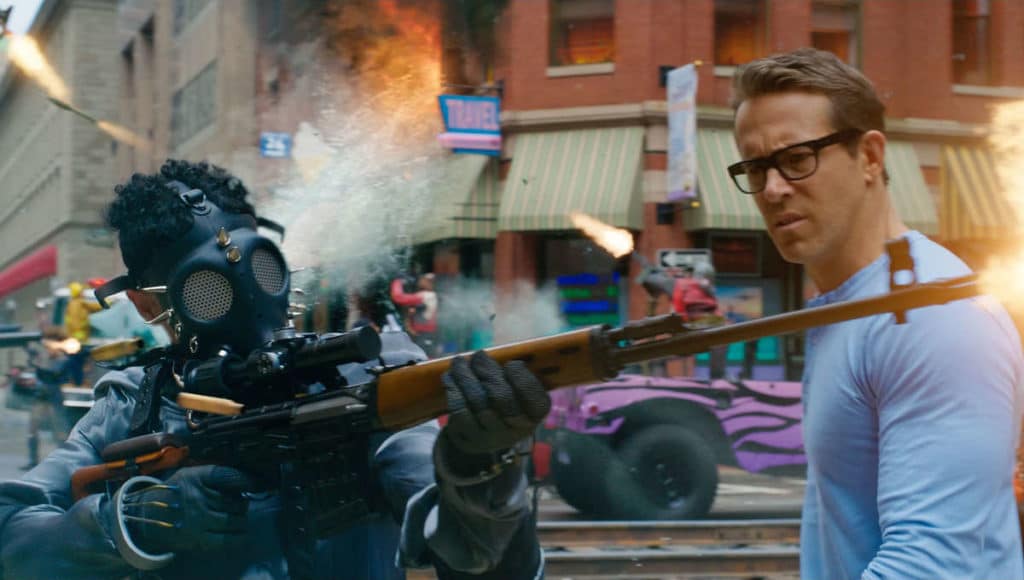 Free Guy perfectly utilizes the video game setting without making it overwhelming for non-gamers. As Ryan Reynolds, star and producer, and Shawn Levy, director and producer, explained at the press conference, a huge goal for them was to make Free Guy feel authentic for gamers, but not overwhelming for the general audience who aren't gamers. They succeeded by adding details that are genuine to the gaming community, including well-known gaming streamers, while making sure the story itself is based around characters and heart.
The video game setting adds instant comedy to the story with characters who live amongst the mayhem of this terrifying world without knowing any different. And Reynolds' shows off many different kinds of comedy with naivete and cynicism in the same character as his story develops. The action in Free Guy is also uniquely tied to the video game world with epic action sequences including explosions, car chases, and fight scenes common to the game playing out constantly throughout Free Guy.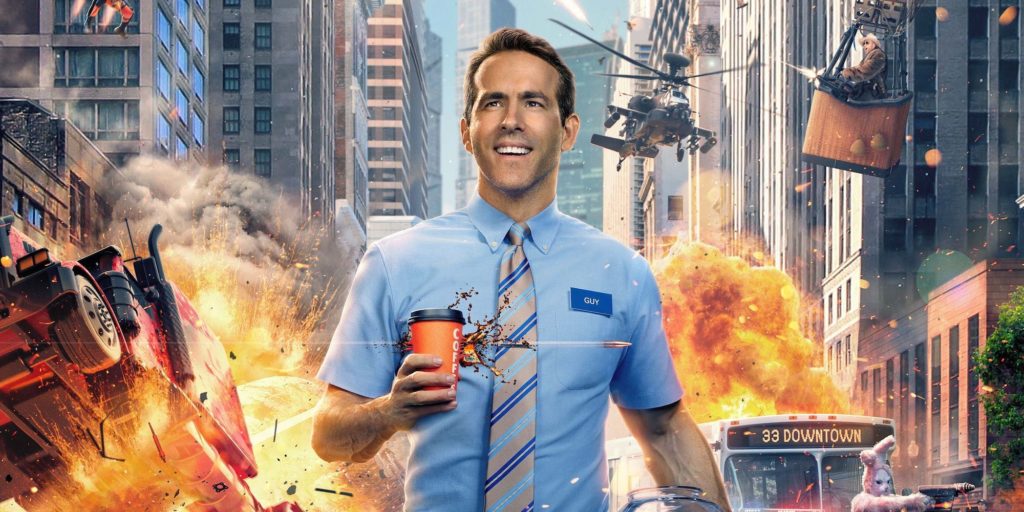 Free Guy utilizes the video game visuals to make the film stunningly larger than life as well as hilarious in details that will feel authentic and relatable to gamers. But, the setting also allows Ryan Reynolds' Guy to grow and develop in a way that would be impossible otherwise. The heart and depth in his character and how he changes the world around him is a unique experience that is thrilling to watch. Free Guy manages to intertwine the story in the game and the real world in a way that elevates both in a number of different ways.
RELATED: FREE GUY STAR RYAN REYNOLDS CONTRASTS PLAYING NEW HERO VERSUS DEADPOOL AND THE JOY OF CREATING AN ORIGINAL FILM
Free Guy is clearly a chance for Ryan Reynolds to show off his range with different kinds of comedy, impressive action, heart, sincerity, and a depth that one doesn't see in his most recognizable character, Deadpool. Lil Rel Howery infuses his performance with sincerity and makes the friendship between his character and Reynolds feel authentic. Unsurprisingly Taika Waititi is absolutely spectacular, playing a villain so hilariously repugnant that he steals every scene he is in. Jodie Comer is fantastic, similar to Reynolds, her character allowed her to show off her range with action, comedy, and engaging emotional depth. Comer's character has depth that truly makes her story compelling and her interactions with Reynolds hilarious and enthralling to watch.
Ryan Reynolds' Guy is the exact kind of hero that audiences need especially after the year and a half that the world has experienced and is still experiencing. A genuinely kind-hearted character who chooses to help people simply because he can. Not out of a sense of duty or because he is seeking redemption, Guy is simply a good guy.
The film features characters with depth and layers who evolve throughout the film due to their relationships and connections with other characters and it shows that kindness and optimism are strengths not weaknesses that the world could use especially now. And that the idea that everyone can change their story and the world is a welcome one that plays out brilliantly.
Free Guy is the perfect film to draw audiences back to the theaters with visuals and action that need the big screen as well as comedy and heart that will make the story beloved by audiences. Free Guy is exactly the kind of film that proves why we need more original big concept and big budget films in a landscape of adaptations, remakes, and sequels. Free Guy is a genuinely clever, fun, and a feel good movie that audiences are sure to love.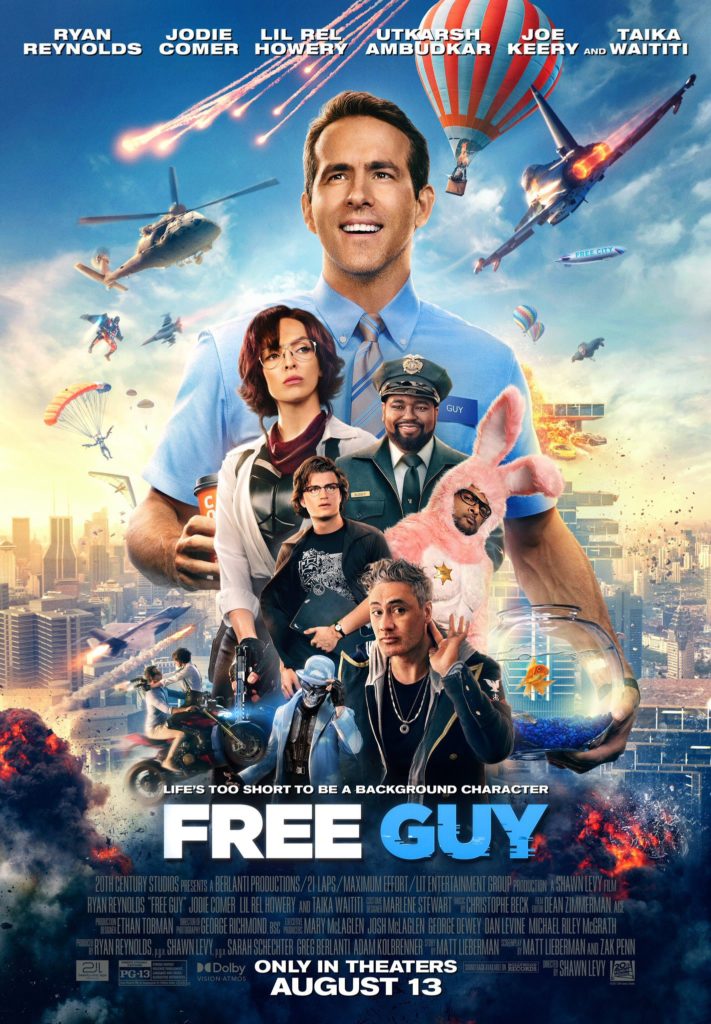 Free Guy will be released only in theaters August 13, 2021. Are you going to see Free Guy? Are you excited to see Ryan Reynolds play a different kind of hero? Leave your thoughts in the comments below or on our social media.
KEEP READING: LEVEL UP WITH THE NEW FREE GUY TRAILER