Vacation Friends is a surprisingly smart and funny R-rated comedy in the vein of Superbad, The Hangover, or 21 Jump Street. There's a fair bit of dumb stoner humor, but it's played with total awareness that only adds to the intelligence of the script. Coupled with a surprising amount of heart and a moral center, the film becomes as universally relatable as it is universally enjoyable. The film is so well timed and executed that I was shocked to learn that it was Clay Tarver's directorial debut.
VACATION FRIENDS NEEDS TO BE A SERIES
The plot moves wickedly fast, being more like a series of episodic events than a much longer movie with a defined endpoint. In fact, the way the film is laid out, I think they could have fit as much or as little material as they wanted to before tying it to a close. It's shocking to believe, because with such a simple core idea, I'd imagine Vacation Friends to be only a one-time gag that could hardly sustain a full-length movie. Yet writer/director Clay Tarver is able to naturally infuse so many ideas and funny misadventures into Vacation Friends' plot that the movie feels like binging the first few episodes of a great ongoing series.
A wild premise with four strong characters meeting unexpectedly in event after event, becoming best friends, continuing their lives together – and then what? In the best kind of way, there's a lot of room for the characters and writers to push the story into any number of new directions. Vacation Friends unlocks the secret to great serialized storytelling: Focusing on characters and smart situational comedy instead of a singular, limited plot. This type of character-based writing could sustain the same group of characters for an indefinite number of sequels.
THE CRAZY CAST AND CREW OF VACATION FRIENDS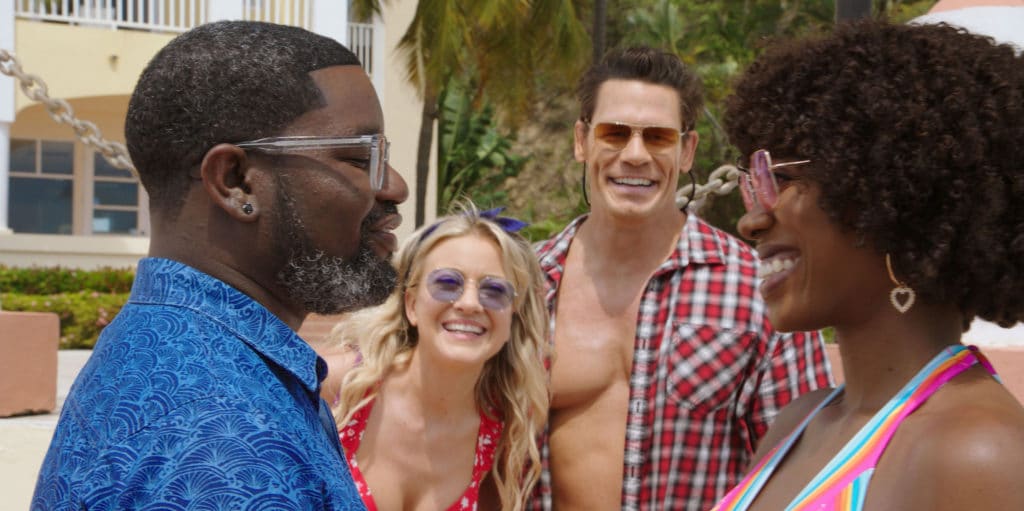 But because the film relies so heavily on the strength of the script, the filmmaking itself isn't especially eye-catching. This is also most likely a result of Clay Tarver's relative inexperience as a director and his strong story background as a writer and showrunner for Silicon Valley. The biggest things I appreciated from his direction were the brilliant comedic timing, the focus on facial reacting and background details, and a few standout camera sequences. In particular, Tarver really excels at filling the movie with subtle "some-thinking-required" humor hidden in the little details and between edits. I loved his boldness to use wild score elements like shaman chanting and yodeling to accent critical comedic beats.
RELATED: VACATION FRIENDS IS A UNIVERSAL FEEL-GOOD COMEDY
Speaking of musicality, the whole cast sings, from Yvonne Orji to Lil Rel Howery to Meredith Hagner to the great John Cena making the ultimate double performance feature after his terrifying role in The Suicide Squad. Cena miraculously juxtaposes his hilariously dumb character with a kind of life-earned wisdom. He gives Ron a subtle complexity, presenting a character who's seen it all, done it all, learned from it all, and yet has the innocent enthusiasm of a kid making dick jokes.
In perfect contrast, Lil Rel plays Marcus like a more down-to-earth and relatable version of Kevin Hart. A kind of everyman's Kevin Hart, I guess. The contrast of the couples is fantastically done, creating an "odd couple of couples" which could be the conceit for an entire subgenre of comedy stories.
VACATION FRIENDS' BIGGEST PROBLEM? IT ENDS TOO SOON
The end of Vacation Friends faltered just a bit for me because it rushed too many story beats to tie up the loose ends. It's frustrating that a major conflict is derived from a basic mistake dragged throughout the movie and the way Marcus handles it makes it even more upsetting. A pivotal scene escalates the conflict clumsily and too quickly, making an obviously unrealistic confrontation manufactured to give the script structure a focal point to accelerate the story into some kind of resolution and eventual finale. In other words, the writers made up a dumb fight so the story could end.
RELATED: VACATION FRIENDS DIRECTOR CLAY TARVER PRAISES HIS CAST'S MAGICAL CHEMISTRY
The film is still a strong comedy with a great epilogue, but I think the writing suffered from forcing the broad story premise into a singular feature film that needed one clear ending at a certain timestamp. With the script's vast scope and layers of creativity, this premise could thrive as an ongoing series – which is why creating a quick ending is such a difficult task to do well. If this had been handled better, perhaps it could have succeeded in the style of a Shakespearean miscommunication comedy; though generally what makes those comedies work is the low-stakes of the miscommunication, whereas Vacation Friends drives the conflict by withholding high-stakes information, devastatingly frustrating the audience.
But all in all, Vacation Friends is a total surprising treat. Great cast, great script, great execution from a first-time director. I had an absolute blast with it, and the comedy only gets better on rewatch.
★★★½ / ♥♥♥♥
* Rating is out of 5 stars (filmmaking & storytelling) / 5 hearts (love & entertainment) *
Vacation Friends gets a big recommendation from me, so check it out on Hulu NOW! What did you think of Vacation Friends? Let us know in the comment section below or let's discuss over on our social media!
KEEP READING: WHAT IF…? EPISODE 3 REVIEW: A WONDERFUL SLOW BURNING MURDER MYSTERY