Marvel Studios is just over three weeks away from its newest theatrical addition to the MCU in Chloé Zhao's Eternals, which is already building up hype as potentially one of the MCU's best movies to date. The Academy Award-winning director and Marvel Studios President Kevin Feige are teaming up to bring a new level of depth to the MCU's expansive past while continuing the trend set by Shang-Chi and the Legend of the Ten Rings by giving fans a new look at a post-Avengers: Endgame world.
With this movie being the Eternals' first take on the big screen, Marvel has a chance to deliver a thrilling new story to the narrative with more than a dozen of Hollywood's top stars bringing the Marvel Comics race of immortals to life. The Marvel team has already teased potentially universe-shattering ramifications coming out of the upcoming fight between the Eternals and the Deviants, and with less than a month until the film releases, anxiety is building to see how this changes the MCU landscape.
Not only will this movie's cast bring more A-listers than nearly any MCU solo movie to date, it will also bring a never-before seen level of representation both through its actors and in the story itself. This is highlighted by Brian Tyree Henry's Phastos being the first openly gay leading hero in MCU history, as shown in a recent TV spot, and Lauren Ridloff's Makkari coming in as the first deaf superhero, which will be showcased on screen as well.
RELATED: ETERNALS STAR LAUREN RIDLOFF TEASES MAKKARI'S INTRIGUING LIVE-ACTION CHANGES FOR THE MCU
While it's fantastic in and of itself to see real-life representation coming into play from the outside world, the plot itself will also showcase the heroes' struggles as they navigate through 7000 years of human history. One specific disability was also just confirmed via one of Marvel's top producers.
Here Is What's Wrong With Eternals' Thena
In an interview with Screen Rant, Marvel Studios VP of Production & Development Nate Moore revealed that Angelina Jolie's Thena will be dealing with the Eternals' version of dementia in the upcoming Eternals movie.'
Thena comes down with an ailment called Mahd Wy'Ry, which is taken directly from the pages of Marvel Comics. This is an ailment that can affect Eternals due to having so many memories stored in their minds over thousands of years of existence, causing them to forget when or where they are at times.
In the movie, Thena is having trouble dealing with Mahd Wy'Ry, leading to Don Lee's Gilgamesh becoming her protector and guardian when we see the team in the modern day. They now live completely off the grid in Australia since Thena is seen as too dangerous to be in close contact with humans, which should play a key role in her character arc.
"She has a tragic story in our film in that she comes down with something called Mahd Wy'ry. If you guys are fans of comics Mahd Wy'ry is something that can beset an Eternal. It's a version of dementia. Because of the amount of memories they have, they become unstuck in their own mind, so she starts to forget exactly when she is, so through the course of the movie, Gilgamesh becomes her protector. And when we find them in the modern day, they're living off the grid in a cabin in Australia because she's too dangerous to have around humans, so it's a fun arc for Angelina to play."

Screen Rant
Taking into account just how long the Eternals have lived, both before and after their arrival on Earth, this kind of disease makes plenty of sense to include in the movie. It also clarifies one of Jolie's facial reactions that fans saw in the movie's final full trailer from August.
In that trailer, she is seen sparring with Gilgamesh as the two use their powers and weapons, confirming that the two have a close relationship as described by Moore. She then looks across the landscape and sees Kumail Nanjiani's Kingo, Lia McHugh's Sprite, Gemma Chan's Sersi, and Richard Madden's Ikaris as she gives a tentative "hello," this likely being the first time she's seen them in centuries.
With her fighting her bout of Mahd Wy'Ry, her confused reaction seems to confirm that she may not know who her teammates are, even after plenty of interactions with them over thousands of years living on Earth.
The danger of having her around people also tracks well with her place as the Eternals' leader in battle, which Jolie has showcased in numerous scenes through the promotional material released so far. That kind of power mixed with the obvious frustration of not being able to remember part of her life will clearly put her in a tough spot, with plenty of emotions that she'll need to deal with in some form.
RELATED: AGATHA HARKNESS: NEW WANDAVISION SPIN-OFF IN DEVELOPMENT AT MARVEL STARRING KATHRYN HAHN'S POPULAR VILLAIN
The big mystery that remains is if she will be the only Eternal suffering from Mahd Wy'Ry and how big of a role the ailment will actually play through the course of the movie. With just over half of the 156-minute runtime taking place in the present day, there is surely the opportunity for plenty of memories the team will have to revisit as they reunite with one another.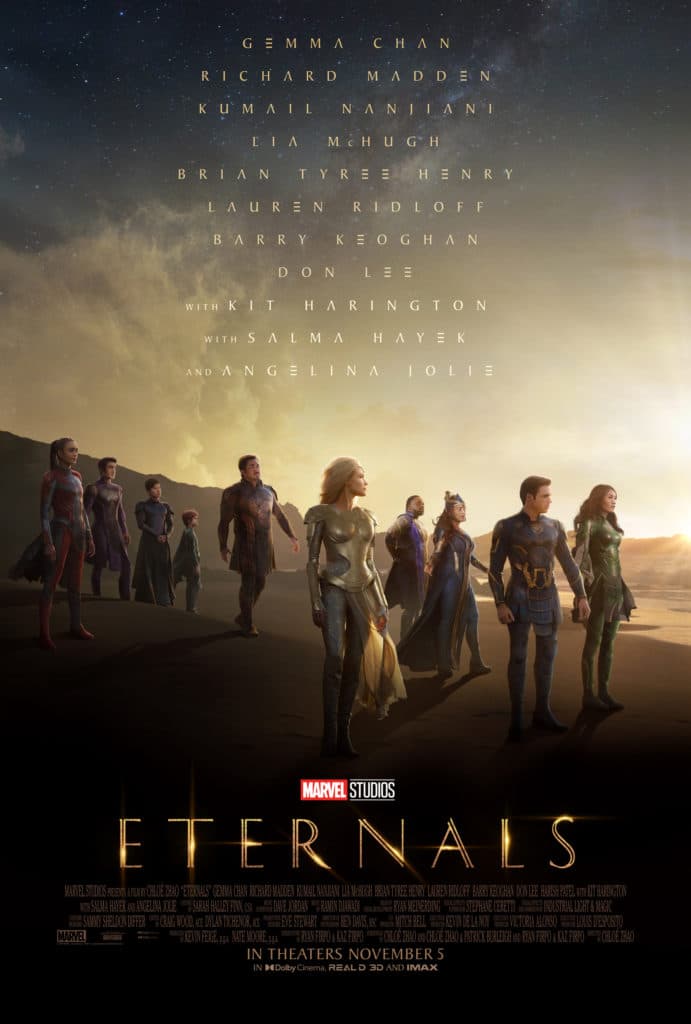 Eternals will debut in theaters on November 5, 2021. What do you think of the new character details? How do you think it will play into the upcoming blockbuster? Let us know all of your thoughts and theories in the comment section below or over on our social media!
KEEP READING: WILL POULTER CAST AS COSMIC SUPER BEING ADAM WARLOCK IN GUARDIANS OF THE GALAXY VOL. 3
Source: ScreenRantM