The Harder They Fall is, simply said, the coolest film of the year.
The feature film debut by writer-director Jeymes Samuel drips with style, coolness, blood and is the best western in recent memory.
RELATED: SNAKEHEAD REVIEW: A WELL FILMED YET FLAWED CRIME DRAMA
Read more in our review down below.
The Harder They Fall Brings The Heat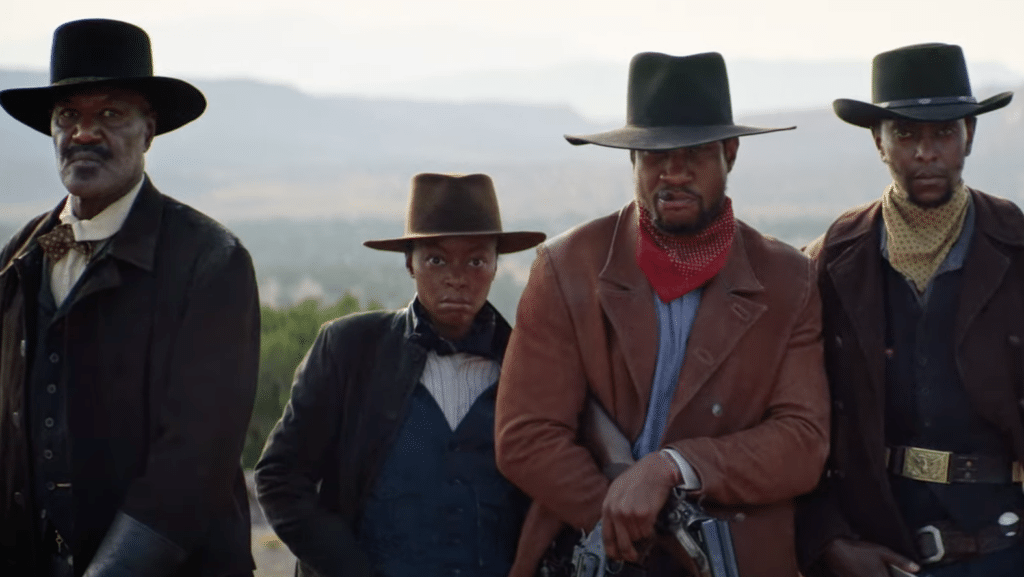 Starting off with the incredible ensemble cast including: Jonathan Majors, Idris Elba, Zazie Beetz, Regina King, LaKeith Stanfield and Delroy Lindo. Everyone brings their A-game and delivers memorable performances. The highlight being the rising star and Emmy Nominee Jonathan Majors, who collaborates a second time with Lindo after they first starred together in Spike Lee's Da 5 Bloods. But the scene stealer is … through his witty and entertaining performance. This is just one of those rare films, where you feel like every role has been perfectly cast.
The Harder They Fall is full of stylistic editing, cinematography and directing. Combined with the coolest soundtrack of the year, with songs by the likes of Jay-Z or Kid Cudi, the film is simply one thing: highly entertaining!
The film follows Nat Love, as he discovers that his enemy Rufus Buck (Idris Elba) is being released from prison he rounds up his gang to track Rufus down and seek revenge. Those riding with him in this assured, righteously new school Western include his former love Stagecoach Mary (Zazie Beetz), his right and left hand men — hot-tempered Bill Pickett (Edi Gathegi) and fast drawing Jim Beckwourth (R.J. Cyler)—and a surprising adversary-turned-ally. Rufus Buck has his own fearsome crew, including "Treacherous" Trudy Smith (Regina King) and Cherokee Bill (LaKeith Stanfield), and they are not a group that knows how to lose.
Jeymes Samuel's debut is a stylistic return to form for the genre, showcasing that there is still potential for western to give audiences something new and exciting. The film is a passion project for the director as he wanted to show audiences that there haven't been just white cowboys. Every character in The Harder They Fall really existed, only the brutal revenge tale came from the mind of Samuel.
Speaking of the story, it is your typical revenge tale and even takes some easy ways to solve the films conflicts, but in those scenes it really doesn't bother you as it feels suited in the context or is amazingly brought to life by the stellar cast.
The Harder They Fall is the coolest film of the year, taking audiences on a cool, stylish, brutal, but a bit overlong revenge tale with a stellar cast and an exciting voice in the directors chair. A modern take on the genre and one of this years very best films.
4/5
The film is currently in select theatres and hits Netflix November 3, 2021.
The Harder They Fall was co-written and directed by Jeymes Samuel and stars: Jonathan Majors, Idris Elba, Zazie Beetz, Regina King, LaKeith Stanfield, Danielle Deadwyler, Edi Gathegi, RJ Cyler and Delroy Lindo.
What do you guys think? Are you planning to watch it? Which is your favourite western? Let's discuss everything in the comments down below and on our Twitter.
KEEP READING: NIGHT RAIDERS REVIEW: POST-APOCALYPSE FILM OFFERS SOMETHING NEW