Home Alone has been a Holiday classic the entire family can enjoy for decades. From the crazy hijinks, the love of a mother, and the heartfelt message of family, Home Alone has something for everybody. Now, Home Alone is adding another film to the long running Holiday franchise with Home Sweet Home Alone.
The Illuminerdi recently had the opportunity to participate in the Home Sweet Home Alone virtual press conference. The cast reminisced about what their favorite part of Home Alone is and how Home Sweet Home Alone manages to incorporate these elements keeping the spirit of the franchise. Archie Yates, who stars as Max Mercer in Home Sweet Home Alone, revealed that he is a huge fan of the original Home Alone films, but needed to differentiate his character from fan favorite Kevin McCallister.
"I did take a lot of inspiration from the original Home Alone movies. I mean, I religiously watch them every year at Christmas. Yeah, so it was pretty easy for me to relate. But then again, Max Mercer is supposed to be a completely different character from Kevin McCallister. So, while I did want it to be the classic, "Ah," [MAKES THE CLASSIC HOME ALONE FACE] I also wanted it to be more original and a bit different because that's what this film is all about. It's the same universe, but it's a completely different story."
Aisling Bea, who plays Max's mother, Carol Mercer in Home Sweet Home Alone, shared how she tapped into the emotional side of Home Alone when playing Carol Mercer. She also joked about how the coat was an important part of forming the character too.
RELATED: BRUCE CAMPBELL TEASES DOCTOR STRANGE 2 IS "WORTH TALKING ABOUT" IN RECENT INTERVIEW: EXCLUSIVE
"For me, it was the emotional moment of seeing your son again and that moment at the door. And that's, I think, because you get such a feeling from that moment and then also unemotionally, the brown coat, that the mother has a brown coat. Some actors worked differently. I worked from the coat out."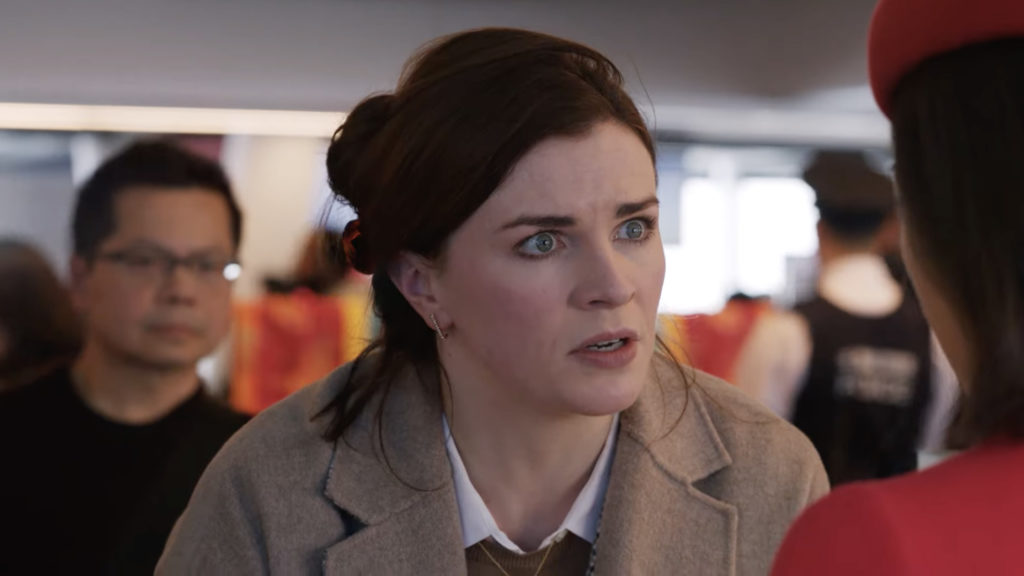 RELATED: JON CRYER RECALLS THE "FUN" EXPERIENCE WORKING WITH SMALLVILLE'S TOM WELLING IN CRISIS ON INFINITE EARTHS: EXCLUSIVE INTERVIEW
Rob Delaney, who stars as Jeff McKenzi in Home Sweet Home Alone, explained that the stunts and hijinks are a huge part of the Home Alone franchise which Home Sweet Home Alone fully taps into. Rob's character Jeff has a unique perspective on the traps given that he is one of the home invaders.
"I mean, the stunts and the things that happen to our characters are truly horrible. I mean, Max, by definition, what he does to us is torture. I mean, what he does to us is prohibited under the Geneva Convention. So, in terms of the film Home Alone, we really wanted to have that real danger be a part of what we were doing. And it was easy to do because you've got projectiles headed at your skull at hundreds of miles at hour falling from great heights, actual fire and ice. So yeah, just making sure that the real peril was a part of this story was important to us."
The booby traps, the emotional family pay off, and the child protecting his home are at the heart of the Home Alone franchise. Home Sweet Home Alone manages to incorporate every aspect of this into the film while still bringing a unique new story to audiences. Home Sweet Home Alone is directed by Dan Mazer and stars Ellie Kemper, Rob Delaney, Archie Yates, Aisling Bea, Kenan Thompson, Tim Simons, and Ally Maki.
HOME SWEET HOME ALONE TRAILER AND SYNOPSIS
Ten-year-old Max Mercer has been accidentally left behind while his family is in Japan for the holidays. So when a married couple attempting to retrieve a priceless heirloom set their sights on his family's home, it is up to Max to protect it from the trespassers…and he will do whatever it takes to keep them out.
Home Sweet Home Alone hits Disney Plus November 12, 2021. Are you going to be watching Home Sweet Home Alone? Are you a Home Alone fan? What's your favorite element of the Home Alone franchise? Have you started watching Holiday films yet? Leave your thoughts in the comments below or on our social media and check back with The Illuminerdi for more Disney news.
KEEP READING: HOME SWEET HOME ALONE STARS RAVE ABOUT THE FUN HOME ALONE CAMEO IN THE NEXT INSTALLMENT OF CHRISTMAS FRANCHISE