The final episode of I Know What You Did Last Summer, titled "Your Next Life Could Be So Much Happier," is a unique experience that nevertheless fails to bring the narrative to a compelling conclusion. 
Madison Iseman, Brianna Tju and Ezekiel Goodman get the lion's share of the screen time in the final episode. Each of their arcs are brought to conclusion in shocking, unexpected ways. For that, I have to commend I Know What You Did Last Summer.
RELATED: PREY: PREDATOR SEQUEL ANNOUNCED FOR SUMMER 2022 HULU RELEASE
That being said, shock value alone is not enough to carry a story. Even if I didn't see the big twist coming, it doesn't really matter if the twist isn't believable. This murder mystery ultimately boiled down to crimes of passion. The trick with this is that the love story that set everything in motion was hardly fleshed out. 
I KNOW WHAT YOU DID LAST SUMMER FINALE SETS UP A SECOND SEASON
As you watch "Your Next Life Could Be So Much Happier", you find yourself asking "Why did I spend 8 hours of my life on this show?". The intriguing cult element left so much to be desired, the season two setup was laughably outlandish, and the big third-act reveal didn't make up for anything. What was the point?
Brianne Tju's Margot is a caricature of a spoiled teenage brat with mental health issues. Her story doesn't empower, enlighten or inform; it actively spits in the face of the serious challenges it could have brought attention to.
Her vocabulary is almost exclusively "low key", "tea" and "hashtag", used in different combinations. She reads like an 80 year old's idea of a modern teen, and that has never been more of a problem than it is in the finale. 
To the defense of Tju, Iseman and the entire cast, no level of performing prowess could have saved this iteration of I Know What You Did Last Summer. The writing on this young adult slasher is so bad that it becomes difficult to evaluate the acting.
I KNOW WHAT YOU DID LAST SUMMER: NO CAST COULD HAVE BROUGHT THIS WOODEN SCRIPT TO LIFE
Madison Iseman as Lennon/Alison and Fiona Rene as Officer Lyla were easily my favorites. Rene delivered the most believable and emotionally authentic work of the bunch, and Iseman did a marvelous job balancing the twins. The conclusion to Alison's arc painted her in a surprisingly vengeful light, which entertained and frustrated me simultaneously.
One thing that this series is missing is a visually remarkable killer. Friday The 13th has Jason Voorhees, Halloween has Michael Myers, and I Know what You Did Last Summer has…nothing remarkable to look at.
The film adaptation tried to create a hateworthy monster in Ben Willis, AKA "The Fisherman". While the slicker-clad killer won't go down in history as a slasher icon, at least they tried to create a frightening and memorable costume. This show could have become the new face of the franchise with great costume design for the killer. Instead, the visual icons of the Amazon Prime TV show are goat heads and spilt honey.
I KNOW WHAT YOU DID LAST SUMMER: SERIOUSLY, READ THE BOOK INSTEAD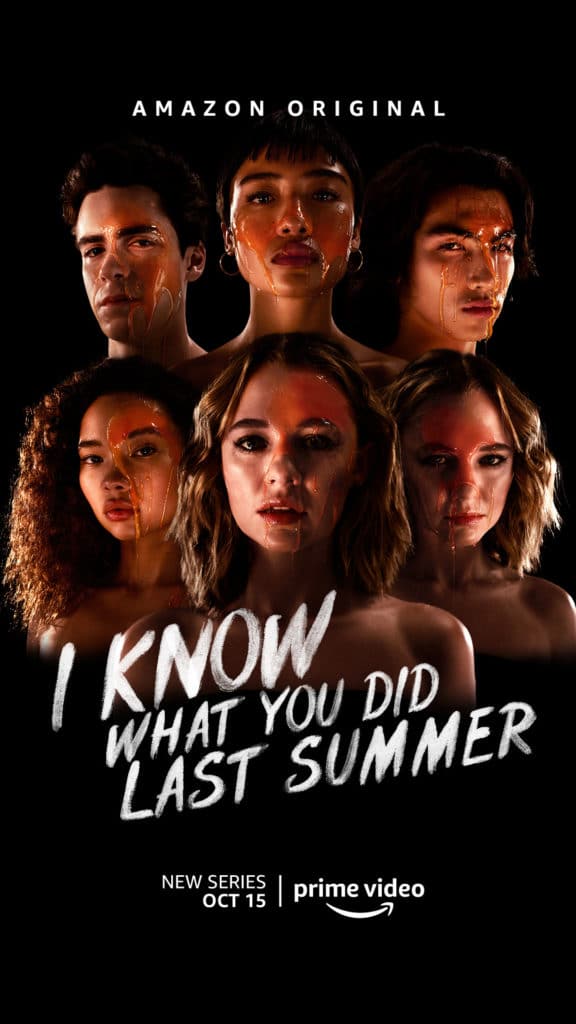 I Know What You Did Last Summer is an unbelievable, melodramatic slasher. The series realizes how needlessly complicated it is, acknowledging this in a scene (which plays during the credits) where an annoying narrator explains how the killer commited the murders throughout the show.
I really wanted to like this show, as I really enjoyed Lois Duncan's original novel of the same name. Amazon Prime's I Know What You Did Last Summer is nothing like the book, and furthermore, it is not a series that I would recommend.
Let us know what you thought of I Know What You Did Last Summer (2021) in the comments below or on our social media!
The finale of I Know What You Did Last Summer was directed by Logan Kibens, and written by Sara Goodman. It stars Madison Iseman, Brianne Tju, Ezekial Goodman, Fiona Rene, and Bill Heck. 
KEEP READING: THE ELECTRICAL LIFE OF LOUIS WAIN: CUMBERBATCH SHINES IN QUIRKY AND COLORFUL, YET FORMULAIC BIOPIC