Walt Disney Animation Studios is about to debut their 60th canonical animated film continuing the 84-year legacy that Walt Disney himself began with Snow White And The Seven Dwarves in 1937. Disney is famous for their animated masterpieces with beautiful music, animation, and tremendous storytelling.
The Illuminerdi had the opportunity to attend the Encanto Virtual Press Conference where Clark Spencer, the President Walt Disney Animation Studios, talked about how Encanto manages to touch on the important history of the cornerstone Disney studio, while also being an indication of the bright future ahead.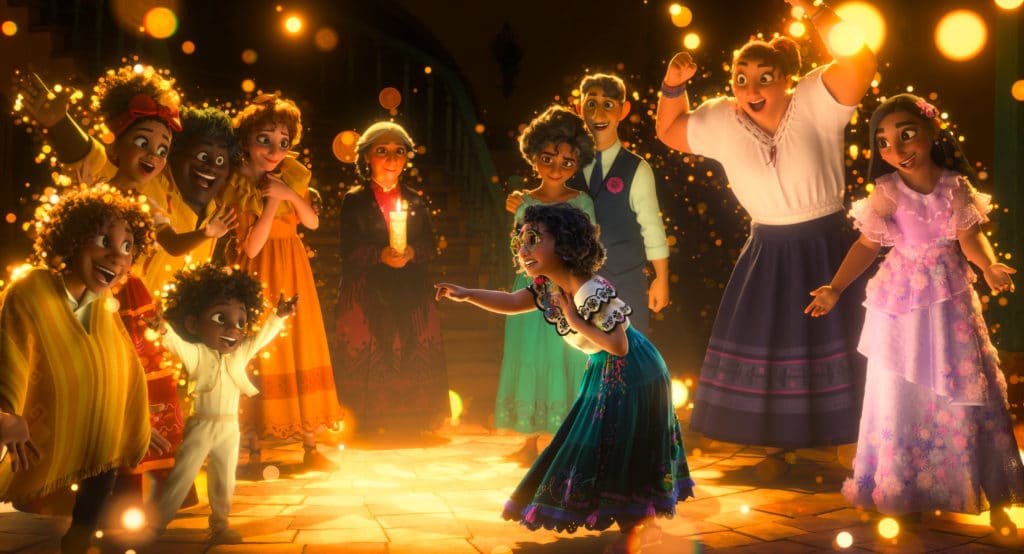 RELATED: ENCANTO REVIEW: A MASTERFULLY ANIMATED MAGICAL TALE FULL OF HEART, HUMOR, AND TREMENDOUS MUSIC
"Well, I think it has both, our past and our future all in it, which is what I love about this movie so much. Because if you think about the fact that Encanto is our 60th animated film, starting with Snow White back in 1937, it's pretty incredible to think, how do you reflect upon that, right? And so, even though we never said to ourselves, "Well, we gotta figure out how we have it feel like it has one foot in our history, and one foot in the future," it does.

Because it has this incredible music within it, these songs, and songs have always been iconic to our films. And the gift that Lin brought to this film is just absolutely incredible. It has these beautiful visuals, it has heart, it has emotion, it has comedy, it has wonder, and it has magic, these things that have always existed. But when you watch the film, you also see where we've gone as a studio. I think this is the visually most complex movie we've ever made. It is just incredible, what is actually on the screen. To Jared's point, there's 12 characters we're tracking.

The fact that between Jared and Charise and Lin, they could actually say, "How do we make the audience understand who each of these 12 characters are, and go on this journey with Mirabel and have you root for her the whole way?" I mean, that's not an easy task in any way, shape, or form. The music is both to Lin's point, "Dos Oruguitas" is this incredible folk song, but then you have a song that is a reggaeton with "Surface Pressure."

So, you got everything in this film from that standpoint. So, that's really what excites me so much about this film. It's just been incredible to see it come together, and I'm so incredibly proud of this team, and all of the people who worked on it at our studio who just poured their heart and soul into it."
RELATED: WALT DISNEY ANIMATION STUDIOS ANNOUNCES THEIR 1ST ANIMATED SERIES FOR DISNEY PLUS AND MORE EXCITING PROJECTS
Encanto captures the classic Disney magic with a heartfelt animated heroine, tremendous animation, and gorgeous music. However, Encanto also explores new territory for Disney with a larger main cast, new styles of music, and a more introspective story set in Colombia. The experimentation that Lin-Manuel Miranda was able to bring to Encanto's soundtrack gives the film a unique feel that Disney will hopefully continue to explore in the future.
WALT DISNEY ANIMATION STUDIO PRESIDENT CLARK SPENCER TALKS ABOUT THE MESSAGE OF ENCANTO
Clark Spencer also explained how the filmmakers found the message of Encanto during the film's creative evolution and why he feels it is so important especially this Thanksgiving.
"Well, I think, it's always an evolution, right? We learn so much in the journey, the five years really allows us to go on a journey and figure out what do we want. But from the beginning, the team knew, Byron, and Jared, and Lin, from the very beginning, knew they wanted to tell a story about family, and it was gonna be an extended family with three generations. That was there from the very beginning. And also, it was the idea about perspective, right? What do we really know about our family, and what do they know about us?

So that was always grounded from the beginning. But as Mirabel started to be developed as a character, it really started to shine when the idea of these magical powers came in, and everyone got one but her, you knew what this was gonna be emotionally, right? Like, you could just feel it. It's one of those moments when someone pitches an idea and you say, "Oh, now I need to see that movie. I need to understand who she is." And we get to go on this incredible journey, and realize at the end of the day, to your point, that our gifts aren't related to our worth, that these are separate things.

And we all have value, and we all bring something to our family, we bring something to this world, no matter who we are. And I think that's such a powerful and important message. Especially at this moment in time where so many people are separated, and they don't have the ability to come together in the same ways. And so, I hope that people really feel that message when they go see it this Thanksgiving. And I really hope that families open that conversation with each other to talk about who we all are, and how together, we are a family."
Encanto has a more introspective journey then many Disney films which often see their heroes going on fantastical quests. However, in Encanto Mirabel's journey is to learn more about her family and herself. The lessons that not only Mirabel, but the entire Madrigal family learn in the film are important and open the door to some more unique storytelling opportunities for Disney. From Snow White to Encanto Walt Disney Animation Studios has built an impressive legacy and this new film sets up an exciting future for the famed animation studio.
Encanto is exclusively in theaters November 24, 2021. Are you going to see Encanto? What do you think about the evolution of Disney animated films? Are you looking forward to the future of Walt Disney Animation Studios? Leave your thoughts in the comments below or on our social media and check back with The Illuminerdi for more Disney and Encanto.
KEEP READING: ENCANTO: STEPHANIE BEATRIZ GLOWS ABOUT JOINING THE IMPRESSIVE LEGACY OF DISNEY HEROINES