Groot is likely the cutest character in the entire Marvel Cinematic Universe. He was an adult tree, then a baby tree, now a teen tree, and soon might be a baby tree again. His big eyes and cute "I Am Groot" catchphrase are some of the funniest content that Marvel Studios has put out to date.
By giving him a new TV series, I Am Groot, it looks like he isn't going away any time soon. The character has appeared in 4 MCU films to date, and is currently set to appear in 2 more, as well as his TV series. Thor: Love and Thunder is in post-production, while Guardians of the Galaxy Vol. 3 is currently filming, with actor Vin Diesel reprising his role in the threequel as Groot.
RELATED: THOR: LOVE AND THUNDER: WILL PETER DINKLAGE REPRISE HIS ROLE AS EITRI THE DWARF?
Guardians of the Galaxy was a particularly enjoyable film, but not for Groot, as he died in the film after sacrificing himself to save the other Guardians. He was later reborn as a sapling, and in Guardians of the Galaxy Vol. 2, was introduced as Baby Groot, an obnoxious child that had a knack for being overly curious. In Avengers: Infinity War and Endgame, he was revealed as Teenage Groot, an older, yet in some ways less mature version of the living tree, a version that also had a habit for cursing at his teammates and playing 80s video games.
I Am Groot Storyboards Showcased In New Photos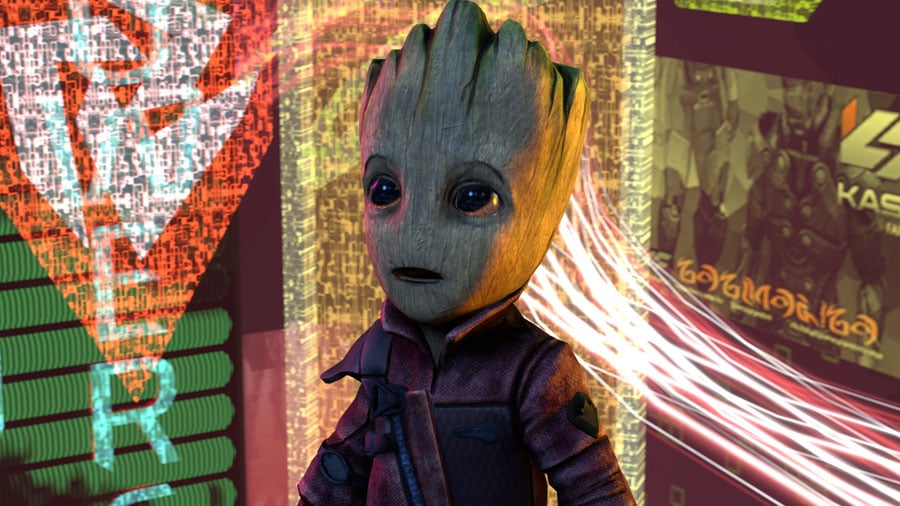 In a new post on storyboard artist Mark Hurtado's channel, Hurtado posted 2 storyboards of the upcoming Disney+ TV series I Am Groot. The series will go back and delve into Groot's time as Baby Groot, and is described as a series of animated shorts with an interconnected plot thread. The images can be found below:
It's quite nice to see Groot in the MCU again. One question that these storyboards pose, though, is if the series will truly be animated. From the look of the storyboards, they won't be, as Drax is set to appear in the series, but it's possible that Drax could be shown in animation, like in What If…?, supposedly. If Drax is truly appearing in the series, it raises questions as to if other Guardians could appear in the series. Mantis, Star-Lord, maybe even Rocket?
What did you think of this news? Are you excited to see Groot again soon in animation? Let us know by mentioning @The_Illuminerdi on Twitter, and don't miss I Am Groot when it premieres exclusively on Disney+ in 2022. Catch his previous adventures in the MCU in Guardians of the Galaxy and Guardians of the Galaxy Vol. 2, now streaming on Disney+.
KEEP READING: NEW VALKYRIE SUIT UNVEILED FOR THOR: LOVE AND THUNDER
Source: Murphy's Multiverse