With the Kingpin Of Crime poised to return to the MCU in Echo or potentially a Daredevil revival project, The Illuminerdi presents a look at the Wilson Fisk's of the past, present & future. 
Wilson Fisk, AKA Kingpin, was created by Stan Lee and John Romita Sr., first appearing in The Amazing Spider-Man #50. The character served as a supervillain who fought Spider-Man at the beginning of his comic career, but he would eventually become synonymous with Daredevil and Hell's Kitchen. Fisk was an overweight child whose father was a sleazy, amoral criminal. Fisk eventually killed his father and became one of the greatest criminal masterminds New York had ever seen. 
THE KINGPIN OF CRIME ASTONISHED THE SILVER SCREEN IN 2003
Kingpin first appeared on the silver screen in 2003's Daredevil, directed by Mark Steven Johnson. Michael Clarke Duncan played Wilson Fisk in that film, and he was easily one of the best parts of the project. His sheer strength, brutality, and intimidating presence made him a force to be reckoned with. This was a Kingpin who was deeply rooted in the criminal underworld, and had been active since Matt Murdock was a child.
RELATED: The Kingpin Speaks! Vincent D'Onofrio Explains How Daredevil Is MCU Canon
 In fact, this version of Kingpin personally murdered Battlin' Jack Murdock, Daredevil's father. Michael Clarke Duncan loved playing the character, and wished to return to the role if a sequel was ever greenlit. Unfortunately, critical reception and the underwhelming performance of the Elektra spinoff killed any plans for Daredevil 2. Michael Clarke Duncan passed away in 2012, but his incredible work as characters like Kingpin will never be forgotten. 
THE KINGPIN OF CRIME IS AT HIS BEST IN THE DAREDEVIL TV SHOW
The second version of Kingpin to appear in live-action was Vincent D'Onofrio's iteration on the Marvel Netflix Daredevil TV series. This version of the character is an incredibly intelligent and equally terrifying crime lord who haunted Hell's Kitchen for three seasons straight. Wilson Fisk is driven by his love for his wife Vanessa Fisk, who was magnificently portrayed by Ayelet Zurer. Their connection is his passion, his power, and ultimately, his greatest weakness.
Fisk stole the spotlight in almost every scene he appeared in, and he personally delivered some of the most brutal executions in the MCU. In Daredevil season three, he took over the FBI, working as New York's own concierge of crime and making good on the mantle of "Kingpin". Even his eventual defeat at the hands of Daredevil was not enough to keep him, for there is no prison that can hold this Kingpin. 
THE KINGPIN OF CRIME HIT AN ALL-TIME-LOW IN INTO THE SPIDER-VERSE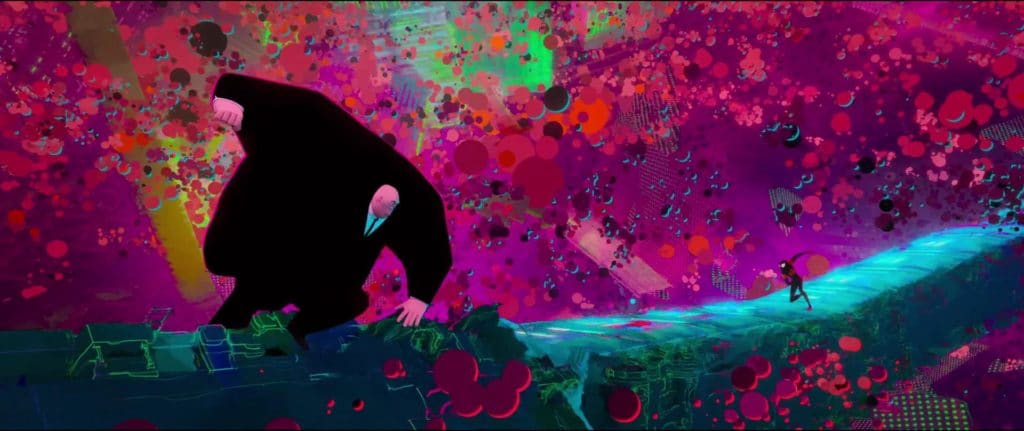 Spider-Man: Into The Spider-Verse is a remarkable film. Jake Johnson and Hailee Steinfield kill it as Peter Parker and Spider-Gwen, Shameik Moore's Miles Morales is universally acclaimed, and the visual design is unmatched. Unfortunately, for all of its greatness, Into The Spider-Verse features the weakest version of Wilson Fisk yet. 
RELATED: DAREDEVIL: Charlie Cox's Matt Murdock Expected To Be "Everywhere" In The MCU Over Next Few Years
Liev Schrieber voices Wilson Fisk, who leads villains like Doc Ock and The Prowler to fight Spidey in order to accomplish his master plan. Kingpin is looking to open the multiverse so that he can find another version of Vanessa Fisk and his son, who he lost. His character design is terrible, his motivation is half-baked, especially compared to Daredevil, and he effectively let's Spider-Man win their final fight. At least he gets points for killing Peter Parker. 
THE KINGPIN OF CRIME WAS BETTER IN DAREDEVIL THAN HAWKEYE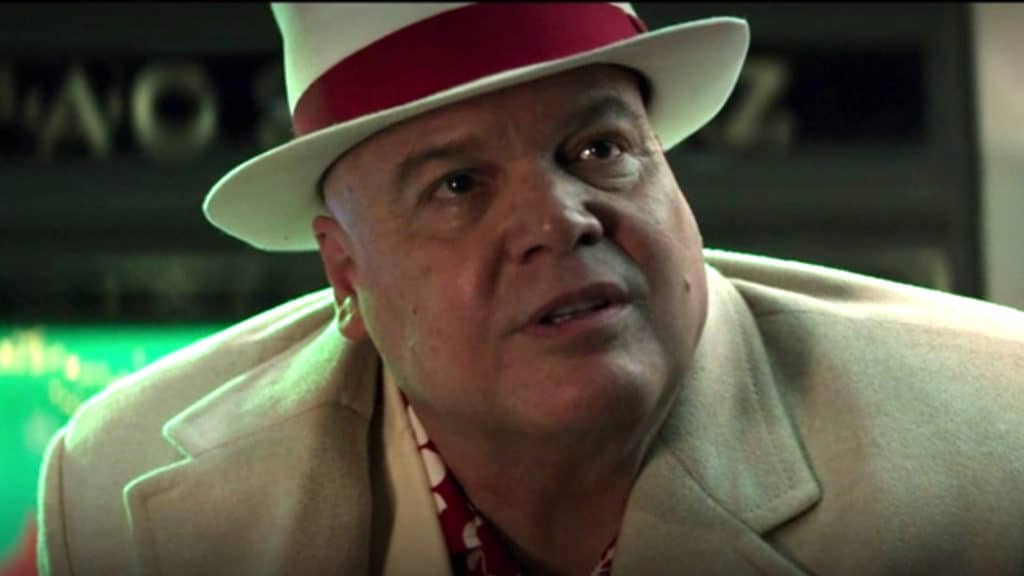 The final version of Kingpin appears in the Disney+ original series, Hawkeye. Vincent D'Onofrio returns as Wilson Fisk, and while this is the same character, the Fisk of Hawkeye and the Fisk of Daredevil are very different. For one, Vanessa is nowhere to be found in Hawkeye. For two, Fisk now leads the Tracksuit Mafia, the goofiest and most ill-equipped group of henchmen the MCU has ever seen.
On top of all of that, this Fisk displays increased physical strength in Hawkeye, ripping a car door off the hinges like it was nothing. He must have been working out hard over the past seven years. His relationship with Maya Lopez is intriguing, and his final fight with Kate Bishop was a spectacle, but Hawkeye Kingpin is a pale shadow of Daredevil Kingpin. 
We may not know exactly what the future holds for Kingpin, but with a stellar performer like Vincent D'Onofrio behind the wheel, the future is bright for Wilson Fisk fans.
Which version of Wilson Fisk is your favorite? Let us know your thoughts in the comments below or on our social media! 
KEEP READING: Bullseye, Lady Bullseye & Bullseye: Who Is The Bona Fide #1 Assassin?