The director of All That Glitters Is Bronze, Angelique "Jinji" Sayson, explains her inspiration for creating her award-winning short documentary film.
The Kulintang is one of the Philippines ' most unique, mysterious, and spiritual musical instruments. A Kulintang is a musical instrument that involves a row of Gongs and could function harmoniously with more giant gongs and even drums. What's unique about a Kulintang is how it can help relieve people with stress and other negative emotions. The indigenous musical tradition comes from Pre-Islamic, Pre-Christian, and even Pre-Colonial times. The Kulintang is practiced primarily in the south, in places such as Mindanao.
RELATED: AWARD-WINNING FILIPINO AMERICAN DOCUMENTARY, ALL THAT GLITTERS IS BRONZE, SHOWCASES ANCIENT MUSICAL HISTORY OF THE KULINTANG
The Kulintang first made its appearance and was introduced in the United States by Danogan Kalanduyan. Kalanduyan is known as the father of Kulintang music in the United States. Even with the Kulitntang played in many parts in the United States. Unfortunately, The Kulintang is becoming less known in today's Filipino Culture and its traditions. The award-winning short documentary film All That Glitters Is Bronze's primary mission is to help showcase Kulintang music and its history to a mainstream audience.
ALL THAT GLITTERS IS BRONZE: DIRECTOR ANGELIQUE "JINJI" SAYSON SHARES HER STORY
In our new exclusive interview, The Illuminerdi sat down with the director of All That Glitters Is Bronze, Angelique "Jinji" Sayson.
During the interview, we asked Sayson what inspired her to make her short documentary and how she found the film's title. We also asked Sayson to explain the history and significance of the Kulintang in Filipino culture. Additionally, Sayson gave us a special treat and played the Kulintang for us – it was incredible to see, hear, and experience.
THE ILLUMINERDI: What inspired you to make All That Glitters Is Bronze? And how did you come up with the title?

ANGELIQUE "JINJI" SAYSON: Great question, so I was inspired to make this film because I actually didn't know about Kulintang music until last Summer. I took a community culture workshop at the Manila Town heritage foundation in San Francisco and I learned about the music.

It's an oral tradition and you know I have been studying classical contemporary music teaching and performing it for the past 20 something years. But I have never read about it in a textbook. I've never had any of my professors talk about it and I have never heard about it in music history class. So now that I have become a part of it it's kind of like it has become a part of me as well. I just feel like it's my mission to try to do everything I can to promote this music. Especially to Filipino Americans here in the U.S.

THE ILLUMINERDI: Now of all the music in Filipino Culture what drew you to the Kulintang. Also, can you tell us of its importance and history in Filipino Culture?

ANGELIQUE "JINJI" SAYSON: I really wanted to pursue Kulintang music because I have a degree in classical percussion. So percussion is basically anything you can play with sticks or your hand. Basically, anything you can make by striking it. You know so that encompasses like 200 something instruments in the world. So basically for me, the learning process was just about transferring those skills to Kulintang.

The technique is slightly different. The learning process is different because like I said it's an oral tradition. There is no sheet music at all and that's something that took a little bit of adjustment.

But I really love it now, and I really wanted to pursue it not just because you know it aligns with my percussion background. But also because this is music from our people and our culture. More people need to know about it. In terms of history what I can tell you is that hundreds of years ago our people in the Philippines were living in abundant wealth. They had some much gold that they were dripped in it from head to toe: head dressings, earrings, and everything.

During this time, Kulintang gongs were actually fashioned out of Gold. Today Kulintang gongs are actually made of Bronze, because it's kind of in short supply. But that's how I came up with the title. All that glitters is Gold is the famous quote, and I kind of twisted it by making it All That Glitters Is Bronze. It's because it does glitter, sparkles, and it makes me happy and makes other people smile.

To end this question, I want to give a shoutout and pay homage to master Danogan Kalanduyan. He is the reason why Kulintang music is here in the United States. He came here in the 70s and began his life's work of propagating this music and so without him there's a good chance that not a lot of people wouldn't have heard of this music.
Overall, the music of the Kulintang is extraordinary on its way. From its mesmerizing and peaceful sound, it's not a surprise many people, especially Filipinos, find it relaxing. The soothing sounds of Kulintang music can help anyone dealing with personal problems or stress can help find them some inner peace.
The Kulintang's cultural history in the Philippines is very significant. It's mainly because this form of music help tell us a story. That story could be about the legacy of our Filipino culture in the past, present, and future. Sayson's All That Glitters Is Bronze shows us that it is essential to honor and keep beautiful traditions alive.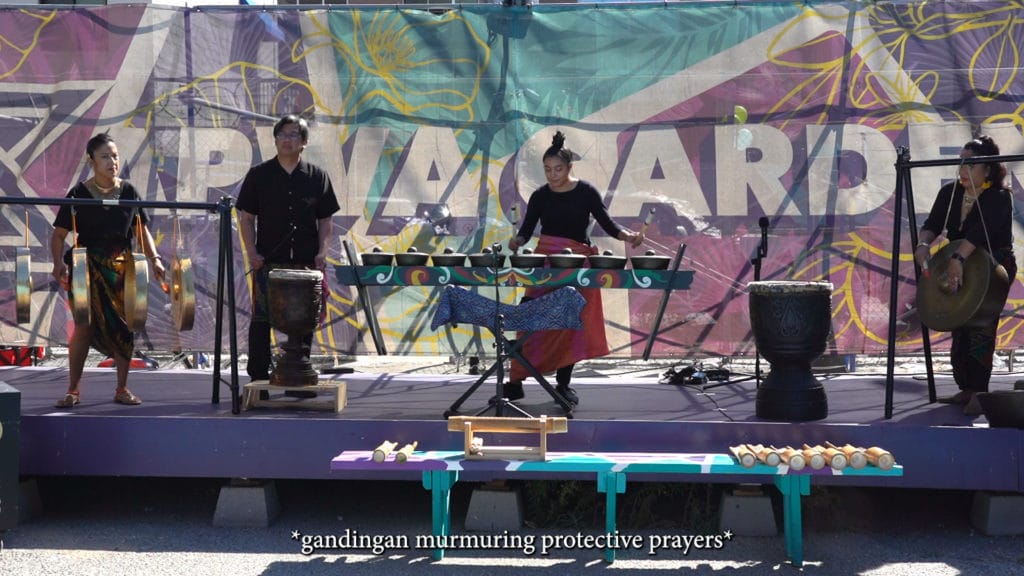 OFFICIAL PLOT SYNOPSIS
All That Glitters Bronze is a love letter to the Philippine tradition of Kulintang, which was once nearly wiped out by colonization. Around the Bay Area in California, a local band called Kulintang Dialect is keeping the tradition alive. This short documentary offers a brief glimpse of the cosmos through clips of performances interspersed with interviews from the band.
All That Glitters Is Bronze will be premiering online free through CineAsian Films, a film curation site "dedicated to discovering the best short films by Asian filmmakers around the world", you can stay updated on the film's journey at Linktr.ee/ATGIB
KEEP READING: THE IDOL: BRENDAN FRASER IN TALKS TO JOIN THE WEEKND'S NEW HBO SERIES