In Sundown, Tim Roth experiences a vacation, he'll never forget. Read why we forgot about the film pretty fast in our review below:
Sundown is the newest directorial effort from Michel Franco, the writer and director of 2020's acclaimed drama New Order. It also marks the second collaboration between Franco and Roth, as the duo also worked together in the 2015 film Chronic.
RELATED: INJUSTICE REVIEW: A SOLID ADDITION TO DC'S ANIMATED CANON
Sundown follows Neil (Tim Roth), who spends his vacation with his family in Acapulco. When his sister Alice (Charlotte Gainsbourg) and their kids have to cut the trip short, due to an emergency, secrets will be unveiled and tensions rise, when Neil meets the local Bernice (Iazua Larios) and starts to imagine what it would be like, to live in Mexico.
How Sundown Shakes Out
I wasn't a huge fan of Franco's newest feature due to its cold, emotionless nature and the constant urge to randomly drop traumatizing events that Neil couldn't care less about. But one thing I liked about Sundown is its cinematography. The camera work by Yves Cape, a frequent collaborator of Franco, as well as the cinematographer behind the acclaimed Leos Carax film Holy Motors, is superb.
A lot of the overall very quiet storytelling only works due to his distinct framing choices. Cape often puts the camera at one place and leaves it there and let the scenes play out. This also showcases Franco's vision, as there naturally are a lot of extras in most scenes, due to the films setting and even with its long scenes, every extra had something meaningful to do over the entirety of the scenes. While this seems irrelevant, in a film without much dialogue, it really helped set the mood and to make the scenes more captivating.
Another thing I liked is Tim Roth's performance, while I dislike basically every decision they made about his character or how he should play him, there is no denying that he is great in the role.
The biggest problem I faced with Sundown is its lack of emotion. Our protagonist Neil is very emotionless portrayed by Roth. That has nothing to do with his performance but rather the way that he was advised to play him. He is very quiet, barely reacts and just doesn't seem to care about anything. While yes, this is all planned and part of the vision, I didn't like that vision at all. That goes as far as that there is a brutal incident happening right in front of him, while everybody else is in total panic, he is just casually sitting there.
In total there are two of such scenes that feel completely random, out of place, and don't get any reaction whatsoever from our protagonist.
There is this constant lack of interest that this film transmits, that just left me with the question "When even the protagonist doesn't care, why should I?". It just feels like those scenes were added just so the audience doesn't fall asleep or can't say that there isn't anything happening. It simply lacks context, because other than that random incidents, the film has nothing to tell. It heavily relies on the audience to sympathize with Roth's character, but doesn't offer anything in order to convince the audience, it is worth to sympathize with him. 
While I could still enjoy the first half of the film for its escapism, calm atmosphere and great cinematography, the film lost me when it suddenly tries to be this full blown family drama in the second half, which again happens out of nowhere and is completely out of interest for Neil (Tim Roth). The films wants to establish stakes and conflicts, but shows the audience in the exact same scene that, due to the protagonist's disinterest, there simply are none.
Sundown is a film, whose vision basically translates as "Just care about nothing". Totally random, horrible events that don't fit the tone of the film at all keep the viewer from falling asleep. Where the first half works as a nice escape from the home office to sunny Mexico, the second half gets lost in a boring and uninspired family drama that fails to be interesting for the viewer and, due to the lifeless performances, seemingly for the protagonist alike.
2/5
The film hits theatres and VOD on January 28, 2022.
Sundown is written and directed by Michel Franco and stars: Tim Roth, Iazua Larios and Charlotte Gainsbourg.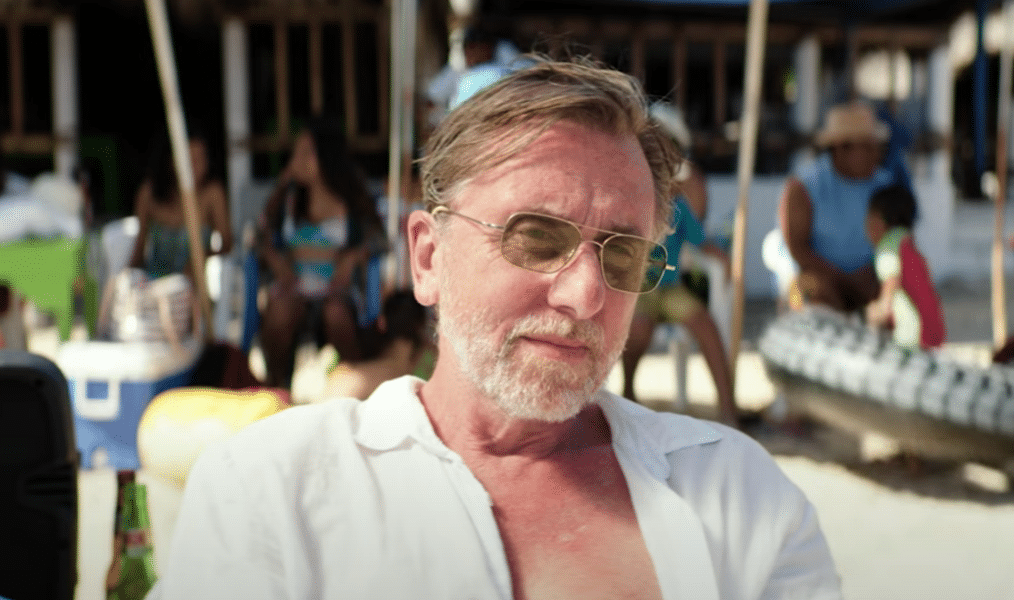 What do you guys think? Are you planning to watch it? Let's discuss everything in the comments down below and on our Social Media.
KEEP READING: THE LEGEND OF VOX MACHINA REVIEW: A GLORIOUSLY ACTION-PACKED, HILARIOUSLY RAUNCHY FANTASY ADVENTURE