Marvel has brought some truly iconic villains to the screen and it looks like Moon Knight may be introducing the next menacing character into the lineup with Ethan Hawke's Arthur Harrow. Moon Knight follows Steven Grant a mild-mannered gift shop employee who suffers from Dissociative Identity Disorder. Grant is pulled into a world of mystery, danger, and Egyptian Gods with one of the key dangers being Arthur Harrow an enigmatic and menacing man with ties to the Egyptian mythology that is coming to life around Grant.
RELATED: MOON KNIGHT: OSCAR ISAAC ON STEVEN GRANT'S UNIQUE COMEDY STYLE AND HOW HIS INTERNAL STRUGGLE DIFFERENTIATES HIM FROM OTHER MCU HEROES
The Illuminerdi had the opportunity to attend the Moon Knight Virtual Press Conference where the series stars, directors, and executive producers talked about what audiences can expect from the exciting new Disney Plus series. Ethan Hawke, who plays the antagonist Arthur Harrow, gave an inside look into his character's motivation and talked a bit about how Moon Knight approaches mental health, breaking the stereotype of vilifying mental illness.
MOON KNIGHT STAR ETHAN HAWKE TALKS ABOUT FINDING "A SANE LUNATIC" IN ARTHUR HARROW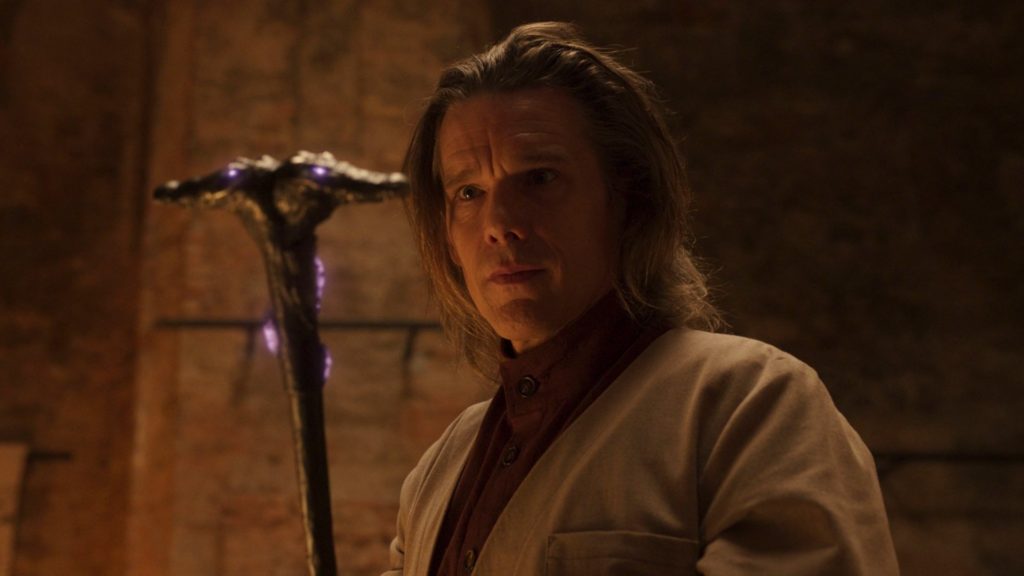 "Well, the histories of movies are paved with storytellers using mental illness as a building block for the villain. I mean there's countless stories, mentally ill villains and we have a mentally ill hero. And that's fascinating because we've now inverted the whole process so now as the antagonist I can't be crazy because the hero's crazy. So, I have to kind of find a sane lunatic or a sane malevolent force. And that was an interesting riddle for me to figure out how to be in dynamics with what Oscar was doing. And

Mohamed [Diab] was really embracing his mental illness as a way to create an unreliable narrator. And once you've broken the prism of reality, everything that the audience has seen is from a skewed point of view and that's really interesting for the villain because am I even being seen as I am? And it's also, I think that was our riddle and we came up with somebody who was trying to save the world. And is in his mind, he's Saint Harrow. I mean he thinks he's gonna be, you know, part of the great solution."
RELATED: OSCAR ISAAC REVEALS HE WORKED WITH HIS BROTHER TO PLAY THE MULTIPLE PERSONALITIES OF MOON KNIGHT
Mental illness has historically been vilified and stigmatized for decades with film and television falling into harmful stereotypes of presenting those with mental illness as dangerous and evil. Moon Knight is primed to break this pattern with a superhero dealing with a very serious mental illness, DID. What is interesting is how Hawke found Arthur Harrow's characterization specifically the idea of "a sane malevolent force" in contrast to a mentally ill superhero. Harrow is exceedingly dangerous because of his own beliefs that he is right in his actions and his sanity makes him even more terrifying.
Hawke's point about Moon Knight being set up as a possibly unreliable narrator is intriguing especially for what it could mean with Harrow. Harrow may see himself as a hero while Moon Knight sees him as an enemy, but is there more to the story?
MOHAMED DIAB REVEALS ETHAN HAWKE SIGNED ONTO MOON KNIGHT WITHOUT READING A SCRIPT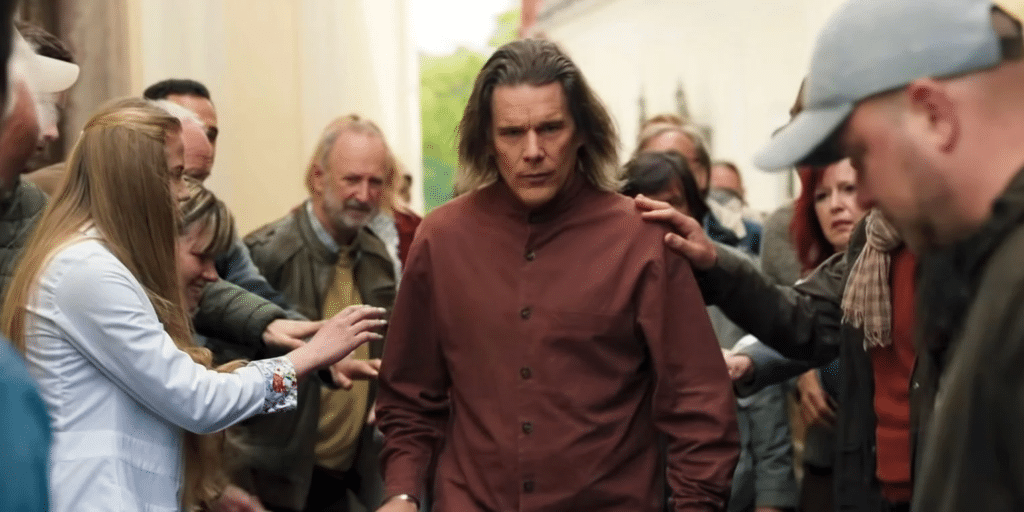 Moon Knight director and executive producer, Mohamed Diab, also shared an interesting bit of information about Ethan Hawke during the Moon Knight press conference. According to Diab, Hawke, for the first time in 35 years, signed onto Moon Knight without reading the script.
"Ethan is someone that everyone see him as this great, legendary independent film actor and joining the superhero world is something big. So, when Oscar first approached him and then I talked to him about it we pitched him the idea, but I told him please don't read the script. Not that the script is bad, but when you work with him you have to get from him. I think Harrow is his son. In a way it's a ping pong between us all, but definitely his son. So, to trust us and to sign without, he told me this is the first time in 35 years that I signed something without reading a script."
RELATED: OSCAR ISAAC REVEALS THE ORIGIN OF STEVEN GRANT'S ACCENT AND HUMOR
What exactly that pitch was remains a mystery, but it must have been extremely compelling considering it drew Hawke in to the point that he trusted Isaac and Diab enough not to read the script. Ethan Hawke shines as Arthur Harrow and his dynamic with Oscar Isaac is thrilling. Hawke has clearly put quite a bit of thought and passion into Arthur Harrow bringing this character to life on screen like never before. With Moon Knight seemingly diving into a new corner of the MCU it is exciting to see a new hero and villain be explored as well.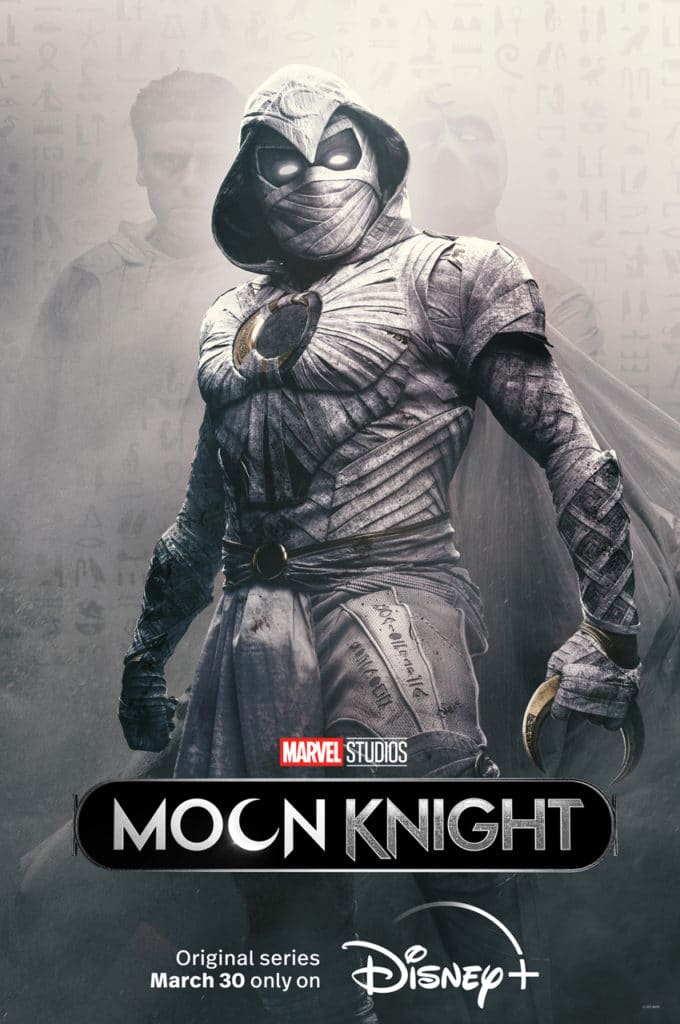 Moon Knight premieres on Disney Plus March 30, 2022. Are you excited to watch Moon Knight? Are you looking forward to seeing Ethan Hawke as the villainous character Arthur Harrow? What do you think about Ethan Hawke signing onto Moon Knight without reading the script? Leave your thoughts in the comments below or on our social media and check back with The Illuminerdi for more MCU and Moon Knight.
KEEP READING: EXECUTIVE PRODUCER GRANT CURTIS REVEALS MOON KNIGHT WAS ON KEVIN FEIGE'S RADAR SINCE DAY 1 AND OSCAR ISAAC TALKS ABOUT MOON KNIGHT'S REAL SUPERPOWER