Earlier this month, Lucasfilm and Disney officially revealed the first teaser trailer for the highly anticipated Obi-Wan Kenobi series, which will debut on the streaming service on May 25th later this year. 
The limited series looks incredible from the sneak peek, starting with Kenobi watching over a young Luke Skywalker while in exile on Tatooine, showcasing a moment of despair and pain through a voice-over from Mcgregor as Kenobi declaring. "The fight is done, and we lost, and stay hidden," alluding to the Jedi being purged and the Empire reaching its height.
RELATED: STAR WARS LEGEND JOHN WILLIAMS RETURNS TO COMPOSE OBI-WAN KENOBI THEME
In addition to a few minor reveals, the biggest was the live-action first appearance of the Grand Inquisitor from "Star War Rebels," now be officially brought to life by actor Rupert Friend.  
Obi-Wan Kenobi Teaser Trailer & Stills
Check out the video and images below as we wait what seems like forever for the show to arrive.
From the footage shown, Friend's voice is quite impressive, and the transition from animation does feel a little clunky, but maybe the design will grow over time. 
Specific plot details are under wraps, but we do know that Obi-Wan will be set between the events of Revenge Of The Sith and A New Hope through an officially released synopsis, while the trailer did set the tone that this isn't the galaxy we all know and love. Meaning the fallout of Order 66 will finally be explored, and the penance of solitude while residing in exile for Obi-Wan will be explored.
RELATED OBI-WAN KENOBI: RUPERT FRIEND REPORTEDLY PLAYING THE VILLAINOUS GRAND INQUISITOR IN NEW STAR WARS SERIES
This is a direction many have been longing to see further fleshed out while filling in the gaps between Episode III: Revenge Of The Sith and Episode IV: A New Hope. 
Before the trailer dropped and we were reintroduced to the darker side of Star Wars, EW officially revealed a few first-look stills and showcased their final cover with Ewan McGregor as the legendary Jedi. 
The images feature Kenobi in several locations on – and off – Tatooine, the returning Joel Edgerton as Luke Skywalker's "Uncle" Owen Lars, and Moses Ingram as Reva, the first-ever live-action Inquisitor. Director Deborah Chow described Ingram's character as "a formidable new foe who seeks out Jedi-in-hiding for the Empire." The description certainly sounds about right for the role of inquisitors who, for the longest time, have only been shown in animation or along the lines of gaming with Star Wars: Jedi Fallen Order.
One interesting thing to note is that a new planet named Daiyu will be introduced to the Star Wars universe in this series. Speaking about the tone and direction was writer Joby Harold.
"[It] sort of has a Hong Kong feel to it, It's got a graffiti-ridden nightlife, and is kind of edgy. It's just got a different lane and a different feeling."
Ewan McGregor also spoke with EW about where the character of Obi-Wan Kenobi currently resides.
"We find Obi-Wan at the beginning of our story rather broken, and faithless, and beaten, somewhat given up."
"The series takes place 10 years after the dramatic events of "Star Wars: Revenge of the Sith" where Obi-Wan Kenobi faced his greatest defeat – the downfall and corruption of his best friend and Jedi apprentice, Anakin Skywalker, who turned to the dark side as evil Sith Lord Darth Vader."
RELATED: OBI-WAN KENOBI: INTRIGUING NEW DETAILS ABOUT DARTH VADER FLASHBACKS AND PREMIERE RELEASE DATE UNCOVERED
"Obi-Wan Kenobi" stars Ewan McGregor, reprising his role as the iconic Jedi Master, and also marks the return of Hayden Christensen in the role of Darth Vader. Joining the cast are Moses Ingram, Joel Edgerton, Bonnie Piesse, Kumail Nanjiani, Indira Varma, Rupert Friend, O'Shea Jackson Jr., Sung Kang, Simone Kessell and Benny Safdie. The series is directed by Deborah Chow and executive-produced by Kathleen Kennedy, Michelle Rejwan, Deborah Chow, Ewan McGregor and Joby Harold.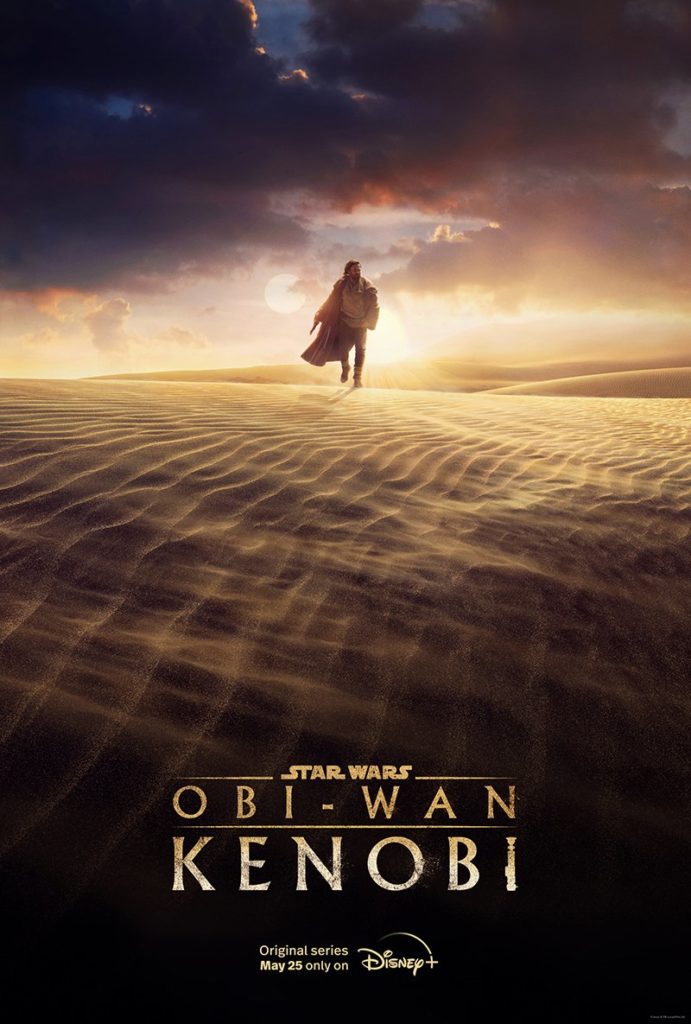 Obi-Wan Kenobi will officially premiere May 25th on Disney+. Are you excited to see the darker side of Star Wars? With a child version, Luke being shown could we see his sister Leia? What role will Darth Vader have as well? Let us know in the comments below and on our Twitter.
KEEP READING: MOON KNIGHT DIRECTOR JUSTIN BENSON EXPLAINS THE IMPORTANCE OF MCU COMEDY IN NEW DISNEY+ SERIES
Source: Lucasfilm