Michael Bay returns to the big screen with Ambulance, which follows a man desperate to find the money to cover his wife's medical bills.
The decorated veteran teams up with his brother to steal $32 million from a Los Angeles bank, but their getaway goes spectacularly wrong and leaves the thieves with no choice but to hijack an ambulance that's carrying a severely wounded cop and an EMT worker. The story culminates in a high-speed chase, in which the brothers must outrun the law while also trying to keeping their hostages alive.
RELATED: IT: CREEPY NEW PREQUEL IN DEVELOPMENT FOR HBO MAX TV SERIES
Read our review to find out if the two hours full of Bayhem are worth the watch.
Somebody Dial 911, Because Ambulance Is Full Of Danger
After 2017's Transformers: The Last Knight, Bay returned to his original action films with Netflix's 6 Underground, starring Ryan Reynolds. While it flopped with critics, the film was a huge hit for the streamer, placing it in Netflix's Top Ten most watched films. After a handful of pandemic related delays, the director now returns to the big screen with Ambulance, a remake of the danish gangster comedy Ambulancen (2005). But Ambulance definitely is not a comedy, as the film is best described as a "two hours thrill ride full of pure Bayhem".
When Michael (Yahya Abdul-Mateen II) asks his brother Danny (Jake Gyllenhaal) for money, to pay for the experimental treatment of his Wife's disease, Danny offers him a place in his crew. Soon after Michael finds himself in a gone wrong bank heist and when him and Danny kidnap an Ambulance, including the medic Val (Eiza González) and a injured police officer, they start a chase that is for sure to change the trajectory of their lives.
The sentence "The Most Michael Bay, Michael Bay has ever Michael Bayed." has been thrown around a lot when 6 Underground was released, but now the director even tops his game with Ambulance: explosions, insane camera movements, bad dialogue… it's all there. Ambulance wastes no time. We get a short and basic character introduction and get thrown in right in the action and never leave it, as Ambulance is basically a 2 car chase. The film never slows down, only adds even more thrilling turns here and there.
RELATED: MOON KNIGHT: 7 THINGS WE HOPE TO SEE IN THE EXCITING NEW MARVEL SERIES
The cinematography is simply said insane. Where every other director's establishing shot would just show, for example the bank, Bay let's the camera fly up a nearby skyscraper, turn 180 degrees and rush down on the bank. Bay used a lot of drone shots, to let the camera fly under a jumping car, follow Danny (Gyllenhaal) as he goes to open a door… Every theoretically "simple" shots is dynamic, insane and exciting thanks to the camera work.
The action is what you'd come to expect from a Bay film: explosions (even though it were not that many, compared to Bay's other works), practical stunts and shootouts. Especially the practical stunts are exciting, as it is just thrilling too see a helicopter chase an Ambulance in an alleyway, while Jake Gyllenhaal leans out of the window and shoots the helicopter, even though the unfortunate editing revealed the face of a stuntman. If you enjoy Bay's over the top action sequences, Ambulance won't disappoint.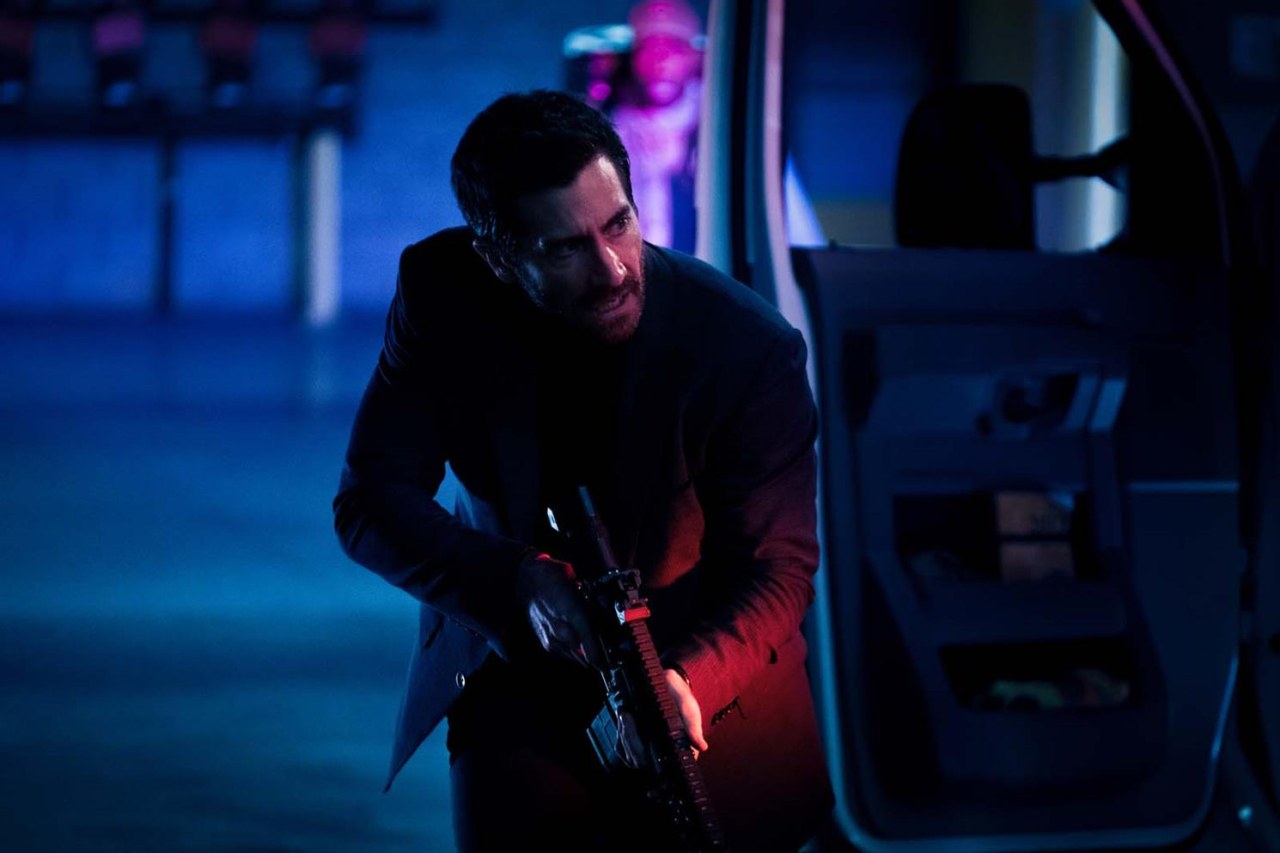 The cast does a great job, even though the screenplay doesn't give them a lot to work with. Jake Gyllenhaal delivers a sinister and unpredictable performance a la his acclaimed turn in Dan Gilroy's Nightcrawler. Eiza González is a badass and Yahya Abdul-Mareen II brings some emotional stakes to the screen. They are a great trio, that bounces off each other very well.
The screenplay isn't the most original and also surprisingly meta as two Michael Bay films get name dropped in the first half an hour. The dialogue is the same as in every Michael Bay film: very patriotic and macho. It works in the film, but it's definitely not winning any awards. If you combine the screenplay with Michael Bay's love for slow motion, we also get the problem that the film is a good 20 minutes too long, as the film really starts to drag in the last half an hour.
But Ambulance's weakest part is its editing. We cut to scenes where characters already are in the middle of the conversation, you get the sense of what they are talking about, but you don't see the complete conversation. While it doesn't happen *that* often it happens more than it should. It also has a ton of cuts during close quarters fight scenes, but manages to solidly showcase its bigger action scenes.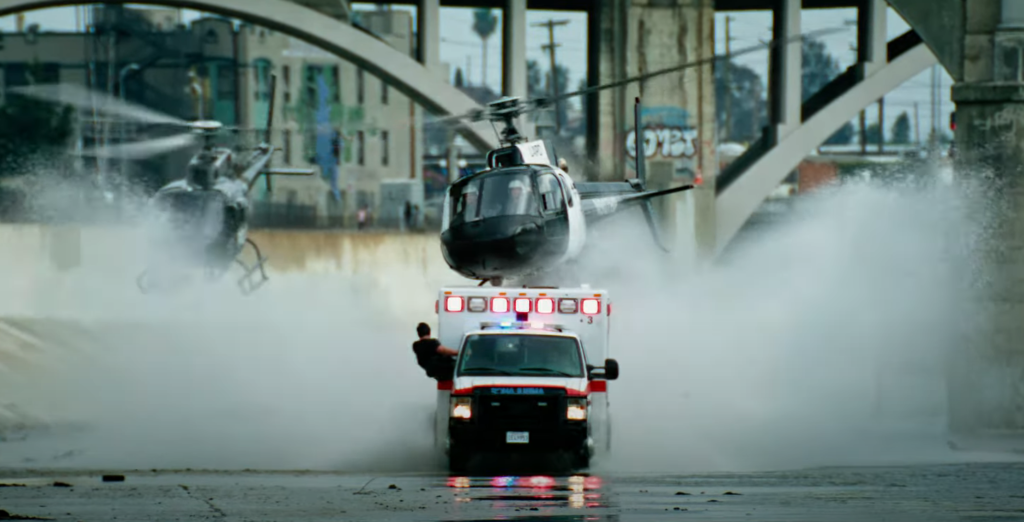 Ambulance is exactly what the trailer promised: a high octane action thriller with insane (in a good way) camera work and a great cast. If you enjoyed any Michael Bay film, his return to theatres won't disappoint. Pure BAYHEM!
4/5
Ambulance hits theatres April 8.
The film is directed by Michael Bay and stars: Jake Gyllenhaal, Yahya Abdul-Mateen II, Eiza González and Garret Dillahunt.
What do you guys think? Are you planning to watch it? Let's discuss everything in the comments down below and on our social media.
KEEP READING: THE BATMAN DIRECTOR GIVES DETAILED BACKSTORY FOR BARRY KEOGHAN'S JOKER