Doctor Strange In The Multiverse Of Madness is only days away and fans are not only excited to see Strange's journey in the MCU continue, but Wanda Maximoff's (Elizabeth Olsen) as well. Doctor Strange In The Multiverse Of Madness is the first MCU movie that will be directly affected by the events of the Disney Plus series most notably WandaVision.
WandaVision, the first MCU Disney Plus series, explored Wanda's journey after the events of Avengers: Endgame and set up some truly mind blowing possibilities for this character. Now, it seems Doctor Strange In The Multiverse Of Madness will show audiences what those events have lead to for the Scarlet Witch.
ELIZABETH OLSEN TEASES EXPLORING SOMETHING NEW WITH WANDA IN DOCTOR STRANGE IN THE MULTIVERSE OF MADNESS
The Illuminerdi had the opportunity to participate in the virtual Doctor Strange In The Multiverse Of Madness press conference which included Elizabeth Olsen and director Sam Raimi. Elizabeth Olsen was careful not to spoil anything about what Wanda is up to in the new multiversal adventure, but she did tease where Wanda is emotionally. Elizabeth Olsen reflected on Wanda's MCU journey through the previous films as well as WandaVision and where it has led her character.
"I feel like in the previous films before WandaVision, I took up a lane for storytelling that was more grounded in sincerity love, loss, grief. And with WandaVision, I got to become anything. And everything. And really grow her into a woman. And leading her to accepting that she is this mythic woman. And that that is her destiny. And I hope that in this film people see that continuation of her acceptance of who she is. And, the journey that she has taken to get to this moment. I feel like she has way more clarity now than ever in this film.
It's exciting to hear that Wanda has accepted her destiny as the Scarlet Witch, although what has been prophesied about this mythic magic wielder is definitely worrisome. Elizabeth Olsen also teased, "I do feel like we are exploring something that I haven't been able to explore yet with the character." This could mean a lot of thrilling possibilities especially given everything Wanda has been through already. To explore something completely new with this character seems like a tall order and it will be exciting to see how Doctor Strange In The Multiverse Of Madness approaches Wanda from a new angle.
RELATED: KEVIN FEIGE AND XOCHITL GOMEZ TEASE HOW AMERICA CHAVEZ BEING 14 ADDS DEPTH TO DOCTOR STRANGE IN THE MULTIVERSE OF MADNESS
During the Doctor Strange In The Multiverse Of Madness press conference Elizabeth Olsen gave a bit of insight into her process explaining that she always tries to defend the perspective of the character she is playing.
"I mean, I can be kind of quick with it. Yeah. I just think that my biggest goal for everything is to play the lawyer to my character and to defend, defend, defend. And so, whether or not, something, their greatest strength is their greatest weakness, wherever they're coming from, or whatever they're processing, my goal is to just defend their perspective.

And, I don't necessarily think of things as being weak, I don't think we look at ourselves and we're like, "Oh, this is a strength of mine." But maybe we do. But I do think she's constantly processing, and I enjoy that even in WandaVision, really, all of the films I've gotten to do, she's constantly straddling this line. And usually in her biggest emotive losses or griefs is when something's born. And that's kind of been the trend. And I do think we get to further that in this film, which is something that I'm happy about."
RELATED: DOCTOR STRANGE 2 STAR BENEDICT CUMBERBATCH REVEALS HIS FAVORITE PART OF PLAYING MULTIPLE VERSIONS OF STEPHEN STRANGE
Wanda has definitely suffered a major "emotive loss" coming out of WandaVision and the Scarlet Witch has literally been born. So, this is primed to be an epic arc for Elizabeth Olsen's character. Director Sam Raimi praised Elizabeth's style of defending her character's point of view while also teasing how that will be an integral part of her character in Doctor Strange In The Multiverse Of Madness.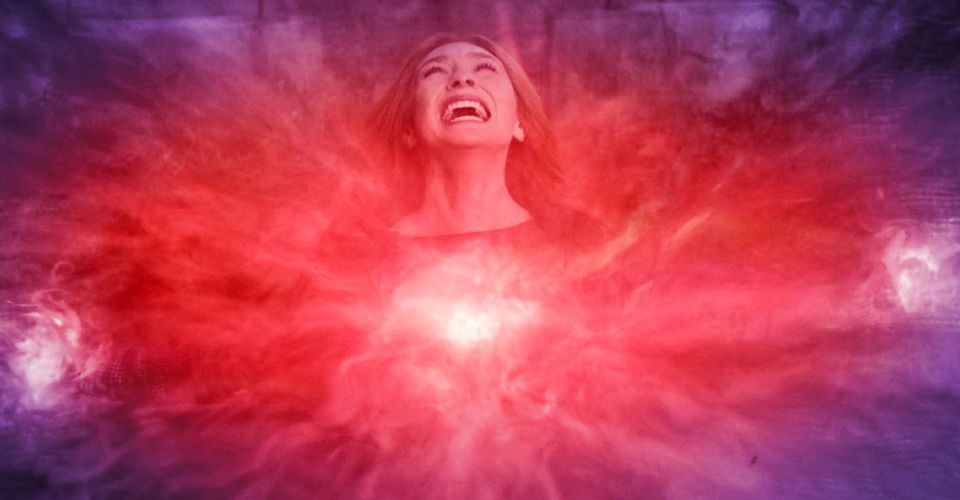 "She's the classic character that loved not too wisely, but too well. And I think that's a source of many of her aspirations in the film, and sometimes leads to less happy moments for her. I don't want to spoil anything, but I think that Lizzy did a great job summing up her approach. And I think it's so brilliant that you're trying to defend your point of view of your character. It's great.

That's what we all are trying to do in real life. I'm this person and here's what I believe in. Here's why it's all about trying to understand your beliefs and explain them and sometimes defend them. And I do see you doing that in the movie very effectively. It makes it very real. It makes the fantastic journey that Michael puts you on, that's how she brings great humanity to it and makes it connective to the audience."
RELATED: DOCTOR STRANGE 2'S BENEDICT CUMBERBATCH DESCRIBES "BAD PARENTING" OF PETER PARKER IN SPIDER-MAN: NO WAY HOME
Wanda's love and grief was strong enough to not only alter reality, but create her family and happiness through the Hex in WandaVision. This love and the profound loss that followed likely have a huge impact on who she has become as will her new status as this long prophesied mythic magical being, The Scarlet Witch. Raimi's praise of Elizabeth Olsen's ability to defend Wanda's beliefs and motivation adding a level of humanity is intriguing especially with what that could mean for Doctor Strange In The Multiverse Of Madness.
Doctor Strange In The Multiverse Of Madness debuts exclusively in theater May 6, 2022. Are you excited to see the consequences of WandaVision play out in the movie? What do you think will happen with the Scarlet Witch in Doctor Strange In The Multiverse Of Madness? Are you looking forward to seeing Elizabeth Olsen step back into the role of Wanda Maximoff? Leave your thoughts in the comments below or on our social media and check back with The Illuminerdi for more MCU and Doctor Strange In The Multiverse Of Madness.
KEEP READING: DOCTOR STRANGE IN THE MULTIVERSE OF MADNESS REVIEW – GOOD FAST-PACED HORRIFIC FUN