Blumhouse and Epix have released the official trailer for Unhuman, an unrated high school/zombie movie arriving digitally on June 3. 
The project is the second film produced by Blumhouse in collaboration with Epix. Last spring, it was announced that the two entertainment companies would partner on eight films, including A House On The Bayou and Unhuman. This horror-comedy was directed by Marcus Dunston and written by Dunston and Patrick Melton. 
UNHUMAN OFFICIAL TRAILER
Some students from the Evanston Hill High School (Go Eagles!) head out on a field trip on the school bus, where their teacher (Peter Giles) tells them "We're going to show you wallflowers the perks of real flowers,", whatever the hell that means. Just moments afterwards, he tells the bus driver "you're going the wrong way", before the bus slams violently into someone, spraying blood and viscera all over the windshield.
RELATED: Resident Evil 2022: Official Trailer For New Netflix Series Brings Raccoon City Into The Bloody Future 
The bus crashes through the treeline before coming to an abrupt stop, shattering the nose of one of the poor students. A radio announcement from the wonderful and consistently intelligent United States Government reveals that these people are under attack, chemical warfare by the looks of it. Brianne Tju's character nearly has a heart attack when a blood-soaked hand smacks her window.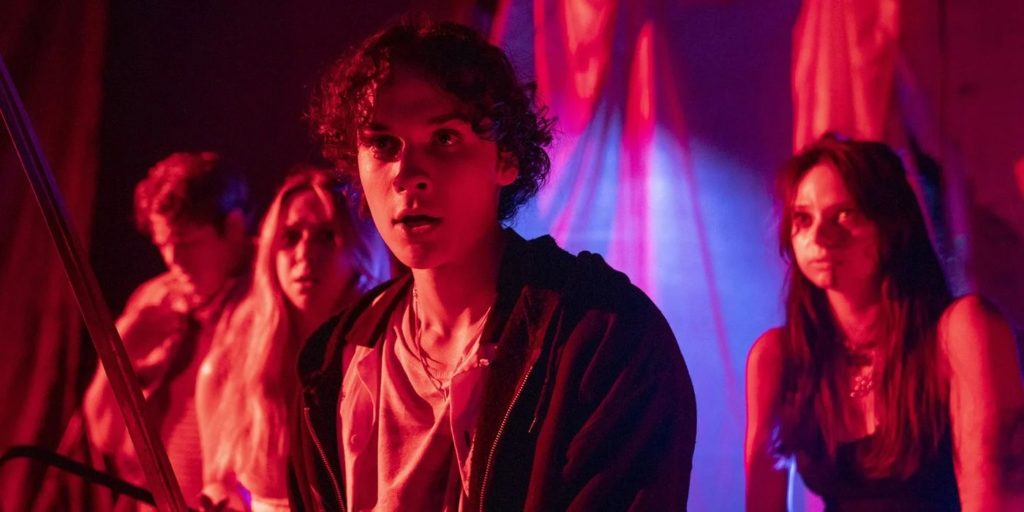 A zombie (or some other kind of virally-infected, bloodthirsty rage monster which was previously a homo-sapien, if you want to be a stickler) comes on board the bus and makes quick work of that blonde teacher, and not to speak ill of the dead, but good riddance. He gave off some strong creep energy. The teens reunite, now blissfully unrestrained by an older man who would only slow them down and/or force his way into a leadership role, foolishly believing that his seniority is worth a damn in the zombie apocalypse. 
UNHUMAN OFFICIAL POSTER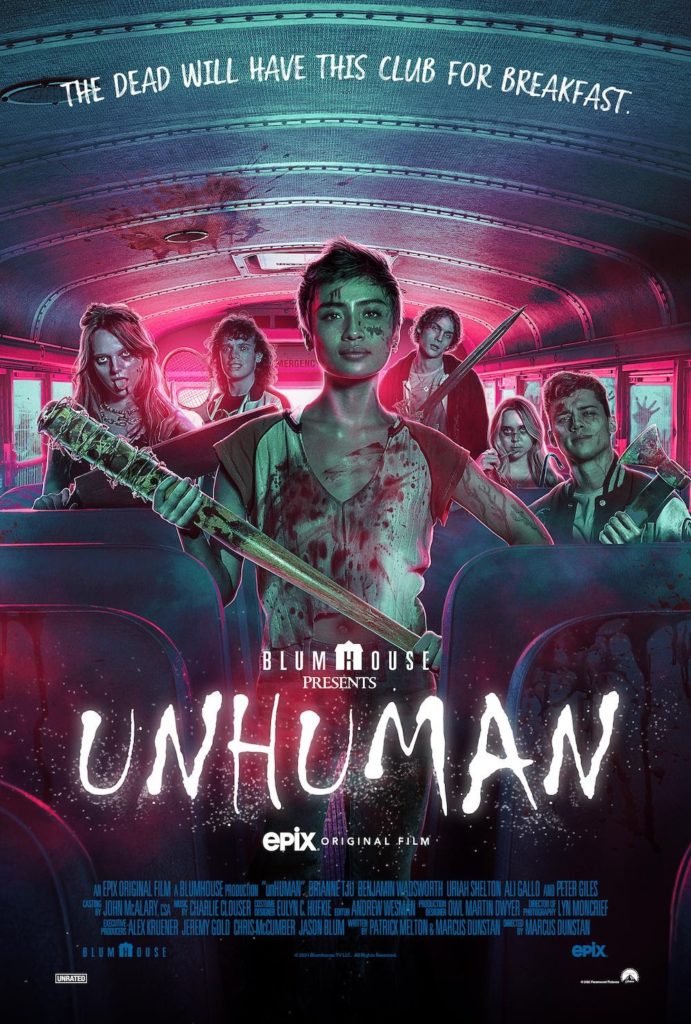 Unhuman is a zombie movie mixed with a high-school, coming-of-age story, and viewers are going to want the focus to be on the core cast of kids, and of course, on buckets of blood raining down from the heavens. To fit the high-school motif, the trailer throws some superlatives at us in the second half. Brianne Tju is "most likely to survive", Drew Scheid is "most likely to die first", Uriah Shelton is "most likely to kick ass" and finally, Lo Grahm is "most likely to get everyone killed". My gut says that these are intentional misdirects, but they serve as fun, tacky introductions to the central characters. 
RELATED: Scream 6: Heroes' Hayden Panettiere To Return To Horror Franchise
The full-length trailer has a lot more to it, but my final and favorite takeaway is its declaration that "The dead will have this club for breakfast." Unhuman looks like a campy, self-aware, love letter to the zombie subgenre and iconic 80's coming-of-age cinema. The cast doesn't feature any A-listers, but horror aficionados will recognize Brianne Tju from Amazon Prime's I Know What You Did Last Summer (a TV series which totally wasted her acting ability on a half-baked script). And who could forget the brutal massacre of Drew Scheid's character in Halloween 2018 at the hands of Michael Myers?
The trailer looks like a blast, and as an added bonus, Marcus Dunstan and Patrick Melton have worked together in the past on some of the Saw films, particularly the latter installments featuring Detective Lieutenant Mark Hoffman in a prominent role. If they can bring the same magic to Unhuman that they did for the Saw franchise, this could be a truly remarkable horror movie. 
UNHUMAN OFFICIAL SYNOPSIS
"In this story of a high school field trip gone bloody awry, seven misfit students must band together against a growing gang of unhuman savages. The group's trust in each other is tested to the limit in a brutal, horrifying fight to survive and they must take down the murderous zombie-creatures… before they kill each other first."
What did you think of the trailer for Unhuman? Let us know your thoughts in the comments below or on our social media! 
Source: Paramount Movies
KEEP READING: The Walking Dead Carol and Daryl Spin-Off Series Loses 1/2 Its Duo