Resident Evil fans, get ready because the first live-action TV series in franchise history is just a few months away.
News about the upcoming Resident Evil TV series has been brewing since early 2020. While we've learned a great deal about the story, all things considered, the release date has remained elusive. Well Biohazard nation, you're in luck today, because Netflix has officially announced the release date for Resident Evil, along with three minimalist posters sure to strike fear into the heart of anyone who knows the meaning of Umbrella.
RESIDENT EVIL TV SHOW WILL BE CAPTAINED BY SHOWRUNNER ANDREW DABB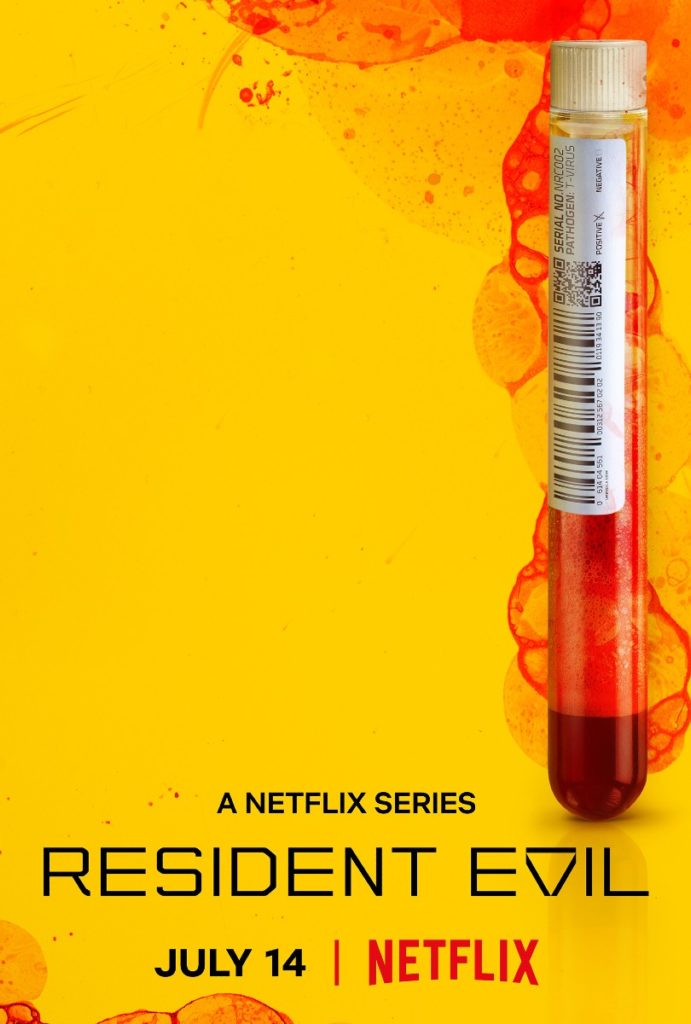 Resident Evil, featuring Andrew Dabb as showrunner, and starring Adeline Rudolph, Siena Agudong, Lance Reddick, Paola Nunez, Tamara Smart and Ella Balinska, officially hits Netflix on July 14, 2022. The series will follow two alternating timelines, one set in the present (or maybe the past, depending on how you look at it) before the T-Virus was unleashed and destroyed the globe. The second timeline takes place around ten years after that, following Jade, one of the protagonists of the first timeline, struggling to survive in a world of the undead. Basically, I Am Legend-style.
RESIDENT EVIL NEW LIVE-ACTION SERIES ARRIVES ON NETFLIX JULY 14, 2022
"The all-new series expansion brings the best of the Resident Evil DNA forward – bad-ass heroines, insane creatures (some new/some familiar), a battle for survival and of course, a deep mystery to unravel. Andrew Dabb (Supernatural) expands the directions with fresh storytelling, bone chilling horror and an action-packed spectacle perfect for summer binging."

-Official Netflix Press Release
RELATED: Resident Evil™ 2, Resident Evil™ 3 and Resident Evil™ 7: Biohazard, Being Unleashed onto Next-Gen Consoles in 2022
The posters are rather simplistic, but they're elegant in their ability to frighten with very little going on in the poster. The sickly yellow and red color palettes mesh with the sterile, inhumane feelings evoked by the vial, bubbles and pills, making for three posters that truly inspire terror. Netflix also described the Resident Evil TV series as "the first live-action series that will redefine the legendary horror franchise…"
This project is not the first time the Resident Evil franchise, which is mainly a series of Capcom horror video games, has ventured into television. Last year, an animated TV series titled Resident Evil: Infinite Darkness was released, also a Netflix original. Famously, the franchise has also featured seven films-six sequential movies and a reboot called Resident Evil: Welcome To Raccoon City.
RESIDENT EVIL NETFLIX TV SERIES OFFICIAL DESCRIPTION
In the first timeline, fourteen-year-old sisters Jade and Billie Wesker are moved to New Raccoon City. A manufactured, corporate town, forced on them right as adolescence is in full swing. But the more time they spend there, the more they come to realize that the town is more than it seems and their father may be concealing dark secrets. Secrets that could destroy the world.

Cut to the second timeline, well over a decade into the future: there are less than fifteen million people left on Earth. And more than six billion monsters — people and animals infected with the T-virus. Jade, now thirty, struggles to survive in this New World, while the secrets from her past – about her sister, her father and herself – continue to haunt her.
Umbrella Corporation is set to destroy the earth in a new format, with a nice Netflix budget to boot, and I for one couldn't be happier. This is a franchise that will never die, much like the plague of the T-Virus. So mark your calendars, because this summer, Netflix becomes a biohazard.
Are you excited about the upcoming Netflix Resident Evil TV series? Which RE movie was your favorite? Which RE game is your favorite? Let us know your thoughts in the comments below or on our social media!
KEEP READING: The Exorcism Of God Exclusive Interview: Will Beinbrink Talks Father Peter's Secret Past & The Next Chapter