Disney is famous for their heart felt coming of age stories both animation and live-action with young characters finding their place in the world and Hollywood Stargirl is a fantastic addition. Hollywood Stargirl further explores the story of Susan "Stargirl" Caraway after the events of Stargirl. Moving from Arizona to Los Angeles, California for her mother's work Stargirl makes new friends and begins to discover more about herself as an artist.
The Illuminerdi had the opportunity to attend the Hollywood Stargirl virtual press conference which included the cast as well as writer/director Julia Hart. During the press conference Julia Hart talked about what inspired her to tell a new story in this sequel instead of directly adapting the second novel in the Stargirl series.
"I was really excited to have the opportunity to, 'cause I love, love Stargirl and I love Jerry's books. But I was excited about taking her out of Mica and into a larger world. To show her journey on a grander scale. And I was also really excited, too.

And Grace and I had a lot of fun in the development process of the sequel, talking through, like, Grace was 14 when we made the first movie. And she was 17 when we made this one. That's a huge difference. And we really wanted to honor both Grace's growth as a young woman and also Stargirl's and how they're different and how they're similar.

The most exciting thing for me about making the sequel and the most important thing to me was that the movie be from Stargirl's perspective. Because the first movie and the first book is obviously from Leo's perspective and it's how he sees Stargirl. And so, it was really exciting to just get to have a whole movie through her eyes and her mind."
Julia Hart's decision to tell a new story instead of adapting the second book makes sense especially as the character Stargirl matures. Focusing on Stargirl's perspective is another important part of continuing her story in Hollywood Stargirl. Exploring Stargirl's journey of self-discovery especially as an artist is the perfect way to continue this character's story. And by bringing her kindness to a place like L.A., which is notorious for the cut throat side of the entertainment industry, it makes the magic that she brings to those around her even more impactful.
RELATED: THE MANDALORIAN, PEDRO PASCAL, REVEALS THE LIKELIHOOD OF SEEING MANDO ON THE BIG SCREEN
Hollywood Stargirl not only explores her growing maturity as an artist, but a young woman looking for love as well. While Stargirl did have a young puppy love with Leo in the first movie, Hollywood Stargirl introduces a new love interest for the young protagonist. Julia Hart talked about this more mature relationship especially as it includes an individual who is on a path similar to Stargirl.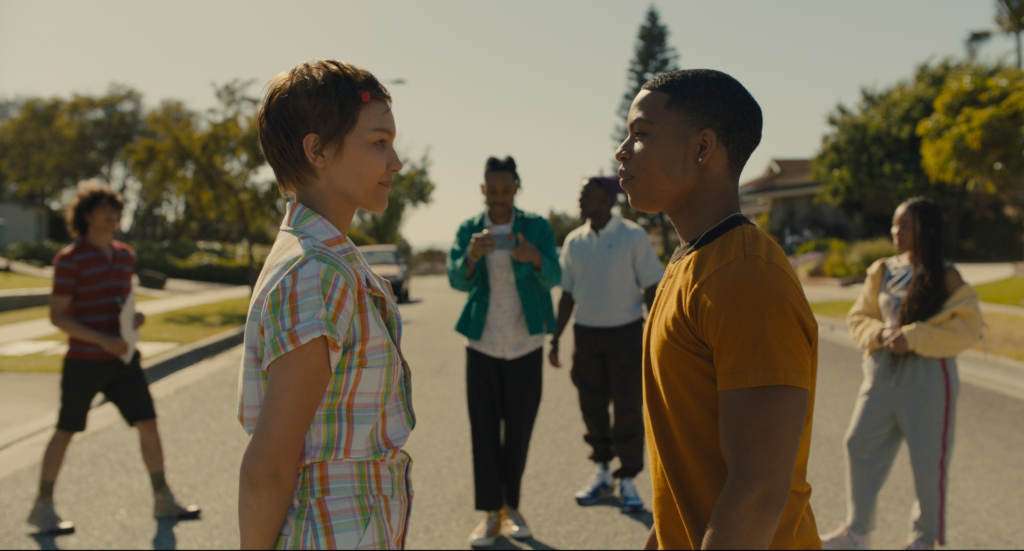 "Yeah, I think that her experience in Mica has obviously peaks and valleys. And part of why we ultimately chose Los Angeles is 'cause we loved the idea of her coming into a city that was full of people like her. I mean, Los Angeles is one of the most diverse, eccentric, exciting cities in the world. And Stargirl, like, on her first day is already encountering people who are as zany and unique as she is. And so, I thought that that was a really exciting part of bringing her out of a small-town setting and into this, like, large, crazy city that we love."
RELATED: MS. MARVEL DIRECTOR REVEALS THE SURPRISING INFLUENCE OF INTO THE SPIDER-VERSE ON THE NEW MCU SERIES
By setting the story in Los Angeles and surrounding Stargirl with other artists it makes her eccentricities less of the main focus. While still an important part of her character it isn't the crux of her character. Instead the sequel gets to explore her growth and development in part through this new budding romance.
HOLLYWOOD STARGIRL OFFICIAL SYNOPSIS
A sequel to the Disney Pus film about Stargirl, a silver-voiced teenager whose kindness works magic in the lives of others, that follows her from Mica, AZ to a bigger world of music, dream and possibilities. When her mom is hired to work on a movie, they move to L.A., where Stargirl becomes involved with two aspiring filmmaking brothers, a cranky neighbor and a musician Stargirl admires.
Hollywood Stargirl is available on Disney Plus now. Did you enjoy the first Stargirl? Are you a fan on the Stargirl books? Are you excited to see how Julia Hart continues Stargirl's story in Hollywood Stargirl? Leave your thoughts in the comments below or on our social media and check back with The Illuminerdi for more.
KEEP READING: MS. MARVEL: KEVIN FEIGE TEASES THE EXCITING POTENTIAL FOR A REAL LIFE AVENGERSCON