In less than a week the Disney Plus has an exciting new Marvel series set to debut which will introduce a new young hero into the MCU, Kamala Khan aka Ms. Marvel. This is a relatively new character to Marvel comics, but she seems like the perfect fit for the MCU especially in Phase Four with so many new heroes who have been impacted by the heroes of the Infinity Saga.
The Illuminerdi had to opportunity to attend the Ms. Marvel virtual press conference which included the cast, directors, creators, and Kevin Feige. During the press conference director Adil El Arbi talked about the unique style and look of the new series. The series focuses on a teenage hero, so understandably it takes on an aesthetic that fits this young hero's story. Part of Ms. Marvel's aesthetic is the incorporation of animation into the live-action series.  
MS. MARVEL DIRECTOR TALKS ABOUT THE ANIMATION AND THE INSPIRATION OF INTO THE SPIDER-VERSE
"Well, for us we always wanted to find a way to translate her imagination and her fantasy world in a cool way. And that's where we came up with the idea of injecting that animation aspect into it. But we were a bit afraid that Kevin and the rest of Marvel would say no because it's different from the other shows in the MCU.

So, we made a whole presentation, a whole dossier, with YouTube videos and all that explaining why it was important to have those sequence and surprisingly they said yes. They said don't go overboard. Don't do it every five seconds, but if it's true to the story and the character let's go for it. And that's how we had that style that is very also inspired by Into The Spider-Verse."
RELATED: CHECK OUT THESE COLORFUL NEW MS. MARVEL CHARACTER POSTERS!
It's no surprise that Into The Spider-Verse has had a massive impact on superhero stories. The animated movie grossed $375.5 million worldwide while also earning wide spread critical and fan acclaim. And this is not the only MCU project to take inspiration from the animated movie, Spider-Man: No Way Home in many ways is a live-action Spider-Verse story. But, part of what is so fascinating about the movie's influence on Ms. Marvel specifically is how the animation plays into this live action series as well as how it brings Kamala's imagination and experience to life on screen.
Into The Spider-Verse fully utilized the animation to explore Miles' thoughts and imagination as well as his art. With Ms. Marvel, also following a teenager who seems to have an impressive imagination and interest in art animation, is an ideal way to explore this while making it clear what is fantasy and what is reality. Telling the stories of young heroes opens up the possibility of exploring their imagination ,which is often more difficult to express in adults.
RELATED: MS. MARVEL: NEW STILLS REVEAL A LOOK AT KAMALA KHAN'S POWERS
Kamala Khan is ingrained in the fandom of the Avengers within the MCU. Being able to explore her own fantasies through animation is a uniquely exciting way of telling her story especially as she gains powers and grows into her own as a hero. Marvel continues to find new and creative ways to tell these stories and it looks like Ms. Marvel continues this trend. It will be interesting to see just how much inspiration the series took from Into The Spider-Verse as Kamala's story progresses.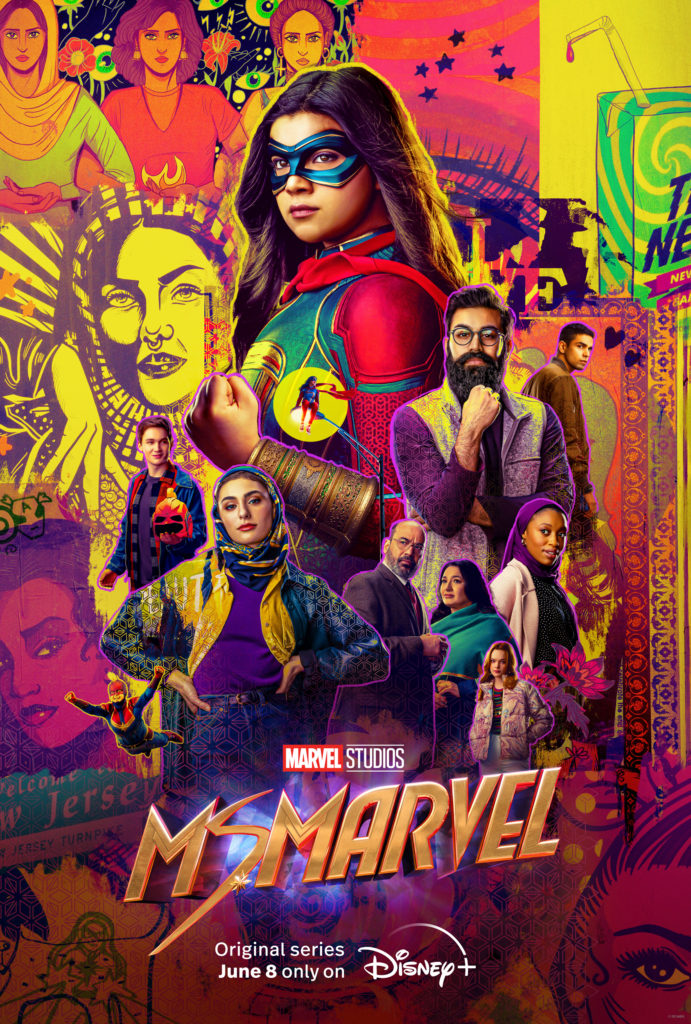 Ms. Marvel premieres on Disney Plus Wednesday June 8. Are you excited for Ms. Marvel? Are you a fan of Into The Spider-Verse? Are you looking forward to seeing how the creative team incorporates animation into this live action series? Leave your thoughts in the comments below or on our social media and check back with The Illuminerdi for more MCU and Ms. Marvel.
KEEP READING: MS. MARVEL: KEVIN FEIGE TEASES THE EXCITING POTENTIAL FOR A REAL LIFE AVENGERSCON