**MAJOR SPOILERS FOR UNHUMAN**
The Illuminerdi's We're Always Watching is our new movie podcast where members of this nerd collective discuss the newest movies to hit theaters and streaming services. On We're Always Watching we will give listeners a bit of insight into the filmmaking process as we look back at the pre-production and production news during filming. We'll also go through any exclusives we had about this project and look at which were true and if any weren't, why that might be. We will also of course be breaking down and giving our in-depth review of the movie.
Please listen, like, comment, follow, and share We're Always Watching on iTunes, Spotify, and anywhere you podcast.
THE ILLUMINERDI'S WE'RE ALWAYS WATCHING: UNHUMAN
In this episode of We're Always Watching Kevin Fenix, one of our editors, Caitlin Tyrrell, one of our journalists and features manager, and Jezzer, of The Illuminerdi's Ranger Wrap Up, dice into the campy horror of a high school zombie apocalypse. Unhuman follows a group of misfit high school kids reminiscent of John Hughes classics like The Breakfast Club, but while on a field trip their bus crashes and things go from bad to worse. The teens end up having to work together in an attempt to survive what seems to be a zombie attack in this hilarious horror filled adventure.
RELATED: TOP GUN: MAVERICK – THE ILLUMINERDI'S WE'RE ALWAYS WATCHING PODCAST EP 4
In the newest episode of We're Always Watching we talk about our own survival tactics (or lack thereof) in a zombie apocalypse, the insane twist in Unhuman, the different subgenres of horror notably those that lean into camp, high school tropes and stereotypes. We also discuss whether or not all movies need post credit scenes and how they can impact a film.
The Illuminerdi had the opportunity to exclusively interview the director and co-writer Marcus Dunstan about how his own experience being bullied in high school inspired the theme of Unhuman:
UNHUMAN STAR BRIANNE TJU ON BEING AN ASIAN WOMAN IN LEAD ROLE OF NEW JOHN HUGHES INSPIRED HIGH SCHOOL HORROR FILM: EXCLUSIVE INTERVIEW
We also were able to speak with some of the cast. Brianne Tju who plays Ever talked about leading a John Hughes type of high school movie as an Asian woman and how her character finds strength through her compassion:
UNHUMAN STAR BRIANNE TJU ON BEING AN ASIAN WOMAN IN LEAD ROLE OF NEW JOHN HUGHES INSPIRED HIGH SCHOOL HORROR FILM: EXCLUSIVE INTERVIEW
Uriah Shelton, Benjamin Wadsworth, and Drew Scheid who play Danny, Randall, and Steven respectively revealed how they were able to connect with and bring sympathy to their characters who each have a surprising amount of pain and darkness:
UNHUMAN STARS EXPLAIN HOW THEY INFUSE SYMPATHY INTO THE MORE VILLAINOUS CHARACTERS: EXCLUSIVE INTERVIEW
ABOUT UNHUMAN
Release date: June 3, 2022
Director: Marcus Dunstan
Screenwriters: Marcus Dunstan and Patrick Melton
Cast: Brianne Tju, Joshua Mikel, Benjamin Wadsworth, Drew Scheid, Uriah Shelton, Peter Giles, Lo Graham, Ali Gallo, Blake Burt, C.J. LeBlanc, Dana Wing Lau
Production Companies: Epix, Blumhouse Television
Distributor: Paramount Pictures
Synopsis: A group of high school students whose school bus crashes on a field trip. Relationships are tested once they realize they are being stalked by an attacker who intends to drive them out and straight into a horrifying fight to survive.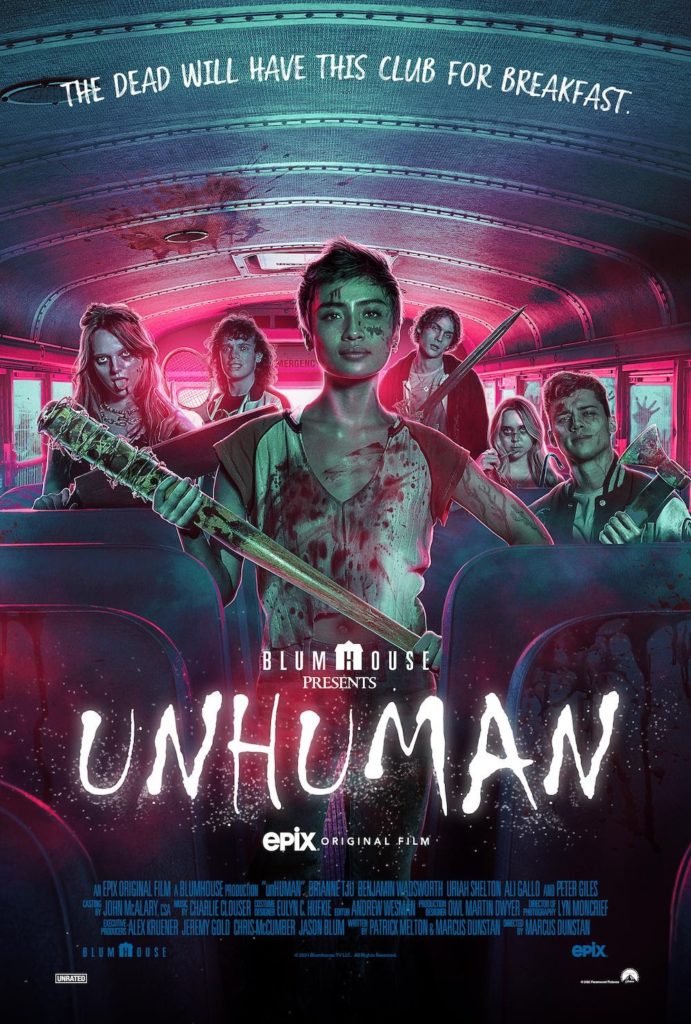 Be sure to check out The Illuminerdi's We're Always Watching podcast to find out what Kevin, Caitlin, and Jezzer thought of Unhuman. Stay tuned for more in-depth reviews, breakdowns, and behind-the-scenes looks into the latest releases! Share your thoughts with The Illuminerdi on our social media or Kevin Fenix, Caitlin Tyrrell, and Jezzer directly!
KEEP READING: THE BOB'S BURGERS MOVIE – THE ILLUMINERDI'S WE'RE ALWAYS WATCHING PODCAST EP 5