This summer, Hasbro is celebrating the 40th anniversary of its iconic GI Joe brand in a number of big ways.
One of these is through their incredibly popular GI Joe Classified Series of action figures. This line of 6in figures takes the classic Joe and Cobra figures and gives them either a more modern design or a new design inspired by their classic look from the 1980s.
RELATED: HASBRO RELEASING EPIC SPIDER-MAN MARVEL LEGENDS COLLECTION ON 4/20
Recently Hasbro sent out a special box of free GI Joe items to influencers to take a look at what they have to offer for "A Real American Hero."
NEWEST GI JOE FIGURES
Some of the newest figures to come out in the GI Joe Classified Series include Spirt Iron-Knife and Storm Shadow. While this is not the first release for Storm Shadow in this line, it is the first time Hasbro is making one based on his original design.
Spirit includes his pet eagle Freedom as well as a number of accessories that can be clipped onto the figure. That's one of the biggest draws of the Classified Series; as with most figures, nearly all of them have some sort of storage for their weapons that are included.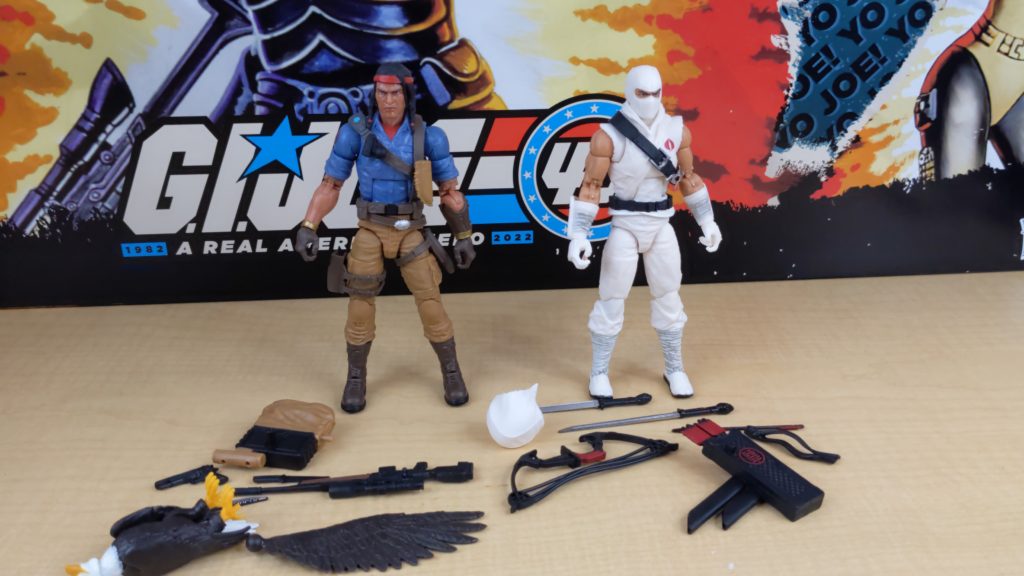 In the case of Spirit, you can position Freedom either on his backpack or on his arm, and with Storm Shadow, there is an optional hood piece along with storage for an arrow, bow, and swords on his back. These figures are shipping now from online retailers and should be in stores soon.
ANIMALS AND TROOPERS
One of the best figures to enter the line is the new release of Croc Master & Fiona. This set includes not only the first release of Croc Master, inspired by his classic look, but Hasbro gets to show off the incredibly talented engineering that goes into the Classified Series with the crocodile Fiona. Fiona is a fully articulated crocodile that is sure to be a challenge to any Joe figure in your collection.
Cobra's army can continue to grow with the many troopers released in the line. In this box, Hasbro sent over the Target Exclusive Python Patrol Cobra Viper figure. This one is part of their special line of figures for Target, and with this one, it features a special paint job not seen on the regular Cobra Viper being released in an upcoming three-pack.
RELATED: HASBRO REVEALS NEW G.I. JOE ACTION FIGURES & PRE-ORDERS DURING FANSTREAM
Speaking of Cobra Troopers, exclusive to Hasbro Pulse, are the Retro O-Ring figures of the Cobra Trooper and Officer. These special GI Joe releases recreate the iconic O-Ring 3.75in action figures fans know and love down to the original packaging.
BRINGING BACK RETRO GI JOE
Also included was the Retro Classified Series Baroness figure that is exclusive to Walmart. Similar to the O-Ring figure sets, these recreate the iconic 1980s packaging but this time with a full 6in Classified Series figure on the card back. There is a whole set of these available at Walmart, and even more launched at Walmart Collector Con!
Speaking of Retro, there is a number of places you can get new versions of classic G.I. Joe products today! Up on Hasbro Pulse until August 16th is the HasLab Classified Series 6in scaled H.I.S.S. Tank, which just reached its final unlocked stretch goal in record time. You can also catch classic episodes of the G.I. Joe cartoon series on the Hasbro YouTube channel and follow the brand on social media @GIjoe on Instagram, @GIJoeOfficial on Twitter and @OfficialGIJoe on Facebook!
Be sure to check out The Illuminerdi's unboxing of all these G.I. Joe items sent over by Hasbro here:
What G.I. Joe products do you collect? Do you plan to pick any of these items up? Leave your thoughts in the comments below or on our social media.
KEEP READING: SAN DIEGO COMIC-CON 2022: AWESOME SCHEDULE OF PANELS