Harley Quinn's relationship with Bruce Wayne has taken an unexpectedly romantic turn in Batman: Beyond The White Knight #5.
Batman: Beyond The White Knight is the third primary installment in the DC Black Label universe unofficially known as the "Murphyverse", following Batman: White Knight and Batman: Curse Of The White Knight. Spinoff series within this alternate reality have followed Mr. Freeze, Red Hood, and most importantly, for the sake of today's shocking news, Harley Quinn.
Batman: White Knight Presents: Harley Quinn was a six-issue miniseries that followed Harley Quinn as she fought to save Gotham from a new supervillain. Her relationship with Bruce Wayne developed further, and their friendship blossomed into something more. Bruce gave Harley an amazing new super suit, integrating the former supervillain completely into the Bat-Family.
HARLEY QUINN AND BRUCE HAVE A DIFFERENT RELATIONSHIP IN THE "MURPHYVERSE"
Bruce Wayne was behind bars during the events of Batman: White Knight Presents: Harley Quinn, having revealed himself to the public as Batman. Bruce left his fortune to the people of Gotham, but he left the task of protecting Gotham to Harley Quinn. In addition to the super suit, Bruce gifted Harley a new Hyena puppy, as one of hers had died saving Harley's children from an attack on their home.
RELATED: GREEN LANTERN BEWARE MY POWER'S JIMMI SIMPSON TALKS PASSION FOR GREEN ARROW & HISTORY WITH THE LANTERNS: EXCLUSIVE INTERVIEW
That's right, Harley has twins Jackie and Bryce, and their father is Jack Napier, AKA Joker. Bruce also gave Harley and her children a new home in Gotham, something of a complete with Batcomputer and other Batcave accessories.
"Welcome home. I know Gotham is in good hands. Love, Bats…"
HARLEY QUINN, BATMAN & JOKER: A LOVE TRIANGLE LIKE NO OTHER
The close bond between Bats and Harley Quinn went several steps further in Batman: Beyond The White Knight. Bruce broke out of prison in order to fight Derek Powers, who tricked Terry McGinnis into stealing the Batman Beyond suit.
He returned to Harley's home in order to gear up, and when the two were reunited, a stunning revelation came to light. Bruce and Harley are married. When Derek Powers sought to extend Bruce's sentence by forcing Harley to testify, the two were wed so that spousal privileges would protect Bruce in a court of law. While their marriage may have seemed like a sham, the two had strong romantic feelings for one another, and Harley wanted him to be a part of her family.
RELATED:
Bruce's attitude soured while he was in prison, and he began turning away from everyone in his life, including Harley. This betrayal was emotionally painful for both of them, but it was not meant to be the end of their love story. In Batman: Beyond The White Knight #5, Bruce confesses his love to Harley, and the two share a kiss and an emotionally intimate moment, but there's a complication to this tender moment. Bruce isn't alone in his body or his mind…he shares it with Jack Napier/Joker.
In this universe, Jack Napier was a small-time criminal with a good heart, suffering from mental illness. He had another personality inside, not unlike Marvel's Marc Spector/Steven Grant/Moon Knight. Joker was growing inside Jack, but he wasn't in control when he met Harley. They fell in love, but Harley betrayed him by studying his condition without his consent and publishing a paper on the subject, admittedly without using Jack's real name. Jack broke things off and fell deeper into Gotham's underworld, eventually falling into a pit of acid during a confrontation with The Dark Knight. Years later, Harley would secretly develop a medicine that returned Jack Napier to the control of his body and mind…for a time.
RELATED: GOTHAM KNIGHTS: WATCH THE FIRST 16 MINUTES OF THE VIDEO GAME RIGHT NOW!
During this period, Jack exposed corruption in Gotham and beat the Batman in a physical duel. While Batman was unconscious, Jack secretly implanted a chip into Batman's mind, a device containing an AI replication of Jack Napier which. The device was dormant in Bruce's mind until the beginning of Batman: Beyond The White Knight, and in Issue #5, he was temporarily in control of Bruce's body. Considering this, the confession of love that Bruce gives to Harley comes not just from Bruce but from Joker as well. At the time of writing, Harley Quinn is unaware of that major detail.
What does the future hold for Harley Quinn and Bruce/Jack? How will she react when she learns the truth? How will our heroes defeat Derek Powers and save Neo-Gotham?
Find out more in Batman: Beyond The White Knight #6, available at your local comic shop on October 25, 2022! Batman: Beyond The White Knight is written and illustrated by Sean Murphy, colored by Dave Stewart, and lettered by AndWorld Design.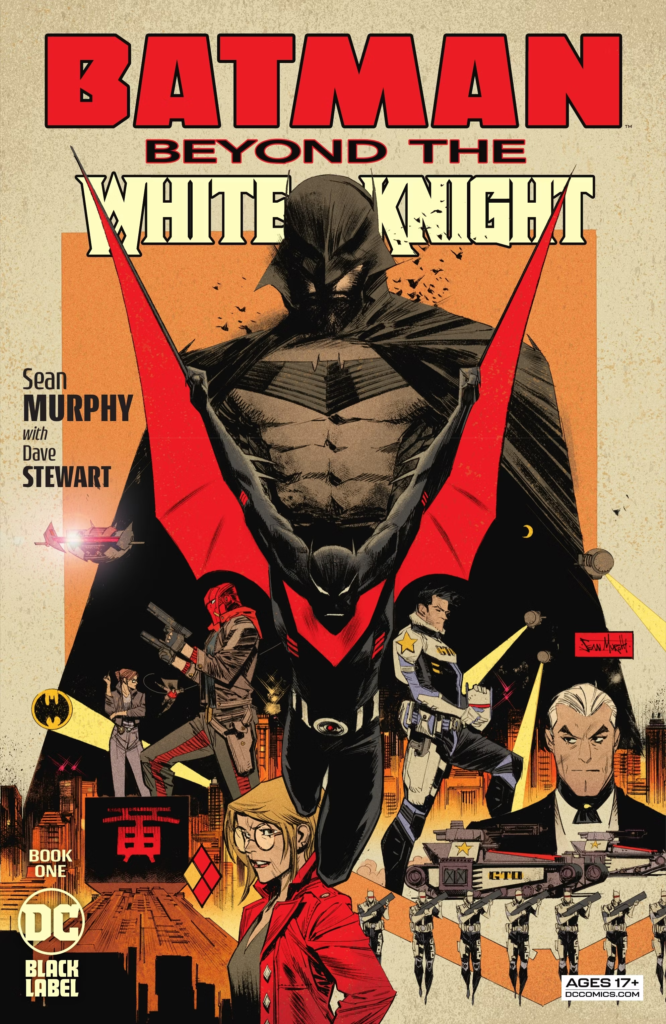 What are your thoughts on this? What do you think about Harley and Bruce's relationship in the Murphyverse? Let us know your thoughts in the comments below. Also, be sure to follow The Illuminerdi on social media to be notified of more DC news and reviews like this in the future!
KEEP READING: SUMMER TIME RENDERING VOL. 1 REVIEW: GHOST STORY SPOOKS UP THE SEASON