Red Hood recently trained a new Robin named Gan, and the new dynamic duo is coming to Neo-Gotham in Batman: Beyond The White Knight later this year.
Jason Todd, AKA Red Hood, was the second Robin in mainstream DC continuity. Tragically, Jason Todd is most famous for his death because fans literally voted for him to die at the hands of Joker instead of surviving. His death paved the way for Tim Drake, the third Robin, and Jason remained six feet under for years.
In 2005, Jason Todd returned from the dead in the Under The Red Hood storyline. He waged a war on Gotham's underworld, executing those he saw as a threat to Gotham's well-being. After an intense confrontation with Batman and The Joker, Jason escaped. Jason would return to villainy, or anti-heroism, depending on the story, for several arcs before rejoining the Bat-Family and giving up his method of lethal justice.
The "Murphyverse" is a collection of stories set in the Batman: White Knight continuity, and in that universe, Jason's story goes quite a bit differently. Jason Todd was the first Robin to fight alongside The Dark Knight. The two were partners for years before Joker kidnapped the Boy Wonder. In this timeline, Jason revealed Batman's secret identity to Joker after enduring horrendous torture at the hands of the Jester of Genocide. Upon learning this, Joker decided to set Jason free, believing that betrayal would hurt Batman more than Jason's death would. Jason ran away, hating Bruce for failing to rescue him.
Eventually, Jason would almost return home, only to discover that Bruce had replaced him with a new Robin, Dick Grayson. Betrayed once more, Jason turned his back on Bruce for years. During this time, Jason Todd would meet a high schooler named Gan, who sought to follow in his footsteps as a new Robin.
RED HOOD: JASON TODD TRAINS AN AMAZING NEW ROBIN AS HIS SIDEKICK
Gan was a Mongolian teenager when she met Jason, and she was already wearing a Robin costume. She had no official affiliation with Batman, and she tried to fight crime and help her community of Backport, the impoverished and oft-overlooked sector of Gotham City. She met Jason when he defeated and robbed the Stoplight Gang, one of whom had a Red helmet that she would later gift to Jason, debuting his classic Red Hood look in the Murphyverse. After some initial reluctance, Jason decided to teach Gan how to become a Robin, and the two made a difference in Backport for a brief time.
RELATED: HARLEY QUINN & BATMAN: GOTHAM'S CRAZIEST NEW ROMANCE IS SHOCKING & SWEET
"I'm not just some stupid fangirl, Jason. This isn't a game to me," said Gan. "I know, Gan. That's what I'm worried about."
With his guidance, Gan learned how to fight, and the two became fast friends as well as partners. But before long, Jason began to fear that they were getting in too deep. Gan wanted to take on a supervillain named Shriek (who originally debuted in Batman Beyond), but Jason knew that it was too dangerous and that they were unprepared to take him on. After an argument, Jason told her not to go and left.
RED HOOD INSPIRED GAN TO BECOME THE HERO GOTHAM NEEDED
Gan was a very kind soul with a big heart and a strong desire to change Backport and Gotham for the better. But through her training with Jason Todd, she became headstrong, reckless and overconfident. Gan was becoming more than just Robin…she was becoming the mirror image of Jason Todd.
"I thought I knew better than Batman. I thought I could build a better Robin. But at that moment I realized I didn't turn you into Robin…I turned you into me."
Fortunately, Jason realized that Gan had gone after Shriek on her own and came to help her fight him. Red Hood and Robin took on Shriek in a quippy, explosive battle, with this brand new dynamic duo claiming victory. After this battle, Jason and Gan both believed that their partnership was not meant to be, not for the time being, at least.
RED HOOD AND ROBIN WILL RETURN IN BATMAN: BEYOND THE WHITE KNIGHT
That doesn't mean that Gan stopped being a hero, however. She helped her community, setting up a Dojo, got involved with local relief efforts and always looked after her neighbors. Gan may be new to the Bat-Family, but she is a shining example of what their symbol should stand for nonetheless. In her own words, "Robin never gives up." And while Jason may have left Backport behind for a while, he came back and reunited with Gan during the events of Batman: Beyond The White Knight. Their time together at that point on the timeline was brief, but they are coming into the spotlight soon.
RELATED: MULTIVERSUS: BLACK ADAM AND GREMLINS' STRIPE ARE NEXT PLAYERS TO ENTER THE BATTLE
"Jason and Gan come back into play when they find out Babs is putting together a team of Robins to help Batman," Sean Murphy explained to fans in the "beyond the page" portion of the second and final issue of Batman: White Knight Presents: Red Hood. 
The current ongoing series of the "Murphyverse " is Batman: Beyond The White Knight, which recently released its fifth issue. This miniseries, the third primary installment in this alternate DC universe, will run for eight issues, like predecessors Batman: White Knight and Batman: Curse Of The White Knight. Book six is scheduled to release in comic book stores and online on October 25th, 2022.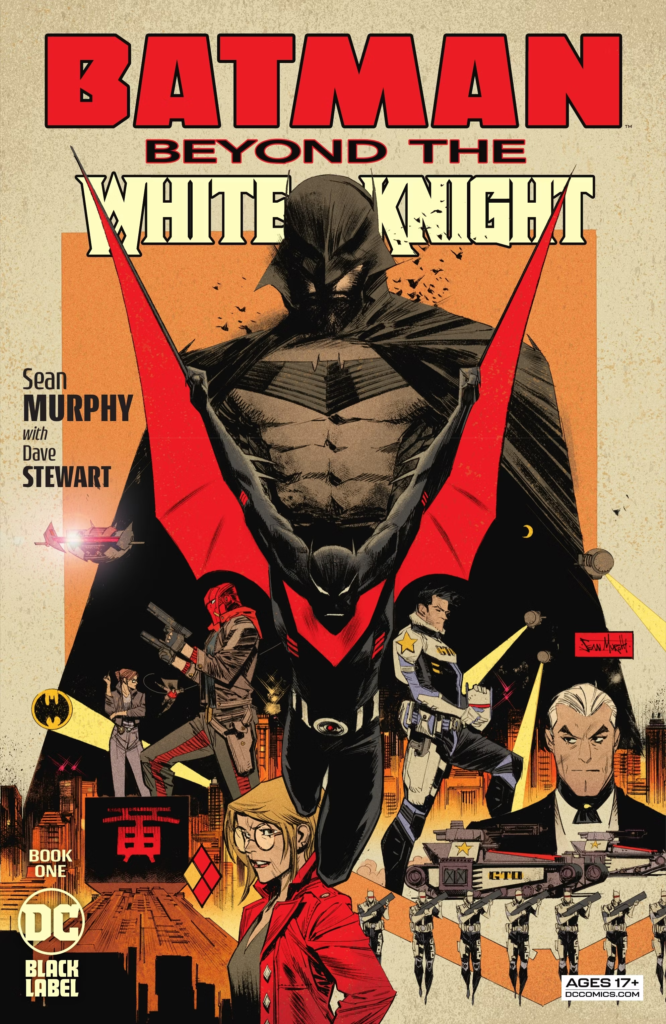 Batman: White Knight Presents: Red Hood is co-written by Clay McCormack and Sean Murphy, colored by Dave Stewart, lettered by AndWorld Design, and illustrated by Simone Di Meo and George Kambadais.
What are your thoughts on this? What do you think of this Red Hood and the new Robin? Let us know your thoughts in the comments below. Also, be sure to follow The Illuminerdi on social media to be notified of more DC news and updates like this in the future!
KEEP READING: GOTHAM KNIGHTS: WATCH THE FIRST 16 MINUTES OF THE VIDEO GAME RIGHT NOW!