In the last few years, Hasbro has decided to expand its popular Power Rangers Lightning Collection figure line to bring in characters from different martial arts-related franchises. 2021 saw the reveal and release of Teenage Mutant Ninja Turtle crossover figures and over the last few months, characters from Street Fighter have been brought to the line. However, thanks to a report about the brand prior to the release of Season 5 this past September, next year will be the next collab from Cobra Kai.
COBRA KAI COLLECTOR CAPSULE
First reported on by aNbMedia, Inc., Hasbro will be teaming up with Sony Pictures Consumer Products to bring characters from Cobra Kai to the world of Power Rangers.
RELATED: EXCLUSIVE: MMPR LEGENDS STEVE CARDENAS AND CATHERINE SUTHERLAND TO MAKE A POWERFUL RETURN FOR POWER RANGERS' 30TH ANNIVERSARY
In their statement on this upcoming collaboration, it was confirmed these figures would be coming exclusively to Target at some point in the first quarter of 2023.
As of now, it's unknown what these figures would look like or how many there will be. Cobra Kai is no stranger to collaborations as they have, just as the Rangers, seen crossover figure packs with the TMNT, so this seems like a good pairing.
RELATED: HASBRO REVEALS AND TEASES NEW POWER RANGERS LIGHTNING COLLECTION PRODUCTS DURING PULSE CON EVENT
Hasbro's previous collaboration Lightning Collection figures were all based on a piece of preexisting media such as video games and comics so it's possible some sort of tie in media will be produced to go along with these upcoming releases, or they could be like the recently revealed Morphed Ken and Cammie from Street Fighter, who only exist in action figure form.
THE POWER RANGERS LIGHTNING COLLECTION HIDING IN PLAIN SIGHT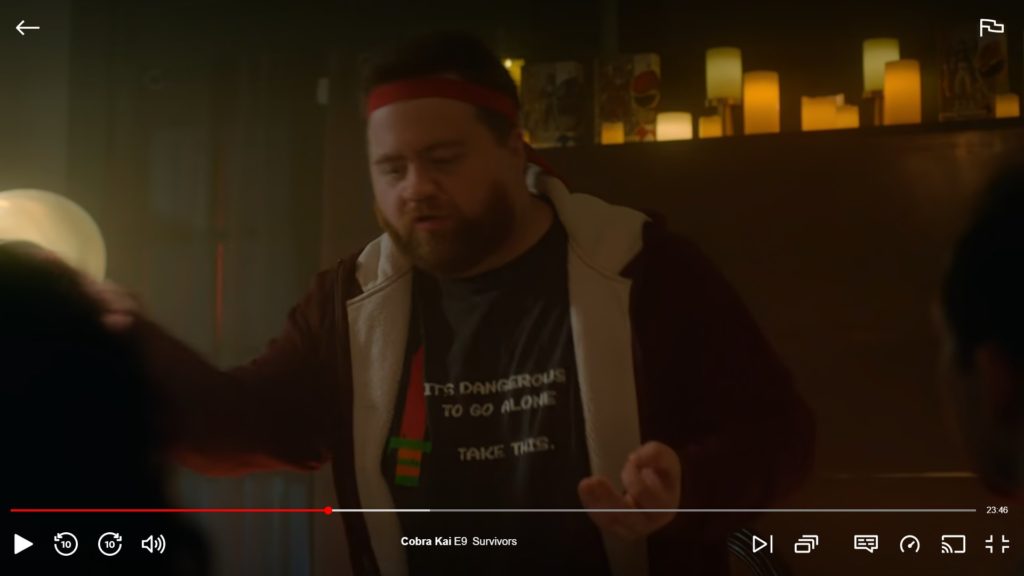 While the article that revealed this collaboration went unnoticed for over a month, there were already signs that Power Rangers and Cobra Kai were destined to meet in the recently released Season 5 of the hit Netflix series.
RELATED: A NEW KARATE KID MOVIE IS GOING TO WAX ON TO THEATERS IN 2024
In Episode 8, a few Mighty Morphin Power Rangers figures can be seen in the background on a fireplace, MMPR Blue, Red, and White. These could be clues to what sort of Ranger colors we'll see for the Cobra Kai figures or they could've just been foreshadowing for the upcoming toy line. At this time, Hasbro has not yet confirmed these figures or revealed when they will be released, but it's likely info will be released by the end of the year.
Some fans think it's possible Hasbro will base these figures off the already released, also only at Target, Ninja Ranger figures from MMPR Season 3, as they include a martial art style suit to them that would fit Cobra Kai well.
Until then, you can check out my coverage on this upcoming collaboration on the latest episode of Lightning Storm.
To stay up to date with all the news for the Power Rangers Lightning Collection, fans can check out The Illuminerdi's Josh Perry on his weekly Lightning Storm YouTube series every Saturday at 9:00 am Pacific or on Twitter at @LightningFigPR.
What do you think of the latest news for the Lightning Collection? What Cobra Kai characters do you want to see join the world of Power Rangers? Leave your thoughts in the comments below. Also, be sure to follow The Illuminerdi on social media to be notified of more Power Rangers and Cobra Kai news and updates in the future!
KEEP READING: POWER RANGERS: MIGHTY MORPHIN LEGENDS DAVID YOST AND WALTER JONES TO RETURN FOR 30TH ANNIVERSARY
Source: aNbMedia, Inc.