With Black Panther: Wakanda Forever less than a week away, fans are more excited than ever to see the onscreen debut of Riri Williams, aka Ironheart. The superhero character will be introduced in the Black Panther sequel before going on to star in her own Disney+ series, Ironheart, in the fall of 2023. And while we don't yet know what part Riri will play in the battle between Namor and Wakanda, we do know a bit about what to expect from the upcoming series. Some recent set photos have given us some intriguing insights into Ironheart's plot and tease a magician character who might be appearing in the show.
So buckle up and let's dive in…
NEW IRONHEART SET PHOTOS REVEAL ANOTHER CHARACTER'S MCU DEBUT
In the comics, Riri Williams was a brilliant teenager who built her own version of the Iron Man suit in an MIT dorm room. She is thus closely associated with Tony Stark, who actually mentored her through the beginning of her superhero career. But with Tony Stark being dead in the live-action MCU storyline, it's safe to say that her origin on the big screen is going to be slightly different.
From what we've seen in the Black Panther: Wakanda Forever trailer, it will most likely be Shuri and the people of Wakanda that act as her mentor rather than Tony Stark. And in her solo series, rather than facing off against tech-based villains (which was often the case in the comics), Riri Williams will be going up against magic users like The Hood.
As revealed at the D23 Expo earlier this year, Anthony Ramos (Hamilton, In The Heights) will be portraying the villain/antihero known as The Hood in the series. We've already seen some set photos of Ramos wearing the signature red costume, but another batch of set photos has revealed that he probably won't be the only magic user in the show. In fact, these new photos might just tease the appearance of Zelma Stanton, a sorceress character who has ties to Dr. Strange in the comics.
RELATED: RIHANNA RUMORED TO HAVE RECORDED 2 AWESOME SONGS FOR THE BLACK PANTHER: WAKANDA FOREVER SOUNDTRACK
As you can see in the Twitter post below, the set photo reveals that the Ironheart series will feature a bookstore known as Stanton's: Sweets, Reads, & More. This bookstore is almost certainly a reference to the character of Zelma Stanton, a magician who served as Doctor Strange's apprentice and librarian in the comics. Adding credence to this theory is a previous report which claimed that this character will be played by Regan Aliyah (XO, Kitty), who was recently confirmed as having been cast in the show.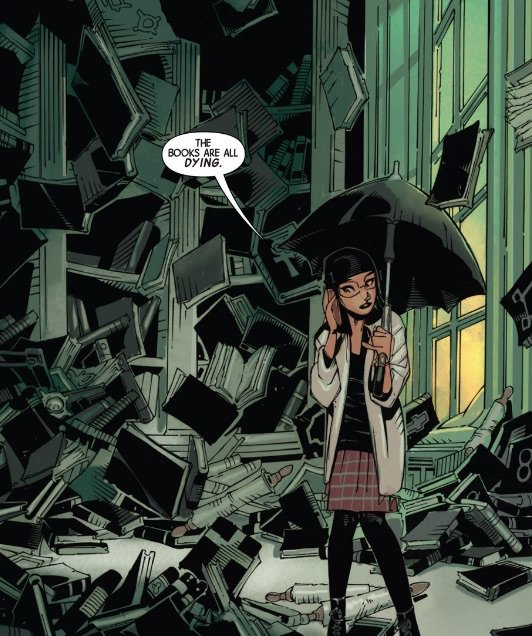 Aliyah is an up-and-coming actress who will appear next in Netflix's XO, Kitty, a spinoff to their coming-of-age film trilogy To All The Boys I Loved Before. Before working on Ironheart, she briefly appeared in the TV miniseries Club Mickey Mouse, as well as a number of shorts.
RELATED: IRONHEART: SHAKIRA BARRERA JOINS HUGE UPCOMING MARVEL TV SERIES
In addition to acting, Aliyah is also a singer and rapper whose music can be found on her website here. If she is playing Zelma, fans can most certainly expect her to show up in the future, possibly alongside the Sorcerer Supreme.
All of these rumors and set photos indicate that fans will be getting a lot more magic in this series than we first expected! Could Zelma come across a magical book that is connected to the origins of the Hood? Could she already be a sorceress working with Wong and Kamar Taj? Is she simply just another classmate at MIT, or a friend of Riri's, but one who will be set up to have a significant presence in the future?
It's hard to know for certain, but if producer Kevin Feige's words are any indication, there is definitely going to be a lot of magical, mystical, witchery going on in this show.
IRONHEART WILL EXPLORE TECH VS. MAGIC
Earlier this year, Marvel Studios highlighted this theme of "Tech vs. Magic" in an official press release:
"Dominique Thorne returns as Riri Williams, a young, genius inventor determined to make her mark on the world. Her unique take on building iron suits is both brilliant and flawed, and "Ironheart" delves into the dynamics of tech versus magic. Feige invited Anthony Ramos to the stage to greet fans and share a little about his character, Parker Robbins aka The Hood. The new series is slated for Disney+ next year."
Further, when discussing the Ironheart series on the stage at D23, Kevin Feige had this to say:
"What's great is that the character, [The Hood], from the comics, he deals in the dark arts. He deals in magic. Riri is a technologist. We've had technological heroes and villains. We've had supernatural people dealing with magic. We've never had the two at the same time, so seeing Riri go up against [The Hood] in a way, that is very unique is what I think I'm most excited for."
This struggle between Riri's technical knowledge and the Hood's dark magic is a new twist for the character and sets her apart from the Iron Man storylines we've already seen in the MCU. Rather than seeing her go up against a villain in a similar suit of armor or one who wants Riri's armor for nefarious purposes, this storyline will pit Ironheart against a different type of foe entirely.
RELATED: NEW IRONHEART LOGO SHOWCASED AT DISNEY+ DAY
Bullets, jetpacks, and rockets are great, but what do you do if your enemy is pulling power out of another realm? Can Riri's armor defend her from magic, as well as physical weaponry? And what if this magic comes from Mephisto, which previous reports of Sacha Baren Cohen's role seem to indicate Only time will tell…
In the meantime, Riri will make her on-screen debut in Black Panther: Wakanda Forever in less than 7 days. First reactions are universally praising the film, and we can't wait to see everything that it has in store.
Ironheart is expected to air on Disney Plus in the fall of 2023. What do you think of these set photos? Let us know on social media!
KEEP READING: WHO IS THE HOOD? – IMPORTANT FUTURE MCU CHARACTERS YOU NEED TO KNOW!
SOURCE: Doctor Strange Updates, Twitter