Christmas Bloody Christmas star Sam Delich opens up about the most gruesome holiday movie of the year. 
Filmmaker Joe Begos teamed up with the horror streaming service Shudder and RLJE Films to create a neon-soaked nightmare perfect for the most festive time of year. Actor Sam Delich best explains the premise of Christmas Bloody Christmas. 
"The movie is, I'm going to say it's almost High Fidelity meets Terminator. It's a fun-filled, blood-soaked, Christmas horror film that is set in a small town in the United States. It follows Tori Tooms and Robbie Reynolds, who I play, It's essentially their dynamic in hanging out leading up unto Christmas day, and chaos ensues." -Sam Delich
CHRISTMAS BLOODY CHRISTMAS: "FUN-FILLED, BLOOD-SOAKED X-MAS HORROR"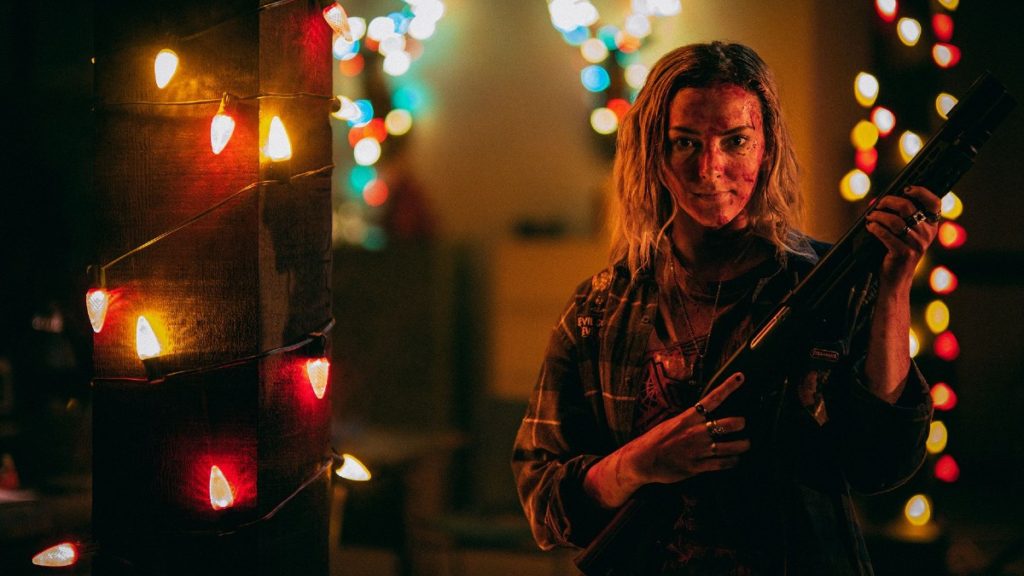 The chaos that Delich is describing is onset by the wrath of a malfunctioning robot Santa stationed in the local toy store. This animatronic menace begins a yuletide killing spree that would make Michael Myers blush.
"The Santa is split between a wonderful actor named Abe Benrubi and a giant robot. The robot is terrifying, but Abe is a gentle giant. Working with Abe is amazing. You do a heavy sort of action scene if you will, you're running, screaming, doing all of that, and at the end Abe would come up and give you a big bear cuddle." –Sam Delich
Abe Benrubi's may be playing a robot, but his performance was anything but robotic. His take on Santa is haunting, intimidating, and anything but cheery. But behind the scenes, his demeanor was apparently the stuff that Christmas dreams are made of. He was supportive, thoughtful, and caring to his costars, fitting traits for the man who plays Saint Nicholas. 
RELATED: CHRISTMAS BLOODY CHRISTMAS STAR RILEY DANDY EXPLORES THE GNARLIEST X-MAS MOVIE OF 2022: EXCLUSIVE INTERVIEW
Robbie Reynolds is running for his life once Santa starts slaying, but outside of his survival instinct, just who is Robbie?
CHRISTMAS BLOODY CHRISTMAS: MEET ROBBIE REYNOLDS
"Robbie is cheeky, lovable, weird, and I think optimism and determination are his biggest strengths. Throughout the first half, he has one clear goal in mind, to get the girl, to get laid if you will. He finds many little tactics along the way, and that absolute determination in the face of adversity, whether that be Tori shutting him down or a giant Santa ruining his mojo, he always tries to find a way through." –Sam Delich
Lover, joker, fighter, and friend would all be apt descriptors for Robbie Reynolds. He has a tenacity and a drive that helps him in this untimely fight for his life, but will it be enough? Will his relationship with Tori make it through the night, or will their light be extinguished by jolly 'ole Saint Nick?
The romance and bond between Tori and Robbie is intense and dynamic. That pair is constantly shifting in relation to one another, but the friendship formed by the actors who play them is set in stone.
"[Riley Dandy] is terrific. It was an absolute blessing that we were paired together. I think that Joe [Begos] was quite nervous about the chemistry. Because you never know when you hire two people, I auditioned from Sydney, Australia, so we never had a chance to meet, me and Riley. And the minute we met, we hit it off, which was fantastic. Similar sense of humor, and just the banter and the openness, and her willingness to play."
Sam Delich praised Riley Dandy for not only being a great friend, but for her work as a determined and persevering actor.
"She is in just about every single scene in this film, and that is a huge weight for any actor, especially in such an action-driven movie. On the days where she was fatigued, I would do my best to sort of pick her up. And on the days when I was fatigued, she would do her best to pick me up, and I think that energy really shows on screen." -Sam Delich
RELATED: CHRISTMAS BLOODY CHRISTMAS REVIEW: A HEAVY-METAL HOLIDAY MASSACRE 
Tori Tooms is an unique heroine in the horror landscape of 2022, and Riley Dandy handles the tremendous task of bringing her to life with finesse and heart. The Christmas Bloody Christmas audience of horror fans are sure to be comparing Tori to characters like Sidney Prescott, Sally Hardesty and Laurie Strode. If that's not a testament to the strength of Dandy's acting ability, I don't know what is. 
Sam Delich goes on to explain how Christmas Bloody Christmas throws a middle finger at the holiday spirit, and the unique vision of writer/director Joe Begos.
CHRISTMAS BLOODY CHRISTMAS: A "F*** You" To The Holidays
"It's a bit of a "fuck you" to the holiday season in a way. We're so filled with wholesome, family Christmas movies during this time. I think Joe really wanted to make something unique, original, R-rated, full-on and different to go see. Instead of having to go see the same old rom-com family movie about god knows what, you get to see some weird-ass Christmas carnage, and I think that's super fun. That it's shot on 16 millimeter as well, it's such a throwback to slasher films of old."
Christmas carnage may not be everyone's thing, but horror fans disillusioned with the holiday season are sure to get a kick out of Christmas Bloody Christmas. Begos' new slasher movie is a shocking and one-of-a-kind 2022 release. This has been a hallmark year for the subgenre, but many of the releases have been sequels or remakes, i.e. Scream, Texas Chainsaw Massacre, Halloween Ends. 
Christmas Bloody Christmas is an original story inspired by slashers of the past, with a style and approach that no one else in horror is taking right now.
Outside of the realm of Christmas Bloody Christmas, Sam Delich is going to appear in several exciting shows next year!
"[Last Days Of The Space Age] is set in the late '70s in Perth, in Western Australia. It follows a family there and I play the CEO of an energy company who has some ulterior motives. It is a period piece, it's very hard '70s and it shows a time in Australia that I think most of the world will want to know about…

…I just wrapped a local series here [in Australia], a kids show called The PM's Daughter, which is out roundabout July next year. I'm very excited about it, I play a sort of quirky journalist in that one." -Sam Delich
RELATED: CHRISTMAS BLOODY CHRISTMAS: DIRECTOR JOE BEGOS IS PASSIONATE ABOUT THE SLASHER GENRE
Sam's performance as Robbie Reynolds is nuanced and engaging, but it doesn't necessarily afford Delich with many opportunities to display his range as an actor. As his work in Last Days Of The Space Age and The PM's Daughter is revealed next year, we will see more and more of what Delich can do. From fast-talking punk, to sleazy CEO, to quirky journalist and beyond, Sam Delich wants to play them all.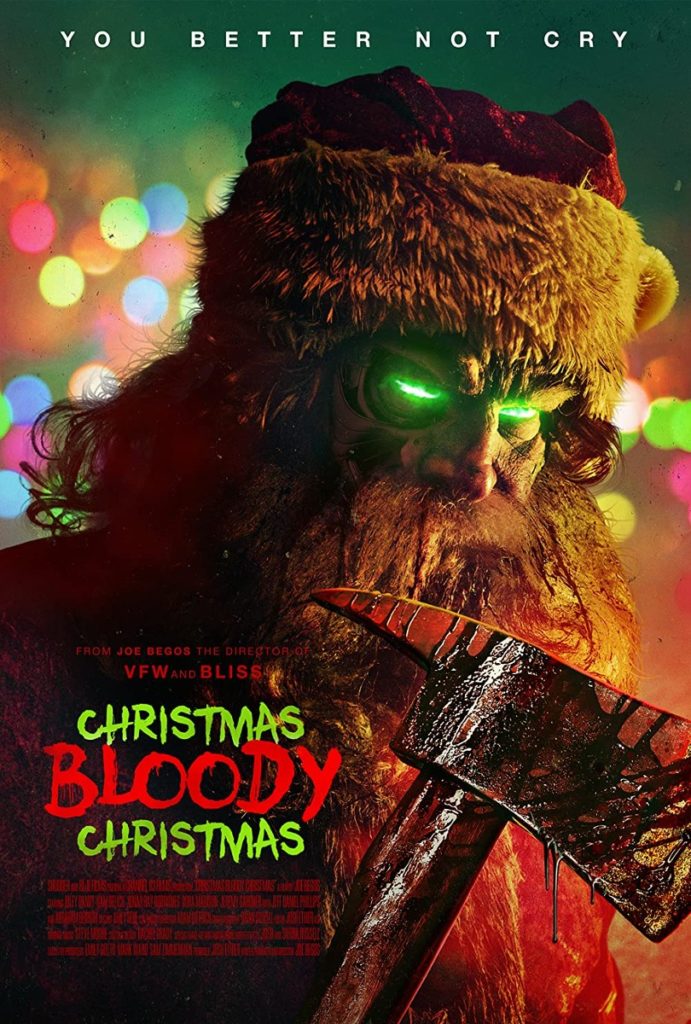 Sam Delich stars as Robbie Reynolds in Christmas Bloody Christmas, available on Shudder and in theaters on December 9th, 2022. 
Are you excited for Christmas Bloody Christmas? Let us know your thoughts in the comments below or on our social media!
KEEP READING: ED BOON'S PLANS TO REMASTER THE AWESOME MORTAL KOMBAT ORIGINAL TRILOGY