Another week, another batch of Power Rangers Lightning Collection leaks. Thanks to Twitter user @EuSouRalf pictures have now been posted for some upcoming releases that have yet to be revealed by Hasbro.
S.P.D. EMERGENCY!
First shown off by Hasbro with a teaser at Hasbro Pulse Con 2022 we now have pictures for the S.P.D. Yellow Ranger figure. This release will complete the core 7 team of Rangers from S.P.D., something that has been in the works for the line since the very first Wave in 2019. Yellow will include her Delta Max Striker, effect piece and hands, as well as her Delta Morpher. Also included is a head sculpt of Z Delgado.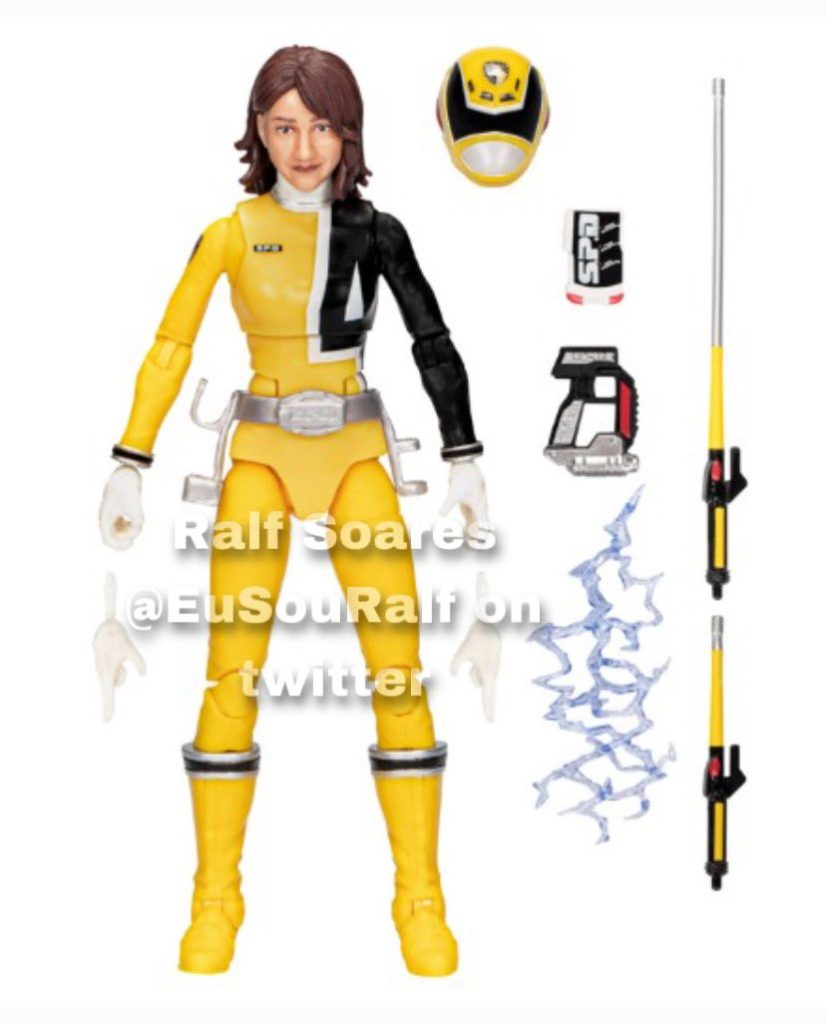 RELATED: HASBRO REVEALS AND TEASES NEW POWER RANGERS LIGHTNING COLLECTION PRODUCTS DURING PULSE CON EVENT
The Delta Morpher, as pointed out by @Spindash54, is inaccurate compared to previous releases of this accessory as the S.P.D. text print is upside down on the Morpher for some unknown reason. This one includes an upside down decal for the front of the morpher as compared to older versions. In the past Hasbro had this correct with Red and Blue before switching to completely inaccurate versions with Green and Pink. With Yellow they return to a closer to accurate look but not completely right.
INVISIBLE PHANTOM CAN BE SEEN IN THE LIGHTNING COLLECTION
RELATED: NEW POWER RANGERS LIGHTNING COLLECTION ZORD ASCENSION PROJECT TIGERZORD COMING IN 2023
Also shown off in this leak is the upcoming Turbo Invisible Phantom Ranger. This rerelease of the Wave 10 figure depicts the Phantom Ranger in his invisible mode that is seen (or unseen) sometimes during his appearance in Turbo. Unlike his original release Hasbro is labeling this figure as Turbo instead of In Space, to the praise of many fans who were unhappy with the original labeling of him for the second season he appeared in rather than the one he appeared in more often.
This figure will come with very much of the same accessories as the original release but with everything done up in a new semi-translucent/new paint scheme to create the invisible look. Right now it is unknown how and where this figure will be released or how much it will cost.
TENGA 2 PACK
More than a year ago a listing appeared for an upcoming Tenga Warrior 2 Pack to be released but it went missing for a long period of time until now. This 2 pack release features a rerelease of the Tenga Warrior figures from 2021's Wave 9 in a slightly different paint scheme than the old release.
RELATED: NEW "REMASTERED" MMPR POWER RANGERS LIGHTNING COLLECTION FIGURES RELEASING IN 2023
Some fans think this paint scheme is to recreate the look of some Tenga's seen in the "Edge of Darkness" comic from Boom Studios, though until the set is officially revealed by Hasbro this is unconfirmed.
It is speculated that Hasbro will be revealing these figures sometime around January 17th, so expect pre-orders and more details around then for these items.
For more details on these new leaks and more be sure to check out the newest episode of my Lightning Storm series:
To stay up to date with all the news for the Power Rangers Lightning Collection, fans can check out The Illuminerdi's Josh Perry on his weekly Lightning Storm YouTube series every Saturday at 9:00 am Pacific or on Twitter at @LightningFigPR.
What do you think of the latest news for the Lightning Collection? Do you plan on adding any of these figures to your collection? Leave your thoughts in the comments below. Also, be sure to follow The Illuminerdi on social media to be notified of more Power Rangers news and updates in the future!
KEEP READING: GRAN TURISMO SNEAK PEEK OFFERS AN IMPRESSIVE EARLY LOOK AT UPCOMING FILM
Source: @EuSouRalf