Titans may have been canceled months ago, but the show isn't over yet. The trailer for Titans Season 4, Part 2 promises a bloody conclusion to this DC TV series.
Titans is an adaptation of the Teen Titans character from the world of DC Comics. The super team has been adapted for animated television through Cartoon Network's Teen Titans and Teen Titans Go! To be frank, the live-action adaptation pales in comparison to those shows.
Titans was originally created for the now defunct DC Universe streaming service ("DC Universe Infinite" still offers a sizable collection of comic books – just no TV shows or movies.) before moving to HBO Max for the 3rd and 4th seasons.
TITANS: A STRANGE DC TV SHOW LOVED BY MANY
Season 4 of Titans came out in late 2022, and for months fans waited eagerly for the promotion of the final episodes. As previously mentioned, DC Studios and HBO Max officially announced the cancellation of both Titans and its sister series Doom Patrol before the conclusion of those shows. Why the executives at DC were unable to wait until the final episodes were released to announce the cancellation is unclear.
Despite the critical challenges, behind-the-scenes issues and a vocally disappointed minority, Titans still has a lot to offer. That's also not to say that Titans is unsuccessful. Season 3 actually opened to very positive reviews. On top of that, this DC TV series will have aired 49 episodes once the finale is released. No matter how you slice it, you don't get to roughly 50 episodes without a strong, dedicated fanbase.
RELATED: TITANS SEASON 4 WILL CEMENT THE LEGACY OF THE DC TV SERIES
Brenton Thwaites, Anna Diop, Teagan Croft, Joshua Orpin, Joseph Morgan, Ryan Potter, Jay Lycurgo and Curran Walters give consistent, genuine performances, even when working with weak writing. The new trailer shows these actors back in action as the iconic heroes, villains and antiheroes like Nightwing, Robin, Superboy, Starfire, Brother Blood and more.
DARKNESS BRINGS BROTHER BLOOD AND SUPERBOY TOGETHER
The threat of Trigon's power looms overhead, as his child Sebastian becomes "Brother Blood". He is being manipulated by the Church Of Blood, being seduced into using dark magic in order to fulfill an ancient, apocalyptic prophecy. Beast Boy is transported to a different dimension, possibly where he encounters B'wana Beast. Raven's life is on the line, and Superboy's soul is at stake as he becomes more like Lex Luthor than Superman.
READ THIS: LILO & STITCH JOYOUSLY REVEAL THEY HAVE FOUND THEIR LILO FOR THE LIVE-ACTION REMAKE
Superboy forges an alliance with Brother Blood while Starfire and Nightwing are cast into an alternate future reality where they are married. The trailer very intentionally calls back to the events of Season 1, continuing the theme of symmetry which permeates Season 4. One of the most exciting parts of the new trailer is the unveiling of Tim Drake's official Robin costume.
JASON TODD & TIM DRAKE: ROBIN V RED HOOD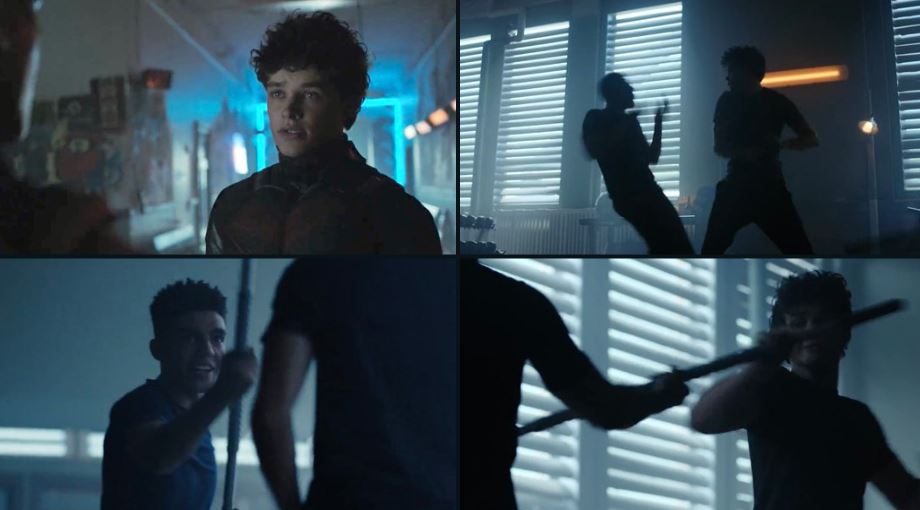 Tim Drake, the 3rd Robin, has never had a live-action supersuit before, and Jay Lycurgo makes it look so good! To make Tim's time in this new promo even better, they reunited his character with Jason Todd. Curran Walters plays Jason, formerly the 2nd Robin, now the antihero they call "Red Hood". He hasn't been seen since he thanked Bruce Wayne for taking Joker out as a revenge killing in the S3 finale. No…seriously.
RELATED: BLUE BEETLE GETS AN AMAZING INTRODUCTION IN THE 1ST OFFICIAL TRAILER
Unfortunately, nothing's perfect in the Titans universe. But this is Jason Todd we're talking about. "Rough around the edges" is practically his middle name. And I'll be damned if Curran Walter's doesn't go down in history as the definitive version of the character. (Sorry Jensen Ackles, we still love you.)
The Red Hood returns, Brother Blood evolves and Tim Drake finally becomes Robin in Season 4, Part 2. Stream Titans on HBO Max when the final episodes begin on April 13, 2023. What did you think of the new trailer? Let us know your thoughts in the comments below or on our social media!
KEEP READING: THE HORRIFYING CLAYFACE IS REPORTED TO APPEAR IN THE BATMAN 2 AND POSSIBLY A SOLO FILM FROM MIKE FLANAGAN