There's no time like the present to dive into Warhammer 40,000, which already has a successful miniature wargame, a TV series in the works with Henry Cavill, and countless video games to introduce you to its gore-filled adventures.
Warhammer 40k Boltgun is the latest entry to the franchise, with Focus Entertainment debuting a new gameplay trailer with one simple goal: purge the heretics.
A Retro Spin on a Modern FPS
Ready your weapons, strap on your armor, and get to work taking out cultists, traitors, and Chaos daemons, all in the name of the Emperor.
The Warhammer 40k Boltgun trailer wastes absolutely no time showing fans what they're here for, high-intensity, bloody action as it thrusts players into the overrun planet of Graia.
RELATED: FEED THE FIRE — ARMORED CORE VI FIRES OF RUBICON WILL LAUNCH GLOBALLY ON 25TH AUGUST
Boltgun is a stunning new FPS that blends the aesthetic of Doom (1993) with the modern, fast-paced gameplay of Doom (2016) and Doom Eternal. If that's somehow not enough to sell you on the upcoming game, the trailer promises a "hoard of devastating weapons" in the player's arsenal.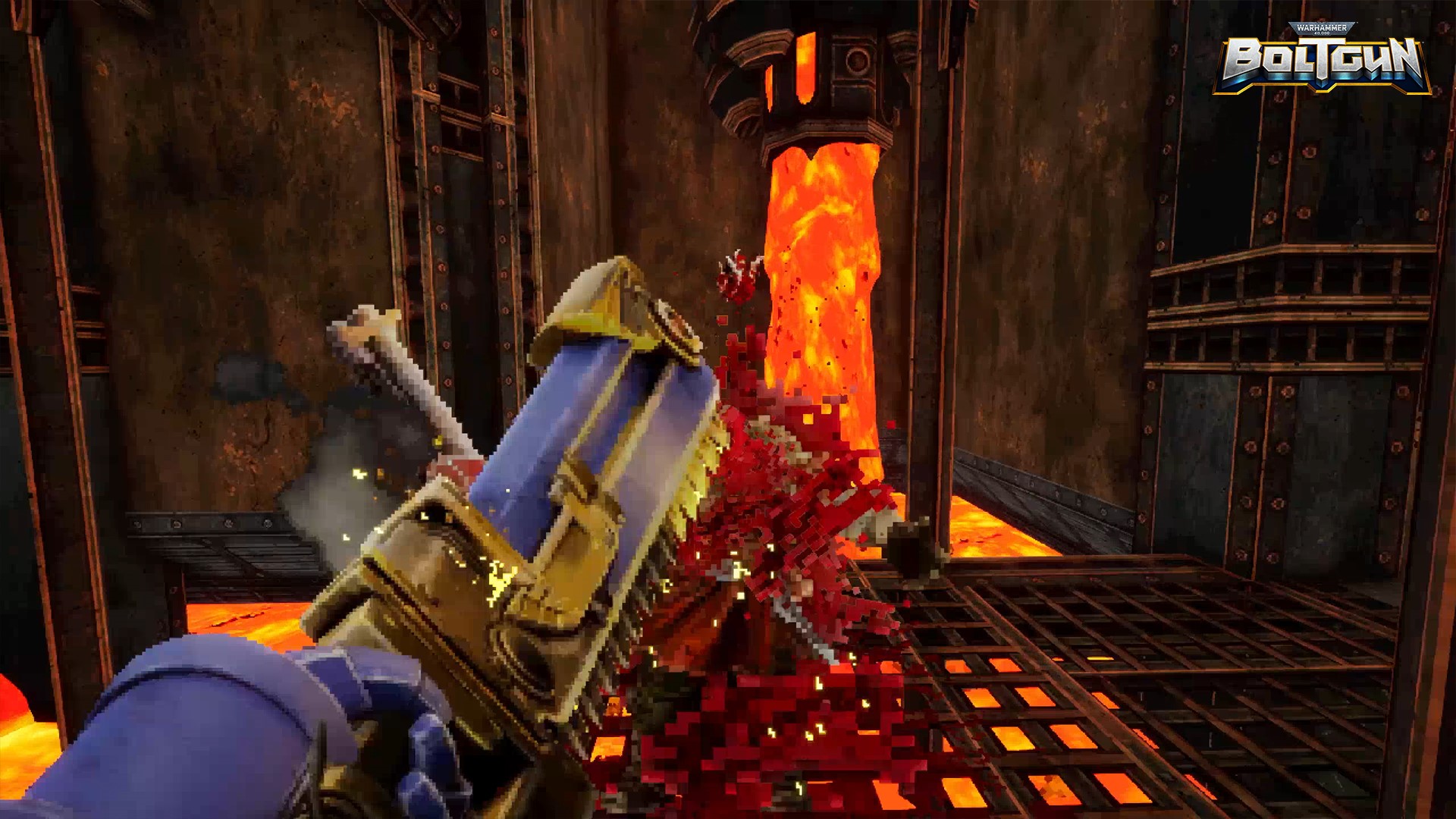 Warhammer 40k Boltgun puts players in control of Sternguard Veteran, with the only direction being forward, so don't let anything stand in your way.
Summoned by the Inquisition, players will have a whole arsenal to kill everything in sight, including the titular Boltgun, a super-powered charge capable of smashing enemies to pieces, a Chainsword that will rip apart anything that's left, and more to be found.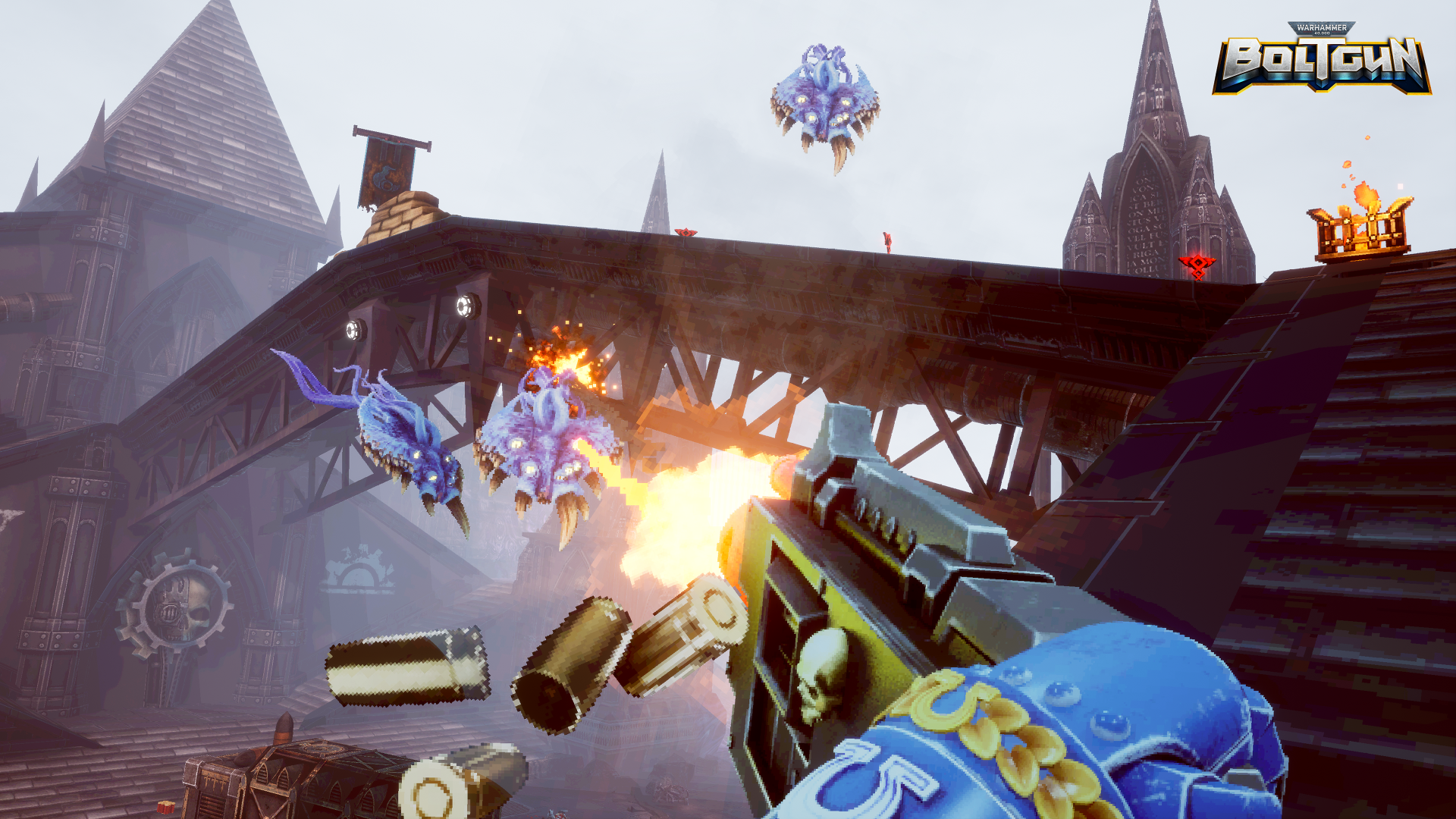 The trailer perfectly sums up Warhammer 40k Boltgun as "a gory, rapid-fire boomer shooter blast from the past," with high-octane gameplay and a beautiful 256-color palette that's guaranteed to "melt your brain."
RELATED: Epic' Street Fighter: Duel' x 'Devil May Cry 5' Crossover
Pre-order Warhammer 40k Boltgun today!
For the Emperor!
About Warhammer 40k Boltgun
Release Date: May 23, 2023
Platforms: PC, PS5, Xbox Series X|S, PS4, Xbox One, Nintendo Switch
Genre: First-person shooter
Developer: Auroch Digital
Publisher: Focus Entertainment
ESRB: M
Synopsis: Get ready for Boltgun, a rapid-fire boomer-shooter blast from the past that's as nostalgic as its gameplay is fluid and modern. You'll take control of a mighty Sternguard Veteran, along with his faithful servo-skull, and plunge headlong into the grimdark universe of Warhammer 40,000. Summoned by the Inquisition, ready your righteous arsenal, indomitable armor, and battle-honed instincts to Scour Graia, a Forge World on the brink, overrun by cultists, traitors, and daemons.
Are you excited about Warhammer 40k Boltgun? Are you a fan of the Warhammer universe? What do you think of its retro look but modern gameplay? Let us know your thoughts and reactions on social media! Stay tuned for more content like this, we're always watching.
CONTINUE READING: Space Marine 2's Beautiful Collector's Edition Steelbook & Making-Of Artbook Spotlight