Momocon 2023 is finally here, bringing geeks and nerds of all fandoms together for a glorious celebration of the stories that we love.
Momocon 2023 is one of the biggest conventions for nerds in the southeast. Featuring talented creators from a variety of mediums, including but not limited to cosplay, EDM, comic books, video games and anime, this con brings together a variety of fandoms for one unforgettable weekend in Atlanta every year.
GET YOUR TICKETS TO MOMOCON 2023 TODAY!
The event begins today, March 25, 2023. Momocon runs for 4 days, concluding on Sunday, March 2023. Passes for all 4 days are currently available for purchase here for $95. A single day pass for Thursday is $40. Friday costs $50, Saturday is $55 and Sunday's $45.
Musicians performing at Momocon this year include Noise Complaint, Silva Hound, Jonathan Young, and The Living Tombstone. "Drunk" is a fantastic song from The Living Tombstone, and the second track off of their 2020 album, "zero_one". Below is an excerpt from the official Momocon 2023 press release with more information about the artists.
"The Living Tombstone, known for their original songs based on Five Nights at Freddy's and Overwatch, Noise Complaint, a cosplay tap dancing group, Silva Hound, a popular gaming EDM artist, as well as Jonathan Young, veteran singer and songwriter with credits on Beyblade, Dragon Ball, and, Magic: The Gathering, are among the dozens of talented individuals delivering musical performances this year."
Colleen O'Shaughnessey is an actor best known for her role as Tails in the Sonic The Hedgehog video game franchise – and she is also (perhaps) the most exciting guest coming to the 2023 Momocon event. O'Shaugnessey broke barriers in Hollywood and the video game industry when she reprised her role as Tails in Sonic The Hedgehog 2. 
CHECK THIS OUT: DOCTOR STRANGE ACTRESS REFLECTS ON HER CUT SCENE AS STEPHEN'S DEAD SISTER
Oftentimes, voice actors are recast when the video games that they worked on are adapted into movies or TV shows. Colleen O'Shaughnessey proved to the world how a great performer can elevate a character in both mediums, opening doors for more voice actors in the future.
MOMOCON GUESTS REPRESENT POWER RANGERS, SONIC, TMNT & MORE!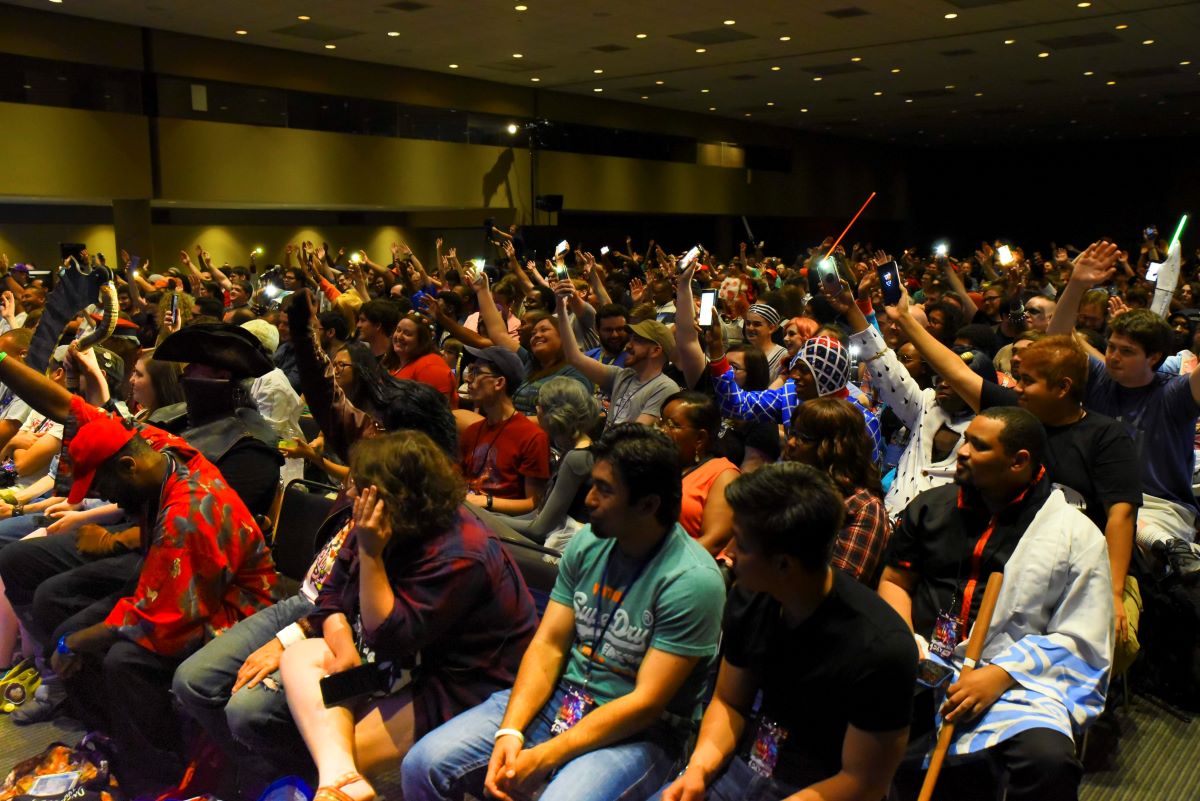 Director, producer and animator Don Bluth will also be in attendance. Don Bluth is most well known for his work on films such as The Land Before Time, Anastasia, All Dogs Go To Heaven, and The Secret Of NIMH. representing the Power Rangers fandom at Momocon this year is Johnny Yong Bosch. He played Adam Park, the Black Ranger, Green Turbo Ranger and Green Zeo Ranger in the Mighty Morphin' era. 
READ THIS: THE FLASH EARLY PROJECTIONS FORESEE IT SPEEDING INTO HUGE $140M OPENING WEEKEND
Voice actor Greg Baldwin has lent his magic to legendary characters like Master Splinter of TMNT, Uncle Iroh of Avatar: The Last Airbender, and even Jedi Masters in the animated Star Wars franchise. These incredible talents are just some of the amazing guests coming to the convention. Check out the full guest list here to discover the full lineup!
MOMOCON 2023 FEATURES SMASH BROS, DIGIMON, & MORE GREAT GAMES
Fans of gaming, Momocon has so much to offer. They are hosting tournaments for several card games, including Pokemon, Yu-GI-Oh, Magic The Gathering, and Digimon! The crown jewel of their video game competitions this year has to be the Super Smash Bros. Ultimate tournament, sponsored by Krystal.
Momocon 2022 was an incredible event, bringing the convention back to the people after the COVID-19 pandemic had made con-going impossible for everyone. We spoke with legendary voice actor Fred Tatasciore at last year's convention, where he revealed a strong desire to continue playing Hit-Monkey.
Hit-Monkey is an adult animated Marvel TV series on Hulu, which was expected to receive a cancellation order as a result of the Marvel TV and Marvel Studios merger. Shockingly, Hit-Monkey was renewed for a second season in February 2023. This makes it the only Marvel TV show from the Marvel TV Entertainment era (i.e. The Gifted, MODOK, Agents Of Shield. Punisher, Cloak & Dagger) to survive into the present day.
Fred Tatasciore teased this massive news at Momocon, months before it was made official. Who knows what other geek news might come to light at Momocon 2023? 
Stay tuned to The Illuminerdi for more updates from the convention, and if you're in the area, come down to the Georgia World Congress Center and nerd out! Let us know how the convention is going over on our social media!
KEEP READING: FIRST REACTIONS FOR SPIDER-MAN: ACROSS THE SPIDER-VERSE ARE OUT OF THIS UNIVERSE