New films are coming to us in June on streaming platforms and even more, movies are coming by video on demand purchases, so there are plenty of them which we should not miss. This month is mostly filled with R-rated movies that belong to different genres.
Netflix is known for releasing loads of content each month but June is looking heavy for the streaming service. Some of them include the Netflix original movies, such as: The Last Days of American Crime ,a comic book based action movie; Spike Lee's war drama Da 5 Bloods; the anime film A Whisker Away; the drama Wasp Network, Will Ferrell's Eurovision Song Contest: The Story of Fire Saga; and also few other new movies.
Disney+ original sci-fi adventure movie Artemis Fowl and Amazon's tense drama 7500 are also coming this month. Many films have been released digitally for the audience to view on-demand in the last couple of months. This continues in June, with action thriller Becky; biographical thriller Shirley; comedic drama The King of Staten Island; Steve Carell's political comedy Irresistible; and the action film Force of Nature soon becoming available for VOD.
Check out the synopses and release dates for each of these movies below.
June Movies To Watch Out For
Becky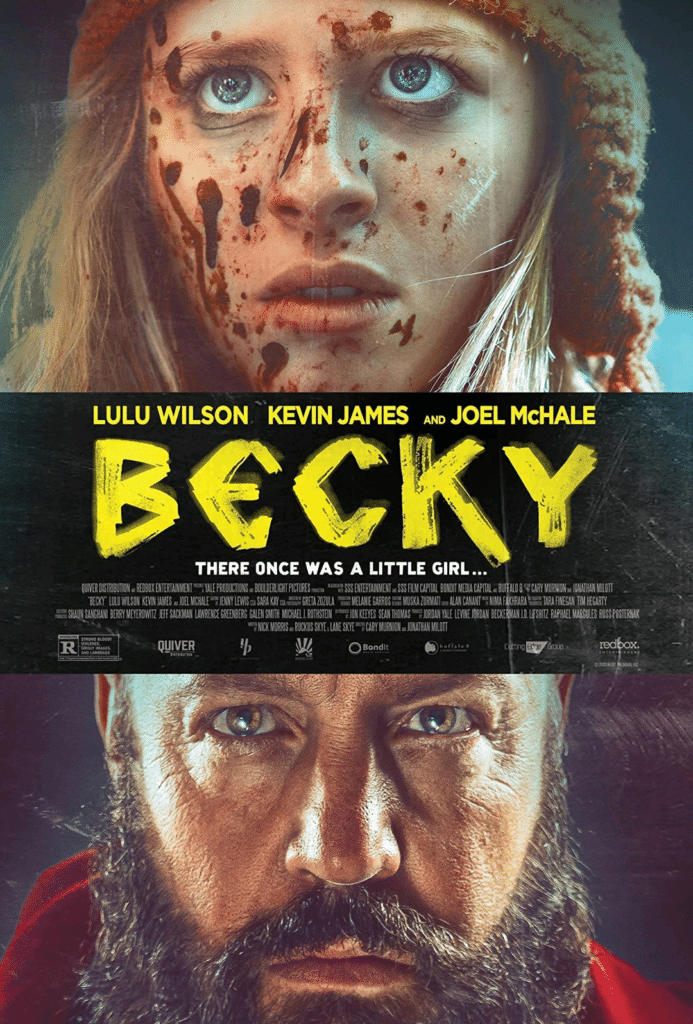 Becky is an action thriller directed by Cary Murnion and Jonathan Milott who both previously directed another thriller Bushwick and the screenplay is by Nick Morris, Lane Skye, and Ruckus Skye. It stars Lulu Wilson, Kevin James (Hitch), Joel McHale (Community), Amanda Brugel (The Handmaid's Tale), Ryan McDonald (Bad Blood), and Robert Maillet (Pacific Rim).
The title character Becky is played by young actress Lulu Wilson, who is known for her roles in Annabelle: Creation and The Haunting of Hill House. Kevin James is known for his comedy roles but for the first time, he is going to portray a negative role in this thriller. His role is a Nazi who doesn't know that he messed with the wrong little girl. Kevin's performance in this movie's trailer has been very believable as the evil guy and looks like he is going to nail his role.
The story follows a spunky and rebellious teenager Becky who is brought to a weekend getaway at a lake house by her father Jeff (McHale) in an effort to reconnect. The trip immediately takes a turn for the worse when a group of convicts on the run, led by the merciless Dominick (James), suddenly invade the lake house and wreaks havoc on their lives.
Also, Becky is a not a girl to mess with, she's gonna wreck some bad guys as well and save her family. This feels a little bit like Home Alone situation but instead, this movie takes place at a countryside lake house and the lead kid has to save her family and it is rated R sporting gruesome action. Becky was originally slated for a theatrical release, but will now invade VOD platforms as Quiver Distribution and Redbox Entertainment decided to skip big screen. This is an entertaining thriller which we should not miss.
Becky VOD release date: June 5, 2020
The Last Days of American Crime
The Last Days of American Crime is Netflix's action crime thriller film directed by Olivier Megaton (Taken 2) from a screenplay written by Karl Gajdusek (Oblivion). It is based on Rick Remender and Greg Tocchini's 2009 graphic novel of the same name.
The official synopsis of the movie is: In the not-too-distant future, as a final response to terrorism and crime, the U.S. government plans to broadcast a signal making it impossible for anyone to knowingly commit unlawful acts. Graham Bricke (Edgar Ramírez), a career criminal who was never able to hit the big score, teams up with famous gangster progeny Kevin Cash (Michael C. Pitt), and black-market hacker Shelby Dupree (Anna Brewster), to commit the heist of the century and the last crime in American history before the signal goes off.
It stars Edgar Ramírez (Gold), Anna Brewster (Versailles), Michael Pitt (Funny Games), and Sharlto Copley (Chappie). Director Megaton is best known for his energetic action films like The Transporter 3, Colombiana, and Taken 2 & 3. This is the first film for him as a director since 2014. As most of Megaton's work, this is an R-rated high-octane action flick that keeps the audience on the edge of their seats.
The Last Days of American Crime's Netflix release date: June 5, 2020
Shirley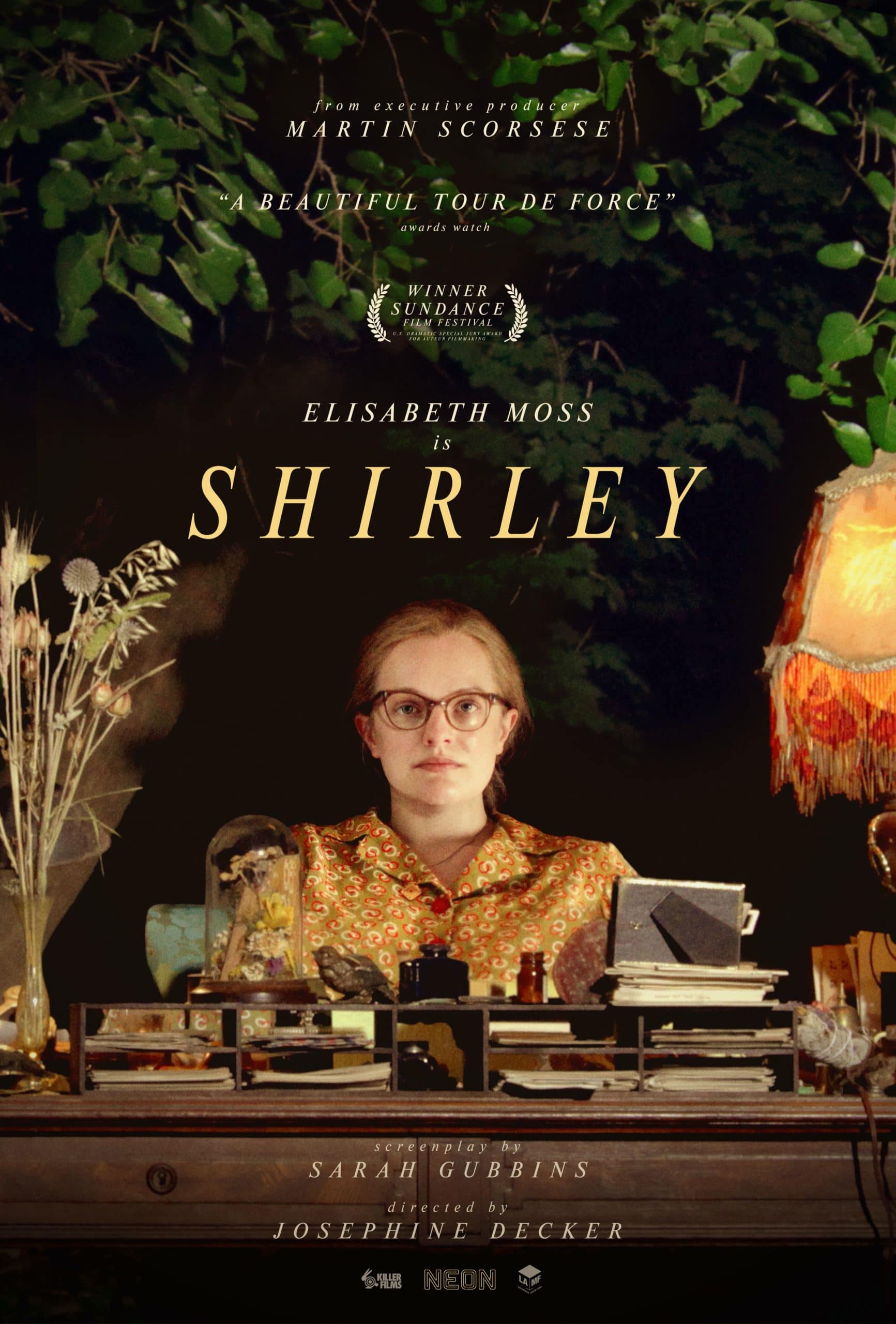 Shirley is Neon Pictures' biographical film of famous horror and mystery writer Shirley Jackson. The film is directed by Josephine Decker (Madeline's Madeline) with a screenplay by Sarah Gubbins (Better Things) based on the 2014 novel of the same name by Susan Scarf Merrell. Shirley Jackson is famous for her short story The Lottery and she wrote the actual The Haunting of Hill House book which is the basis of the Netflix series.
Jackson's novels rely on terror rather than horror to elicit emotion in the reader. Shirley Jackson is played by The Invisible Man star Elizabeth Moss while Shirley's husband is played by Michael Stuhlbarg (Arrival) and the young couple of houseguests are played by Odessa Young (The Professor) and Logan Lerman (Percy Jackson).
The Shirley story follows a young couple Fred and Rose Nemser who moves in with Shirley Jackson and her critic-professor-husband Stanley Hyman, in the hopes of starting a new life. Instead, they find themselves fodder for a psycho-drama that inspires Jackson's next major novel. The couple quickly becomes a part of Shirley's plans and were seduced and manipulated.
It had its world premiere at the Sundance Film Festival on January 25, where Decker won a U.S. Dramatic Special Jury Award for Auteur Filmmaking. This film is produced by Jeffrey Soros, Simon Horseman, Christine Vachon, David Hinojosa, Elizabeth Moss, Sue Naegle, and Sarah Gubbins. Martin Scorsese serves as an executive producer.
Moss' characters are always at their best when 'they go mad' and this one belongs in that category. Moss will definitely make the audience feel her madness in this and make them say yikes. This film is an adaptation of a thriller novel written by a popular novelist about the life of another great thriller novelist, sounds like a great recipe to a great movie. Which indeed holds a 93% RT score based on 43 reviews in which the cast got a lot of praise.
Shirley will be available to rent and buy on-demand on streaming platforms and will be on Hulu, Neon's streaming partner. We should not miss this well-acted tense R-rated psychological drama.
Shirley's VOD release date: June 5, 2020
Da 5 Bloods
Da 5 Bloods is a Netflix original war drama film directed by Oscar-winning director Spike Lee who co-wrote the script with Danny Bilson, Paul De Meo, and Kevin Willmott. This film is produced by Jon Kilik, Spike Lee, Beatriz Levin,  and Lloyd Levin.
The film features a star-studded cast that includes Delroy Lindo (Malcolm X), Clarke Peters (The Wire), Norm Lewis (Just Mercy), Isiah Whitlock Jr (BlacKkKlansman), Jonathan Majors (Hostiles), Mélanie Thierry (A Perfect Day), Paul Walter Hauser (Richard Jewell), Jasper Pääkkönen (BlacKkKlansman), Jean Reno (Mission Impossible), Van Veronica Ngo (The Old Guard), Giancarlo Esposito (The Mandalorian), and Chadwick Boseman (Black Panther).
This story follows four African-American Vietnam veterans return to Vietnam in search of the remains of their fallen squad leader (Boseman) and the promise of buried treasure. These heroes embark on an adventure, battling forces of humanity and nature while confronting their trauma of the lasting ravages of the immorality of the Vietnam War.
The R-rated movie flashes between two timelines, one with the vintage footage of war with a young team of soldiers and one with the vets exploring the country in their return. Spike Lee is the latest high profile auteur to partner with Netflix following in the route of Martin Scorsese, Noah Baumbach, and Alfonso Cuaron.
This is Spike Lee's new joint after his BlackkKlansman, movie which won an Oscar for best screenplay. Da 5 Bloods is being viewed as one of Netflix's potential Oscar contenders and this definitely looks like it will compete for categories like Best Screenplay, Best Cinematography, maybe even in Best Picture. The trailer for the movie also looks very promising.
Da 5 Bloods' Netflix release date: June 12, 2020
The King of Staten Island
Universal's The King of Staten Island is a semi-autobiographical comedy-drama about Pete Davidson (Big Time Adolescence)
growing up in Staten Island, including losing his father who was a firefighter who died during 9/11 and entering the world of stand up comedy. It is directed by Judd Apatow (The 40 Year Old Virgin), from a screenplay by Apatow, Pete Davidson, and Dave Sirus.
This movie looks quite charming and heartwarming which offers a loose variation on Davidson's life story. It stars Davidson, Marisa Tomei (Spider-man Homecoming), Bill Burr (The Mandalorian), Bel Powley (White Boy Rick), Maude Apatow (Knocked Up), Pamela Adlon (Bumblebee) and Steve Buscemi (Fargo). The appearance of Steve Buscemi adds a level of authenticity as he is a former New York firefighter who was temporarily returned to the job to help out after the 9/11 attacks.
The official plot synopsis is: Scott (Davidson) has been a case of arrested development ever since his firefighter father died when he was seven. He's now reached his mid-20s having achieved little, chasing a dream of becoming a tattoo artist that seems far out of reach. As his ambitious younger sister heads off to college, Scott is still living with his exhausted ER nurse mother (Tomei).
Scott spends his days smoking weed, hanging out with his friends, and secretly hooking up with his childhood friend Kelsey. But when his mother starts dating Ray (Bill Burr), a loudmouth firefighter from Indianapolis, it sets off a chain of events that forces Scott to grapple with his grief and start to take his first tentative steps toward moving forward in life.
The King of Staten Island is rated R and it is skipping its theatrical release and will be available at home at the "$20 for 48 hours" rental price point. It is the second film of Universal Studios to release digitally as previously Trolls World Tour was released on VOD.
The King of Staten Island's VOD release date: June 12, 2020
Artemis Fowl
Artemis Fowl is Disney's sci-fi fantasy adventure movie based on the 2001 novel of the same name by Eoin Colfer and directed by
Kenneth Branagh (Thor) from a screenplay co-written by Conor McPherson (Paula) and Hamish McColl (Mr. Bean's Holiday).
Artemis Fowl is a 12-year-old genius and a descendant of a long line of criminal masterminds. He searches for his father, who has mysteriously disappeared, and doing so, uncovers an ancient, underground civilization and comes into conflict with the hidden world of the fairies. Deducing that his father's disappearance is somehow connected to the secretive, reclusive fairy world, cunning Artemis concocts a dangerous plan that he ultimately finds himself in a perilous war of wits with the all-powerful fairies.
The cast stars newcomer Ferdia Shaw as the titular character, Artemis Fowl II. Colin Ferrell (Fantastic Beasts) plays his father Artemis Fowl I, and he's joined by Josh Gad (Frozen II) as dwarf Mulch Diggums, Judi Dench (Skyfall) as Commander Root, Nonso Anozie (Cinderella) as Domovoi Butler, and Lara McDonell (The Delinquent Season) as Holly Short, Hong Chau (Watchmen) as a fairy, Nikesh Patel (Doctor Who) as Foaly, and Tamara Smart as Juliet Butler.
After facing many years of hurdles Artemis Fowl movie is finally going to be viewed by the audience. But instead of theaters, it will be viewed from our homes. Because of the pandemic, the studio decided to pull the release and instead, it will be digitally released on Disney+.
Artemis Fowl's Disney+ release date: June 12, 2020
The Short History of the Long Road
The Short History of the Long Road is a drama film written and directed by Ani Simon-Kennedy. It is produced by Kishori Rajan, Eddie Rubin, Darren Dean, Bettina Kadoorie, Ani Simon-Kennedy, Cailin Yatsko, and Dominique Telson.
It stars Sabrina Carpenter (The Hate U Give), Steven Ogg (He Never Died), Danny Trejo (Funny People), Maggie Siff (Push), Danny Trejo (Machete), and Rusty Schwimmer (Candyman).
The film tells the story of Nola (Sabrina Carpenter), a teenager who grew up living out of a van with her beloved father Clint (Steven Ogg), two nomads against the world. When tragedy strikes, Nola is confronted by the reality that life as an outsider may not be her only choice.
It had its world premiere at the Tribeca Film Festival on April 27, 2019 and won the Best New Mexico Narrative Feature. This touching and the heartwarming film got a lot of praise at the festival and this film definitely should not be missed. It will be hitting VOD via FilmRise.
The Short History of the Long Road's VOD release date: June 16, 2020
A Whisker Away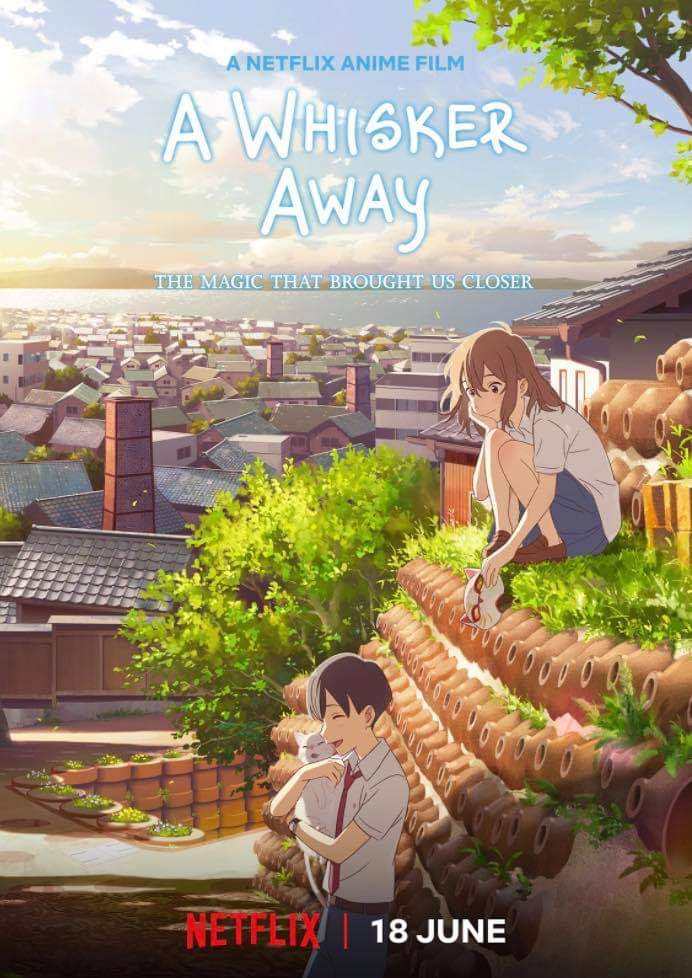 From Sailor Moon director Junichi Satoh and Tomotaka Shibayama (Your Lie in April) and Anohana writer Mari Okada comes A Whisker Away, an anime film about love, magic, and cats.
A Whisker Away follows Miyo Sasaki, who is secretly in love with her classmate, Kento Hinode. Miyo is unable to get Kento's attention and gets close to him by transforming into a cat. The boundary between herself and the cat becomes ambiguous, however, forcing her to give up being a human.
Studio Colorido (Pokemon: Twilight Wings) produced the project which will feature the voice talents of Mirai Shida (The Secret World of Arrietty), Natsuki Hanae (Demon Slayer), Koichi Yamadera (Ghost in the Shell), Minako Kotobuki (Flavours of Youth), and Hiroaki Ogi.
A Whisker Away Netflix release date: June 18, 2020
Check out more movies in June 2020 on the next page: