The Silencing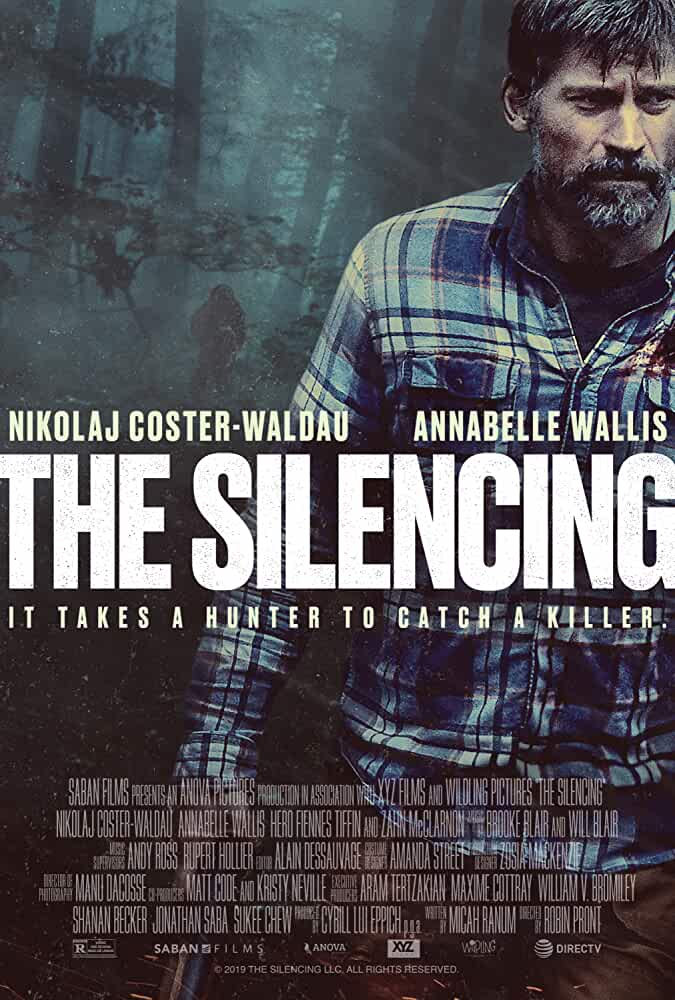 The Silencing is Saban Films' action-thriller film, directed by Robin Pront (The Ardennes), from a debut feature film script by Micah Ranum. It stars Nikolaj Coster-Waldau (Game of Thrones), Annabelle Wallis (Tag), Hero Fiennes Tiffin (After), Melanie Scrofano (Ready or Not), Danielle Ryan, and Zahn McClarnon (Doctor Sleep).
The film is about a reformed hunter living in isolation on a wildlife sanctuary He then gets involved in a deadly game of cat and mouse when he and the local sheriff set out to track a vicious killer who may have kidnapped his daughter years ago.
The film was scheduled to have its world premiere at South by Southwest in March. However, the festival was canceled due to the COVID-19 pandemic and the movie is set for digital release. The thrilling tale keeps viewers on the edge of their seats.
The Silencing VOD release date: August 14, 2020
Project Power
Project Power is Netflix's original sci-fi action-thriller film directed by Ariel Schulman and Henry Joost the directing duo of Catfish (2010) and written by Mattson Tomlin (The Batman). It stars Jamie Foxx (Just Mercy), Joseph Gordon-Levitt (Inception), and Dominique Fishback (Night Comes On) in the main roles alongside Machine Gun Kelly (The Dirt), Rodrigo Santoro (Focus), Amy Landecker (Enough Said), and Allen Maldonado (The Equalizer).

A former soldier (Foxx) teams up with a cop (Gordon-Levitt) to find the source behind dangerous pills that provide temporary superpowers. It is a drug that imbues the taker with a superhuman ability for five minutes. It chronicles that man's quest to rescue his daughter from the sinister forces behind the drug while assisting new allies.
This sci-fi, action-crime movie featuring huge stars like Jamie Fox and Joseph Gordon-Levitt together will be getting most of the attention for this month on the streaming service. The idea of getting powers for five minutes is fun but on top of that one can only know what power they will get only after they take a pill is more intriguing. Lately, Netflix is releasing good action flicks like Extraction and The Old Guard hopefully Project Power will turn up as an entertaining one too. 
Project Power Netflix release date: August 14, 2020
Spree
Spree is an RLJE Films' dark comedy thriller film directed by Eugene Kotlyarenko (0s & 1s, Wobble Palace). The gonzo-style satire follows a social media-obsessed ride-hail driver played by Joe Keery (Stranger Things). Kurt Kunkle (Keery), a rideshare driver thirsty for followers, has figured out a deadly plan to go viral. As his disturbing live stream is absurdly embraced by the social media hellscape, a comedienne emerges as the only hope to stop this rampage.
The film also stars Sasheer Zamata (Sleight), David Arquette (Scream), Kyle Mooney (Neighbors), Frankie Grande (Indoor Boys), and Mischa Barton (The Sixth Sense). It was executive-produced by Drake and Adel "Future" Nur. Joe Keery plays an amoral rideshare driver who becomes a murderer/psychopath in pursuit of becoming a social media star by equipping his car with cameras for a live stream.
The film premiered on 24 January 2020 at the Sundance Film Festival and got a lot of rave reviews and now it is scheduled for a video-on-demand release. This film holds a 64% RT score based on 11 reviews with a lot of praise for Joe Keery's performance. This satirical movie filled with dark humor feels original, unique, and thrilling in a weird way.
Spree VOD release date: August 14, 2020
Sputnik
Sputnik (Спутник) is a Russian science fiction horror film directed by Egor Abramenko, in his feature directorial debut. It stars Oksana Akinshina (The Bourne Supremacy) as a young doctor who is recruited by the military to assess a cosmonaut who survived an enigmatic space accident and returned to Earth with a dangerous organism living inside him. Alongside Akinshina, the film's cast includes Pyotr Fyodorov (The Darkest Hour) and Fyodor Bondarchuk (Stalingrad).
At the height of the Cold War, a Soviet spacecraft crash lands after a mission gone awry, leaving the commander as its only survivor. After a renowned Russian psychologist is brought in to evaluate the commander's mental state, it becomes clear that something dangerous may have come back to Earth with him.
Sputnik was scheduled to have its world premiere at the Tribeca Film Festival in April 2020 before the festival was postponed due to the pandemic. The film was instead released on video-on-demand in Russia in April. Now IFC Midnight set a VOD release in the US.
Sputnik VOD release date: August 14, 2020
The One and Only Ivan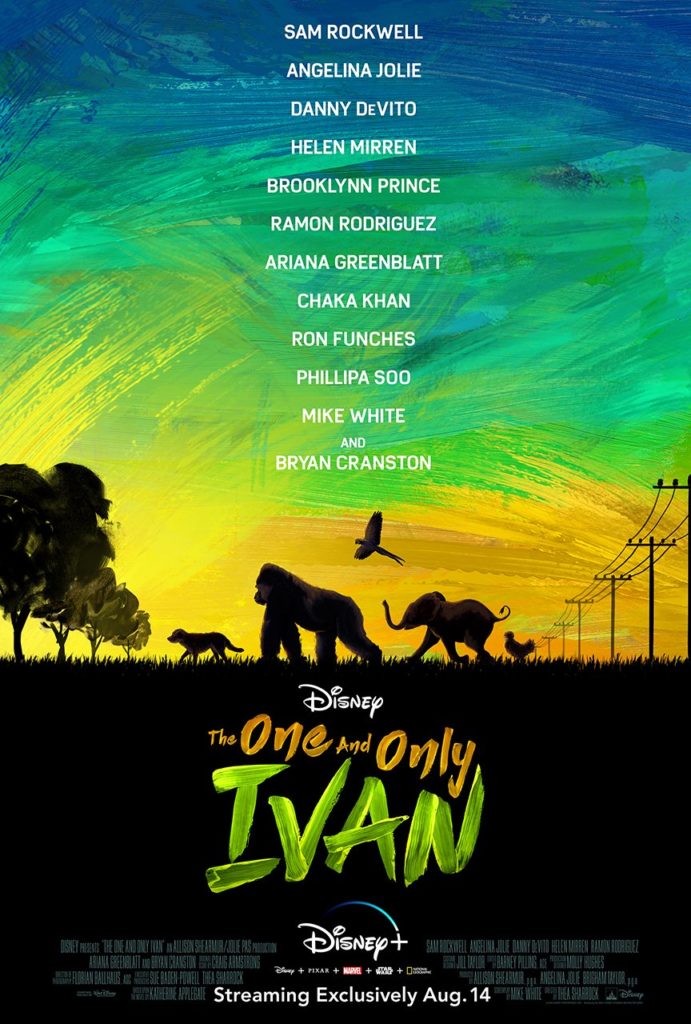 The One and Only Ivan is Disney+ original fantasy, comedy, adventure-drama film directed by Thea Sharrock (Me Before You), from a screenplay written by Mike White, and based on the acclaimed children's novel of the same name by K. A. Applegate.
The live-action animated hybrid stars the voices of Sam Rockwell (Vice), Angelina Jolie (Maleficent), Danny DeVito (Jumanji: The Next Level), Helen Mirren (Hitchcock), Brooklynn Prince (The Florida Project), Chaka Khan (Beyond the Lights), Ron Funches (The Babysitter), Phillipa Soo (Hamilton), and Mike White (School of Rock) with the human characters portrayed by Ramón Rodríguez (Pride and Glory), Ariana Greenblatt (Scoob!), and Bryan Cranston (Drive).
Set in 1973, a 400-pound silverback gorilla named Ivan (Rockwell) lives in a cage at the Exit 8 Big Top Mall and Video Arcade with an aging elephant named Stella (Jolie) and a dog named Bob (DeVito) with no recollection of how they got there. They are owned by Mack (Cranston), the owner of the mall. He has few memories of the jungle where he was captured, but when an abused baby elephant named Ruby (Prince) arrives and is taken under Stella's trunk, it touches something deep within him.
Ivan starts to care for her as well and along with the janitor's daughter Julia (Greenblatt), they help to turn things around at the mall. Ruby is recently separated from her family in the wild, which causes him to question his life, where he comes from, and where he ultimately wants to be. As suggested by the movie quote 'It's never too late to discover who you are' the movie revolves around Ivan who goes through an adventurous journey of self-discovery.
The novel The One and Only Ivan has won several awards and this movie looks like a faithful adaptation. The film was originally scheduled for a theatrical release but was pulled from the release because of the pandemic. Disney decided to release the film on their Disney+ streaming service instead. This heartfelt and charming film is not to miss and it will be a fun watch for the family audience.
The One and Only Ivan Disney+ release date: August 21, 2020
Tesla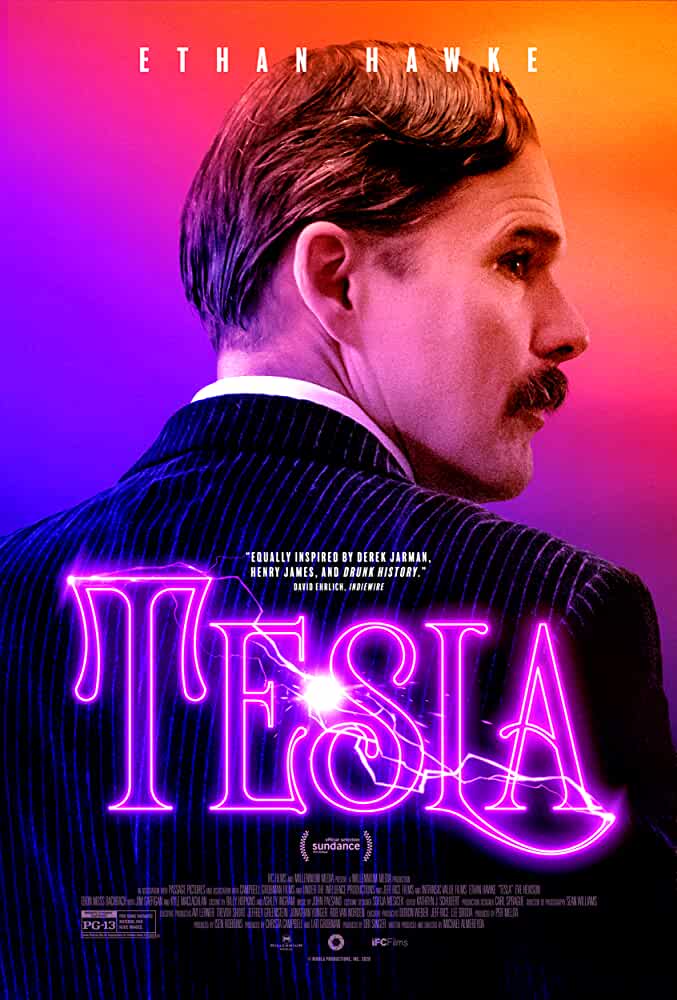 Tesla is IFC Films' biographical drama film, written and directed by Michael Almereyda. It stars Ethan Hawke (Before Sunset) as Nikola Tesla. Eve Hewson (Bridge of Spies), Hannah Gross (Mindhunter), Ebon Moss-Bachrach (The Punisher), Jim Gaffigan (Chuck), Josh Hamilton (Eighth Grade), and Kyle MacLachlan (Blue Velvet) also star.
Brilliant, brooding inventor Nikola Tesla (Ethan Hawke) fights an uphill battle to bring his revolutionary electrical system to fruition. Increasingly displeased by the greed of fellow inventor Thomas Edison (Kyle MacLachlan), Tesla forges his own virtuous but arduous path toward creating the innovative alternate-current motor. His European nature is at odds with budding American industrialism, and the landscape of the intellectual property is treacherous and Tesla slowly becomes jailed in his overactive mind. His associate Anne Morgan (Eve Hewson) analyzes and presents his story as it unfolds, offering a distinctly modern voice in this scientific period drama.
This is yet another film after The Current War (2019), about the famous inventor's Tesla, George Westinghouse, and Thomas Edison.  It had its world premiere at the Sundance Film Festival on January 27, 2020. The film holds an approval rating of 85% based on 13 reviews. It is now scheduled to be released on VOD.
Tesla VOD release date: August 21, 2020