Chemical Hearts
Chemical Hearts is Amazon's original romantic drama film, written, produced, and directed by Richard Tanne (Southside with You), based on the novel Our Chemical Hearts by Krystal Sutherland. Chemical Hearts is a journey of self-discovery that captures the thrills, disappointments, and confusion of being a teenager. It stars Lili Reinhart (Riverdale), Austin Abrams (Gangster Squad), Sarah Jones (The Path), Coral Peña (The Post), Adhir Kalyan (Youth in Revolt), Shannon Maree Walsh (Begin Again) and Bruce Altman (Bride Wars).
Chemical Hearts is unapologetic, coming of age story of Henry Page (Abrams), a teenage student who considers himself a hopeless romantic but has never fallen in love. The young man aspires to be the editor of the high school newspaper and lives happily focused on his studies to enter a good university until Grace Town (Reinhart) enters his class and it seems all that is about to change. His new partner is not exactly the girl of his dreams, but little by little he falls in love with her—or at least the person he thinks she is when the two teenagers are chosen to co-edit the institute newspaper.
Chemical Hearts Amazon release date: August 21, 2020
Superman: Man of Tomorrow
Superman: Man of Tomorrow is an animated direct-to-video superhero film produced by Warner Bros. Animation and DC Entertainment. It is the thirty-ninth film in the DC Universe Animated Original Movies.
The movie is directed by Chris Palmer and stars the voices of Darren Criss as Clark Kent/Superman, Alexandra Daddario as Lois Lane, Zachary Quinto as Lex Luthor, Ike Amadi as Martian Manhunter, Ryan Hurst as Lobo, Brett Dalton as Parasite, Neil Flynn as Jonathan Kent, Bellamy Young as Martha Kent and Cristina Milizia, Eugene Byrd, April Stewart, Piotr Michael, Cissy Jones, David Chen.
It's the dawn of a new age of heroes, and Metropolis has just met its first. But as Daily Planet intern Clark Kent – working alongside reporter Lois Lane – secretly wields his alien powers of flight, super-strength, and x-ray vision in the battle for good, there's even greater trouble on the horizon. Kent takes learning-on-the-job to new extremes when Lobo and Parasite set their sights on Metropolis.
Superman: Man of Tomorrow is set to be first of the new DC animated continuity. It focuses more on the introduction of Superman, Clark Kent's transition into the hero that the world would come to know, and his career at the Daily Planet and also meeting Lois lane for the first time. It is not just another origin story of Superman as in this movie he will be facing foes such as Lex Luthor, Lobo, and Parasite in his first journey as a hero.
Actually, this concept feels like both a prequel and a sequel of DCEU's Man of Steel combined because it focuses more on the origin and initial journey of Clark Kent and features villains like Lex Luther, Lobo, and Parasite who are not part of Man of Steel movie and could be interesting choices for a sequel. It is set for a digital release first followed by a Blu-ray, DVD, and 4K Ultra HD release on September 8.
Superman: Man of Tomorrow VOD  release date: August 24, 2020
The New Mutants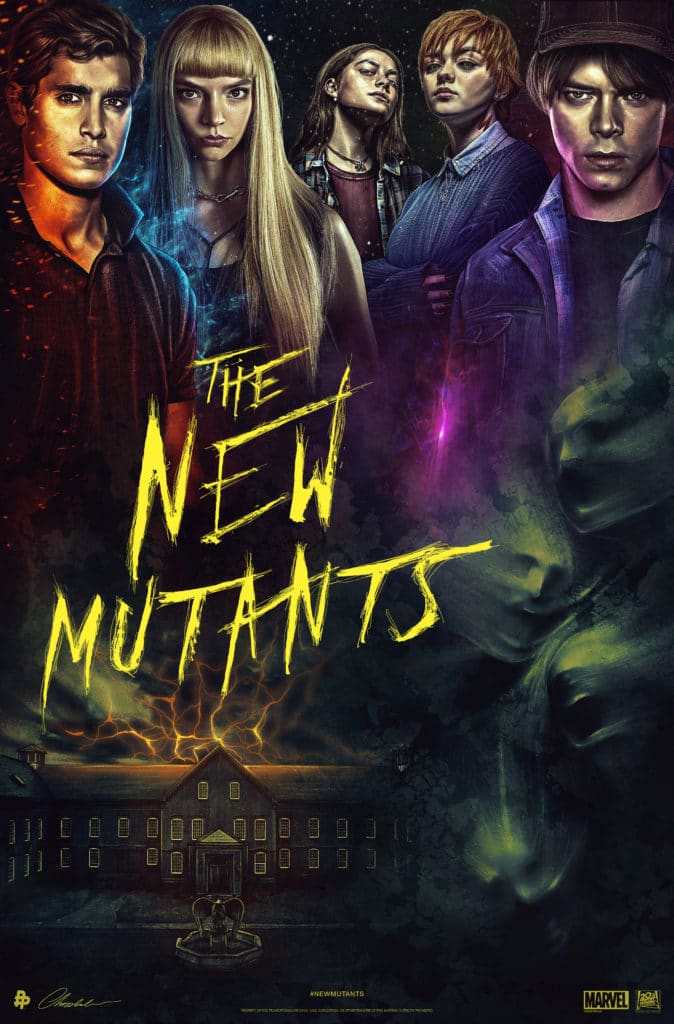 The New Mutants is a 20th Century Studios superhero horror comic-book film and it is the last installment of the X-Men film series. The film was directed by Josh Boone (The Fault in Our Stars) from a screenplay he wrote with Knate Lee and stars Maisie Williams (Game of Thrones), Anya Taylor-Joy, Charlie Heaton (Stranger Things), Blu Hunt (Another Life), Henry Zaga (Looking for Alaska), Happy Anderson (Mindhunter), Thomas Kee (The Company Men), Colbi Gannett (Olive Kitteridge), and Alice Braga (I Am Legend).
The story follows a group of five young mutants, just discovering their abilities while held in a secret facility against their will. The movie follows them as they fight to escape their past sins, and save themselves.
It features Blu Hunt as Danielle Moonstar/Mirage, Maisie William as Rahne Sinclair/Wolfsbane, Anya Taylor-Joy as Illyana Rasputin/Magik, Charlie Heaton as Samuel Guthrie/Cannonball, Henry Zaga as Roberto Da Costa/Sunspot, and Alice Braga as Dr. Cecelia Reyes. The new mutant roster in the movie is essentially the team in the first two dozen or so comics of New Mutants by writer Chris Claremont. It's hard to not appreciate how comic book accurate the cast is.
It was announced at Comic-Con@Home that The New Mutants is still scheduled to be released in theaters. The film is known for its several release date changes from the last two years, this is the fifth release date for New Mutants. But this time this looks like it will finally be seen by the audience as most of the theaters across various countries are planning to reopen this month and it will be premiered wherever theaters are available. Only time will tell if it is possible that the movie referred to as 'cursed' can ultimately see the light of day. Even the cast and crew of the movie have their fingers crossed about the release this time.
This movie is originally planned as the first in a trilogy of films but unfortunately, it is unlikely to happen due to Disney's Marvel Studios gaining control of the X-Men characters. The interesting thing about this is the tone, it is unique from any other superhero movie because it is a horror story set in a mutant world. New mutants team in the comics has many fans and the "Demon Bear Saga" storyline on which this movie is based is one of the best X-Men comics. So far the stuff shown in the trailers looked promising that this will definitely be entertaining.
The New Mutants release date: August 28, 2020
Phineas and Ferb The Movie: Candace Against the Universe
Phineas and Ferb The Movie: Candace Against the Universe is Disney+ original animated adventure comedy film based on the Disney Channel popular animated television series, Phineas and Ferb. It is the second feature-length film of the Phineas and Ferb series and the standalone sequel to the 2011 film, Phineas and Ferb the Movie: Across the 2nd Dimension. The events of this film take place before the final episode of the series. The film is directed by Bob Bowen (Family Guy).
Phineas (Vincent Martella) and Ferb (David Errigo Jr.) travel across the galaxy to rescue their older sister Candace (Ashley Tisdale), who has been abducted by aliens and found utopia in a far-off planet, free of her pesky little brothers. Most of the original actors from the show are reprising their roles. The movie is scheduled to be released exclusively on Disney+ and the franchise fans should not miss it.
Phineas and Ferb The Movie: Candace Against the Universe Disney+ release date: August 28, 2020
The Personal History of David Copperfield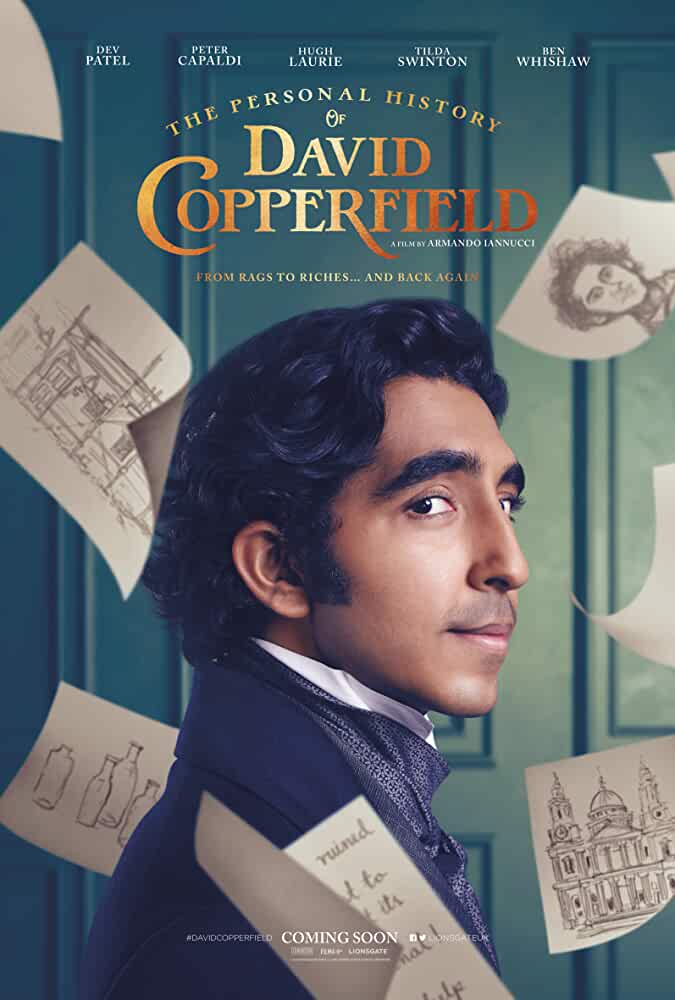 The Personal History of David Copperfield is Searchlight Pictures comedy-drama film written and directed by Armando Iannucci (The Death of Stalin), based on the 1850 Victorian era 
novel David Copperfield by Charles Dickens.
A fresh and distinctive take on Charles Dickens's classic semi-autobiographical tale of a young orphan who is able to triumph over many obstacles. Set in the 1840s, chronicles the life of its iconic title character as he navigates a chaotic world to find his elusive place within it. From his unhappy childhood to the discovery of his gift as a storyteller and writer, David's journey is by turns hilarious and tragic, but always full of life, color, and humanity.
It stars Dev Patel (Slumdog Millionaire, Lion) as the title character, and Aneurin Barnard (Dunkirk), Peter Capaldi (Doctor Who), Morfydd Clark (His Dark Materials), Daisy May Cooper (This Country), Rosalind Eleazar (Rellik), Hugh Laurie (Veep), Tilda Swinton (Doctor Strange), Ben Whishaw (Mary Poppins Returns), Benedict Wong (Doctor Strange) and Paul Whitehouse (King of Thieves).
The film had its world premiere at the Toronto International Film Festival on 5 September 2019. It was the Surprise Film at the 39th Cambridge Film Festival. It was released in the United Kingdom on 24 January 2020 and was scheduled to be released in the US in May. The film was delayed due to the COVID-19 pandemic. It was rescheduled for August but only for a limited theatrical release. This film received rave reviews which indeed holds a 94% RT score based on 94 reviews.
The Personal History of David Copperfield (US limited) release date: August 28, 2020
All Together Now
All Together Now is Netflix's original drama film, directed by Brett Haley, from a screenplay by Haley, Marc Basch, Matthew Quick, and Ol Parker. It is based upon the novel Sorta Like a Rockstar by Quick. The film features Moana star Auliʻi Cravalho, Justina Machado (Six Feet Under), Fred Armisen (Big Mouth), Carol Burnett (Angie Tribeca), Judy Reyes (Scrubs), Taylor Richardson (Annie), Rhenzy Feliz (Runaways), Gerald Isaac Waters (Angie Tribeca), and Anthony Jacques (Atypical).
Amber Appleton (Cravalho) remains an optimist even when her personal life is far less stable than it appears on the surface. A musically gifted high school student with aspirations to attend Carnegie Mellon, Amber balances her beloved high school drama club helmed by Mr. Franks (Armisen) with working long hours at a donut shop to help support herself and her down-on-her-luck single mom (Machado).
She also spends time at the local retirement community, giving care and attention to her favorite pessimistic resident (Burnett). When new obstacles present themselves that threaten her dreams, Amber must learn to accept help from her friends to overcome her personal hardships and fulfill her dreams.
All Together Now Netflix release date: August 28, 2020
Hard Kill
Hard Kill is Vertical Entertainment's action-thriller film directed by Matt Eskandari and starring Jesse Metcalfe (Escape Plan 2), Bruce Willis (Die Hard), and WWE star Natalie Eva Marie. Originally titled Open Source, the movie's story is not a new one, but it is a Bruce Willis action movie so some might be interested in this octane action which is set to head to a VOD release.
The work of billionaire tech CEO Donovan Chalmers (Willis) hires a team of mercenaries to protect a lethal piece of technology, security expert and team leader Derek Miller (Metcalfe) finds himself in a deadly showdown with an old enemy. The mission becomes even higher risk when Chalmers' daughter is kidnapped by a terrorist group who will stop at nothing to obtain the tech. Miller and his team must race against the clock to save her and protect the fate of the human race before it's too late.
Hard Kill VOD release date: August 28, 2020
Which August movies are you most excited about? Which movies will you be seeing during the month of August? Let us know in the comments below and be sure to come back to The Illuminerdi for more movie news!
KEEP READING: JULY MOVIES IN 2020 YOU DON'T WANT TO MISS (STILL FROM HOME)