It's an exciting month, with numerous tentpole films arriving in May 2022. A heavy load of new movies is coming to theaters, streaming platforms, and video on demand in May that we should not miss. These movies cross a wide plethora of genres, that includes action, romance, drama, comedy, adventure, fantasy, sci-fi, horror, and thrillers.
In May 2022, streaming services are piled with an exciting line-up of films. On Netflix, Marmaduke; Operation Mincemeat; Senior Year; and A Perfect Pairing is releasing. On Amazon Prime, Emergency; on Dinsey+, Sneakerella; and Chip 'n Dale: Rescue Rangers; and on Hulu, The Valet will be released.
The intriguing VOD releases of the month are The Twin; Anaïs in Love; Shepherd; Monstrous; Homebound; On the Count of Three; and Hatching. Some of these are having a limited theatrical release as well.
RELATED: EARTH-838'S ILLUMINATI'S ASTONISHING HISTORY EXPLAINED!
DC's The Batman is the first biggest blockbuster of the year grossing more than $764M so far. Films that are set to release exclusively in theaters in May are Doctor Strange in the Multiverse of Madness; Downton Abbey: A New Era; Top Gun: Maverick; and The Bob's Burgers Movie.
Universal Pictures' new horror film will have a hybrid release (in theatres and streaming) similar to most of the movies of last year. Universal's Firestarter, a sci-fi horror drama thriller, is releasing in theatres worldwide and on their Peacock streaming service in the US simultaneously.
The tentpole movies of the month that are going to kick off the summer season are Marvel's Doctor Strange in the Multiverse of Madness, and Paramount's Top Gun: Maverick.
Doctor Strange in the Multiverse of Madness is one of the most highly anticipated blockbusters of 2022. Since it is an MCU film and also one of the biggest films of the year, it will definitely be dominating the box office this month and could end up being the highest-grossing film of 2022 so far.
Check out the synopses and release dates for these new movies below.
NEW MOVIES TO WATCH OUT FOR IN MAY 2022
Doctor Strange in the Multiverse of Madness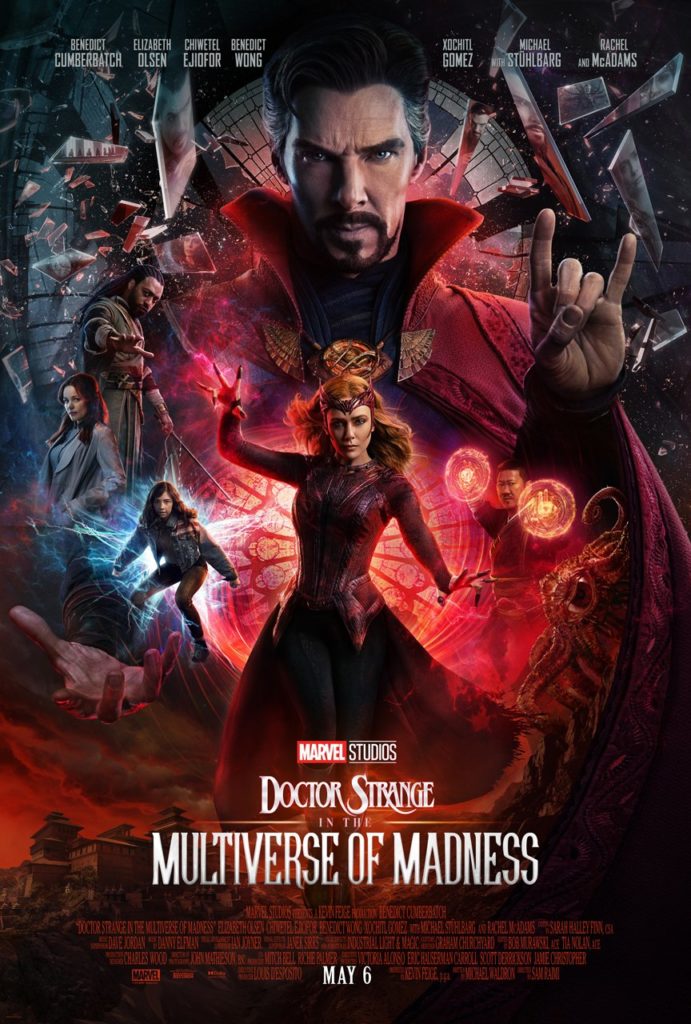 Doctor Strange in the Multiverse of Madness is Marvel Studios' latest comic book film, it is the 28th movie in Marvel Cinematic Universe. It is the 2nd Doctor Strange film and the follow-up to Spider-Man: No Way Home (2021) and WandaVision (2021) Disney+ series. The fantasy sci-fi action-adventure superhero movie is directed by Sam Raimi and written by Michael Waldron. It is MCU's 1st horror movie. Produced by Kevin Feige, Mitchell Bell, and Richie Palmer. This is the 5th film in phase four of the MCU.
It stars Benedict Cumberbatch as Dr. Stephen Strange, alongside Elizabeth Olsen as Wanda Maximoff / Scarlet Witch, Chiwetel Ejiofor as Karl Mordo, Benedict Wong as Wong, Xochitl Gomez as America Chavez, and Rachel McAdams as Christine Palmer. Julian Hilliard and Jett Klyne reprise their respective roles from WandaVision as Maximoff's sons Billy and Tommy. This is the first introduction of Chavez in the MCU.
Michael Stuhlbarg, Topo Wresniwiro, and Mark Anthony Brighton reprise their respective roles from the first film. The group the Illuminati appears in the film as well as a few cameos. We will see alternate versions of some of the characters. The film acknowledges that America Chavez is gay as in the comics.
Synopsis: The MCU unlocks the Multiverse and pushes its boundaries further than ever before. A few months after the events of Spider-Man: No Way Home (2021), Dr. Stephen Strange casts a forbidden spell that opens the doorway to the multiverse, including alternate versions of himself, whose threat to humanity is too great for the combined forces of Strange, Wong, and Wanda Maximoff.
Journey into the unknown with Doctor Strange, who, with the help of mystical allies both old and new, traverses the mind-bending and dangerous alternate realities of the Multiverse to confront a mysterious new adversary, but the enemy may be closer than Strange thinks…
Sam Raimi returns to the comic book genre after his Spider-Man trilogy ended back in 2007. This is also his return to the director's chair of a feature film since 2013. The film has some horror elements as well. Danny Elfman is the composer. Doctor Strange 2 is written by Michael Waldron who wrote last year's Loki Disney+ series which dived into timelines, variants, and the multiverse.
The excitement level for this film is tremendous since it was first announced in 2019 because of the multiverse aspect and most fans crave Doctor Strange mystic arts and Wanda. The trailers for this film further increased the excitement. This film could become the highest-grossed film of this year so far. It had the biggest pre-sale tickets sold in 2022 so far.
This film has ties to WandaVision, Loki, What If…? Disney+ shows, and Spider-Man: No Way Home. It is not just a sequel but also serves as a follow-up to WandaVision in particular. Doctor Strange in the Multiverse of Madness premiered on May 2, 2022, and will be released in theatres globally on May 6.
The film received generally positive reviews from critics. It currently holds a 75% RT score based on 315 reviews and an 87% audience rating and was praised for Raimi's direction, cinematography, visual effects, musical score, action sequences, emotional weight, and performances of the cast, especially Cumberbatch and Olsen. Like any MCU flick, this is a must-watch for all audiences.
Read our review for Doctor Strange in the Multiverse of Madness below!
RELATED: DOCTOR STRANGE IN THE MULTIVERSE OF MADNESS REVIEW – GOOD FAST-PACED HORRIFIC FUN
Doctor Strange in the Multiverse of Madness release date: May 6, 2022
Marmaduke
Marmaduke is Netflix's original computer-animated comedy film directed by Mark A.Z. Dippé is based on the comic strip of the same name by Brad Anderson.
The film stars Pete Davidson as the voice of Marmaduke, along with J. K. Simmons, Brian Hull, Jason Anthony, Shelby Young, Julie Nathanson, Terri Douglas, Erin Fitzgerald, Stephen Stanton, Sumalee Montano, Nika Futterman, Melissa Disney, and David Koechner.
Synopsis: Messy and mischievous Marmaduke has a big heart but can't stay out of trouble! Does he have what it takes to shine in the swanky dog show world?
Marmaduke Netflix release date: May 6, 2022
The Twin
The Twin RLJE Films' psychological horror film directed by Taneli Mustonen. The original screenplay is written by Taneli Mustonen and Aleksi Hyvärinen, who also produced the film.
It stars Teresa Palmer, Steven Cree, Tristan Ruggeri, and Barbara Marten. It so far holds a 50% RT score based on 14 reviews. The film will be released in limited theaters, on-demand, and stream exclusively on Shudder starting May 6, 2022.
Synopsis: Following the aftermath of a tragic accident that claimed the life of one of their twins, Rachel (Palmer) and Anthony (Cree) relocate to the other side of the world with their surviving son (Ruggeri). What begins as a time of healing in the quiet Scandinavian countryside soon takes an ominous turn when Rachel begins to unravel the torturous truth about her son and confronts the malicious forces that are trying to take hold of him.
The Twin (limited theaters, VOD, and Shudder) release date: May 6, 2022
Anaïs in Love
Anaïs in Love is Magnolia Pictures' French comedy film directed by Charline Bourgeois-Tacquet. It stars Anaïs Demoustier, Valeria Bruni Tedeschi, Denis Podalydès, and Christophe Montenez.
Synopsis: Follows Anaïs (Demoustier), a 30-year-old woman that is broke and has a lover she doesn't think she loves anymore. She meets Daniel (Podalydè), who immediately falls for her, but Daniel lives with Emilie (Tedeschi) – who Anaïs also falls for.
The film was shown in the International Critics' Week section at the 2021 Cannes Film Festival. It currently has an 88% RT score based on 42 reviews with praise for its cast and the story. It had a limited theatrical release on April 29, 2022, and now it is scheduled for an on-demand release.
Anaïs in Love VOD release date: May 6, 2022
Shepherd
Shepherd is Saban Films' horror mystery drama written and directed by Russell Owen. The film stars Tom Hughes, Kate Dickie, Gaia Weiss, Jamie Marie Leary, and Greta Scacchi. Shepherd is a stylish, supernatural horror thriller.
Synopsis: Haunted by the recent death of his wife, widower Eric Black (Hughes) seeks solitude as a shepherd on a remote Scottish island. As the bleak desolation of the foreboding landscape and terrifying visions begin to overwhelm him, Eric is pushed to the brink of madness.
Shepherd had its world premiere at the BFI London Film Festival on 14 October 2021 and was released in the UK on 26 November 2021. The R-rated thriller currently holds a 72% RT score based on 32 reviews. Now the film is scheduled for a limited theatrical release on May 6 followed by an on-demand release on May 10.
Shepherd VOD release date: May 10, 2022
Operation Mincemeat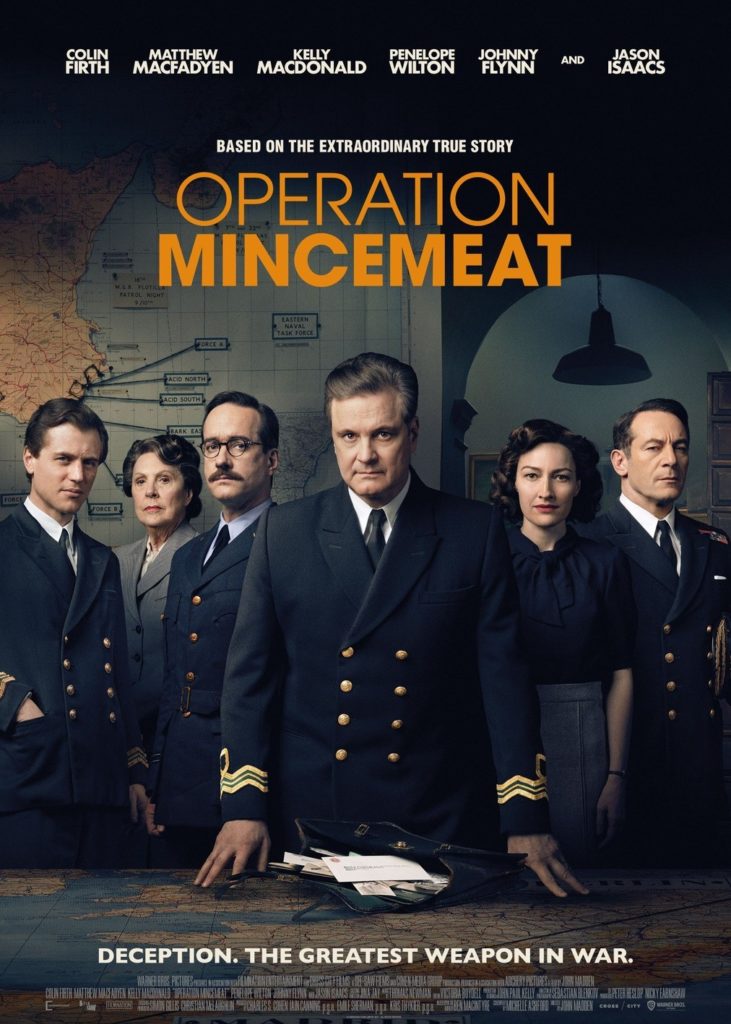 Operation Mincemeat is Netflix's original war drama directed by John Madden. It is based upon Ben Macintyre's book on the British Operation Mincemeat during the Second World War. The film stars Colin Firth, Kelly Macdonald, Matthew Macfadyen, Penelope Wilton, Johnny Flynn, and Jason Isaacs.
Synopsis: It's 1943. The Allies are determined to break Hitler's grip on occupied Europe, and plan an all-out assault on Sicily; but they face an impossible challenge — how to protect a massive invasion force from a potential massacre. It falls to two remarkable intelligence officers, Ewen Montagu (Firth) and Charles Cholmondeley (Macfadyen) to dream the most inspired and improbable disinformation strategy of the war — centered on the most unlikely of secret agents: a dead man.
Operation Mincemeat is the extraordinary and true story of an idea that hoped to alter the course of the war — defying logic, risking countless thousands of lives, and testing the nerves of its creators to breaking point.
The film had its world premiere at the 2021 British Film Festival in Australia and was released in the UK on 15 April 2022 by Warner Bros. Pictures. It currently holds a 92% RT score based on 39 reviews and the cast was praised. Netflix purchased the rights to the film in North America and Latin America, and it is scheduled for a limited theatrical release on May 6 and will be released on Netflix on May 11.
Operation Mincemeat Netflix release date: May 11, 2022
Firestarter
Firestarter is Universal Pictures' sci-fi horror drama thriller directed by Keith Thomas, from a screenplay by Scott Teems, based on the bestseller novel of the same name by the legendary Stephen King. The film is produced by Jason Blum and Akiva Goldsman under their Blumhouse Productions.
It stars Zac Efron, Ryan Kiera Armstrong, Sydney Lemmon, Kurtwood Smith, John Beasley, Michael Greyeyes, Tina Jung, and Gloria Reuben. It is a reboot of the 1984 film adaptation of the same name.
Synopsis: For more than a decade, parents Andy (Efron) and Vicky (Lemmon) have been on the run, desperate to hide their daughter Charlie (Armstrong) from a shadowy federal agency that wants to harness her unprecedented gift for creating fire into a weapon of mass destruction. Andy has taught Charlie how to defuse her power, which is triggered by anger or pain.
But as Charlie turns 11, the fire becomes harder and harder to control. After an incident reveals the family's location, a mysterious operative (Greyeyes) is deployed to hunt down the family and seize Charlie once and for all. Charlie has other plans.
Firestarter is scheduled to be released in theatres worldwide and on the Peacock streaming service in the US simultaneously. The R-rated horror drama is a must-watch film, especially for Stephen King fans and the genre fans in general.
Firestarter (in theaters globally and on Peacock) release date: May 13, 2022
Sneakerella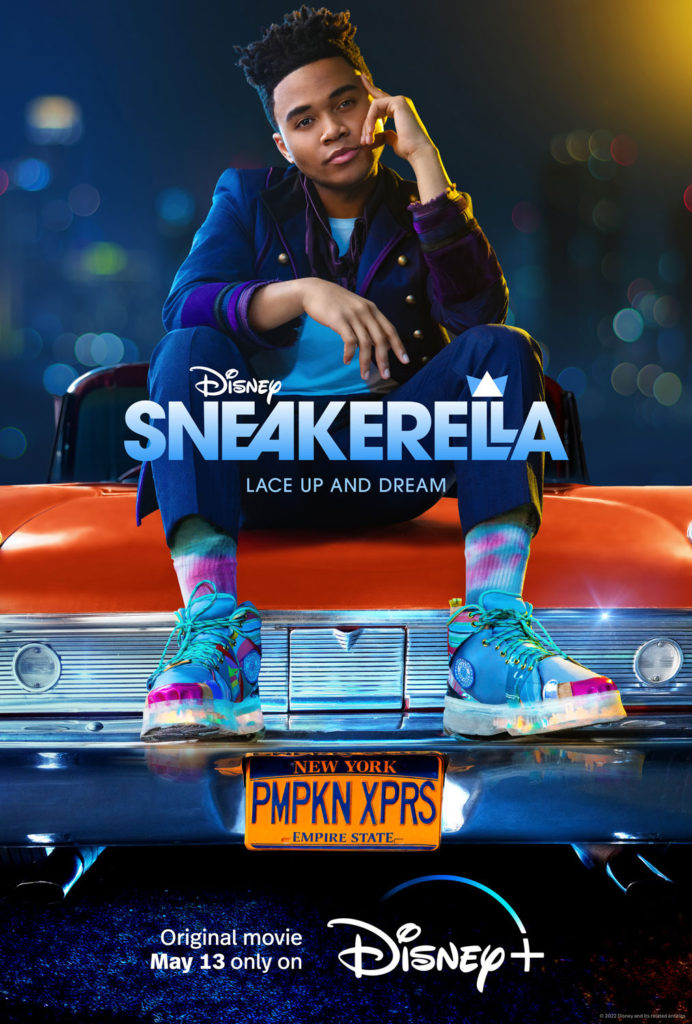 Sneakerella is Disney+ original musical comedy film directed by Elizabeth Allen Rosenbaum and written by David Light & Joseph Raso, Tamara Chestna, Mindy Stern, and George Gore II. A re-imagining of the classic fairy tale Cinderella.
The film will star Chosen Jacobs, Lexi Underwood, John Salley, Yvonne Senat Jones, Devyn Nekoda, Juan Chioran, Robyn Alomar, Kolton Stewart, Hayward Leach, and Bryan Terrell Clark.
Synopsis: El (Jacobs), an aspiring sneaker designer from Queens, works as a stock boy in a shoe store and hides his artistic talent. Sparks fly after a chance encounter with Kira King (Underwood), the daughter of sneaker royalty and a Manhattan Princess Charming of sorts. With a nudge from his best friend, Sami (Nekoda), and a touch of magic, El finds the courage to lace up and dream big.
Sneakerella Disney+ release date: May 13, 2022
Senior Year
Senior Year is Netflix's original comedy film directed by Alex Hardcastle in his feature film directorial debut from an original screenplay by Andrew Knauer, Arthur Pielli, and Brandon Scott Jones. The R-rated comedy is scheduled to be released on Netflix.
Rebel Wilson stars as Stephanie Conway and Angourie Rice as teenage Stephanie. Also, starring is Justin Hartley, Sam Richardson, Mary Holland, Zoë Chao, Tyler Barnhardt, Avantika Vandanapu, Chris Parnell, Michael Cimino, Jeremy Ray Taylor, Joshua Colley, and Alicia Silverstone.
Synopsis: In 2002, high-school cheerleader Stephanie Conway (Wilson) suffers a head injury and falls into a coma before her senior prom. 20 years later, she wakes up to discover that she is now a 37-year-old woman. Upset about not being able to finish high school, she decides to re-enroll with the reluctant support of her parents.
Senior Year Netflix release date: May 13, 2022
Monstrous
Monstrous is Screen Media Films' supernatural mystery thriller directed by Chris Sivertson and written by Carol Chrest. It stars Christina Ricci, Santino Barnard, Colleen Camp, Lew Temple, and Nick Vallelonga.
Synopsis: A terrifying new horror awaits Laura (Ricci) and her seven-year-old son Cody (Barnard) when they flee her abusive ex-husband and try to settle into a new life in an idyllic and remote lakeside farmhouse. Still traumatized, their physical and mental well-being are pushed to the limit as their fragile existence is threatened by the possibility of his return as well as the presence of a monster lurking in a nearby lake.
The film premiered at the Glasgow Film Festival on March 12, 2022. It is scheduled to be released in limited theatres and through VOD simultaneously.
Monstrous (limited theatres & VOD) release date: May 13, 2022
Homebound
Homebound is Brainstorm Media's mystery thriller drama written and drama directed by Sebastian Godwin in his first feature film directorial debut. It stars Tom Goodman-Hill, Aisling Loftus, Raffiella Chapman, Lukas Rolfe, and Hattie Gotobed. It so far holds a 75% RT score based on 12 reviews. It is scheduled to be released in limited theatres and through VOD simultaneously.
Synopsis: A trip to the countryside turns out to be far from idyllic for a father and his new fiancee when they arrive to find his ex-wife missing and the kids decide the house is a little too crowded and act strange.
Homebound (limited theatres & VOD) release date: May 13, 2022
On the Count of Three
On the Count of Three is United Artists Releasing's dark comedy thriller drama directed by Jerrod Carmichael in his directorial debut, from a screenplay by Ari Katcher and Ryan Welch.
It stars Jerrod Carmichael, Christopher Abbott, Tiffany Haddish, J. B. Smoove, Lavell Crawford, and Henry Winkler. It is a darkly comic feature about two best friends, Val (Carmichael) and Kevin (Abbott), on the last day of their lives.
The film had its world premiere at the 2021 Sundance Film Festival on January 29, 2021, where Katcher and Welch were awarded the Waldo Salt Screenwriting Award. It so far holds an 86% RT score based on 66 reviews with praise for its script and the director/star. The R-rated comedy is scheduled to be released in limited theatres and on-demand simultaneously. It is a must-watch film.
On the Count of Three (limited theatres & VOD) release date: May 13, 2022
Hatching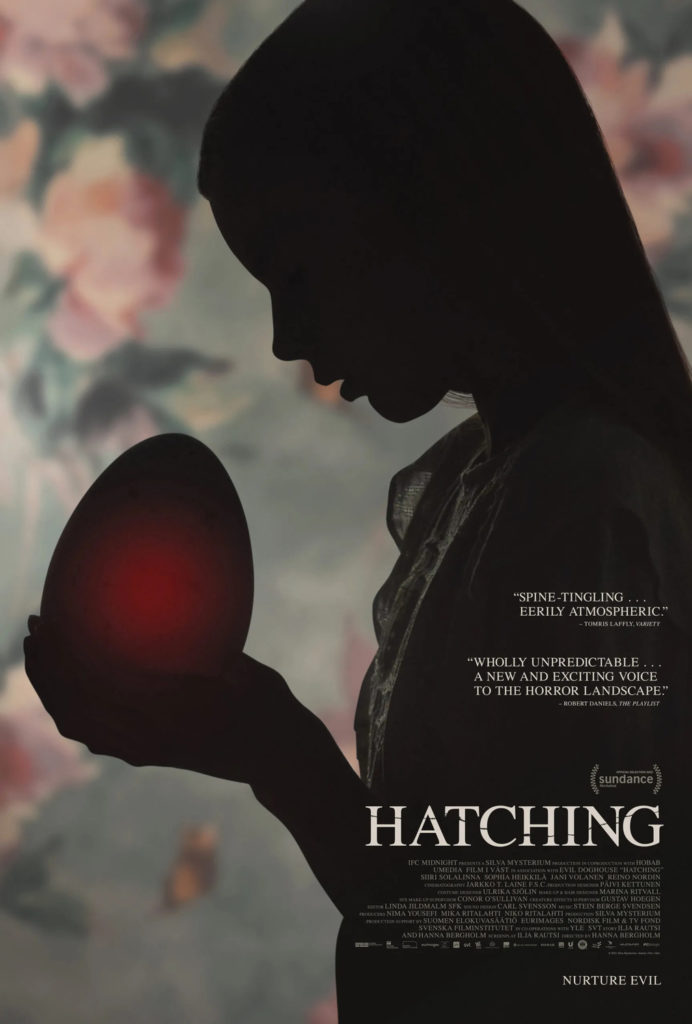 Hatching (Original title: Pahanhautoja) is IFC Midnight's Finnish body horror film directed by Hanna Bergholm in her feature film directorial debut and written by Ilja Rautsi. The film stars Siiri Solalinna, Sophia Heikkilä, Jani Volanen, Reino Nordin, and Saija Lentonen.
Synopsis: 12-year-old gymnast, Tinja (Solalinna), is desperate to please her image-obsessed mother, whose popular blog 'Lovely Everyday Life' presents their family's idyllic existence as manicured suburban perfection. One day, after finding a wounded bird in the woods, Tinja brings its strange egg home, nestles it in her bed, and nurtures it until it hatches.
The creature that emerges becomes her closest friend and a living nightmare as it grows into a doppelgänger that acts upon Tinja's repressed emotions, plunging Tinja beneath the impeccable veneer into a twisted reality that her mother refuses to see.
It premiered at the 2022 Sundance Film Festival on January 23. It won the Grand Prix and the Prix du jury Jeunes at the festival. It currently holds a 92% RT score based on 84 reviews with praise for its story and the director. The film received a limited theatrical release on April 29. Now the R-rated Finnish language film is set to be released through VOD.
Hatching VOD release date: May 17, 2022
A Perfect Pairing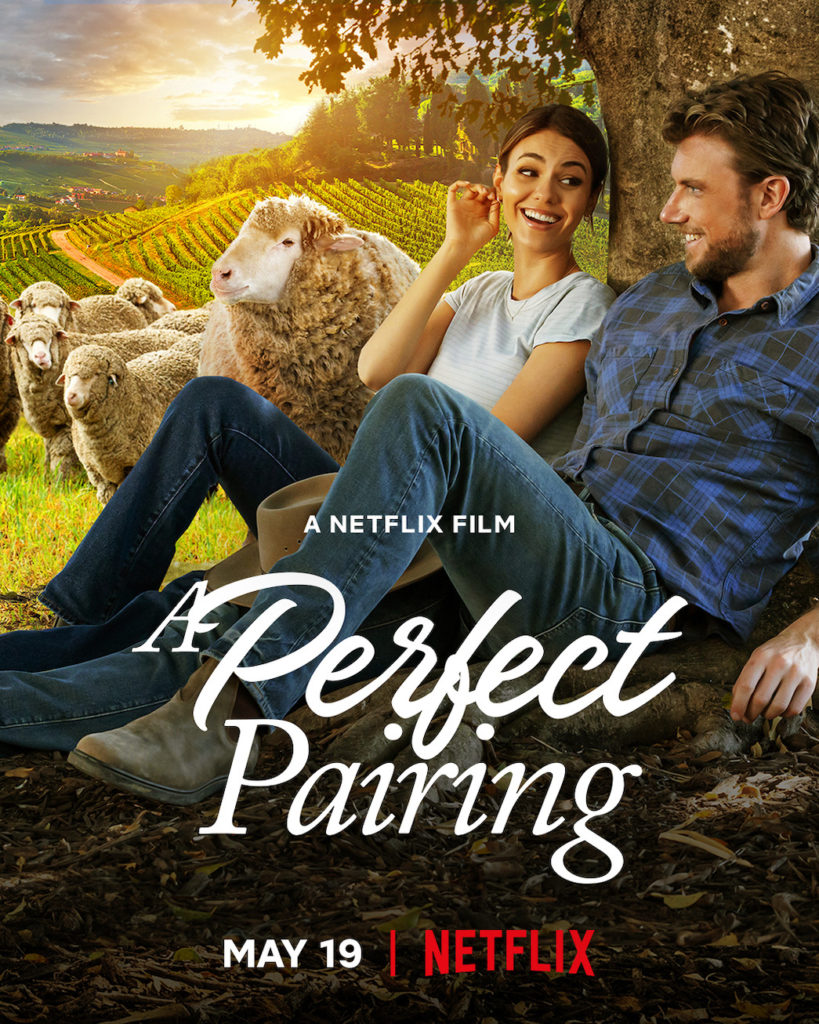 A Perfect Pairing is Netflix's romantic comedy directed by Stuart McDonald and written by Hilary Galanoy and Elizabeth Hackett. It stars Victoria Justice, Adam Demos, Luca Sardelis, Samantha Tolj, Craig Horner, Antonio Alvarez, Lucy Durack, Emily Haven, Natalie Abbott, and Jayden Popik.
Synopsis: It follows a hard-driving LA wine company executive Lola Alvarez (Justice), who travels to an Australian sheep station to land a major client and there she ends up working as a ranch hand and sparking with a rugged and mysterious local (Demos).
A Perfect Pairing Netflix release date: May 19, 2022
Downton Abbey: A New Era
Downton Abbey: A New Era is Focus Features' historical drama film and the sequel to the 2019 film Downton Abbey. Both films were written by Julian Fellowes, the creator, and writer of the television series of the same name, with the sequel being directed by Simon Curtis, replacing Michael Engler who directed the first film.
The principal cast of the first film returned. Hugh Bonneville, Samantha Bond, Laura Carmichael, Jim Carter, Raquel Cassidy, Jonathan Coy, Brendan Coyle, Michelle Dockery, Kevin Doyle, Michael Fox, Joanne Froggatt, Robert James-Collier, Harry Hadden-Paton, Sue Johnston, Allen Leech, Phyllis Logan, Alex Macqueen, Elizabeth McGovern, Sophie McShera, Tuppence Middleton, Lesley Nicol, Douglas Reith, Maggie Smith, Imelda Staunton, and Penelope Wilton reprise their roles. Joining the cast are Hugh Dancy, Laura Haddock, Nathalie Baye, Dominic West, and Jonathan Zaccaï.
Synopsis: The much-anticipated cinematic return of the global phenomenon reunites the beloved cast as they go on a grand journey to the South of France to uncover the mystery of the Dowager Countess' newly inherited villa.
Downton Abbey: A New Era was released in the UK on 29 April 2022 by Universal Pictures. It so far has a 73% RT score based on 52 reviews. Now it is scheduled for a wide theatrical release by Focus Features. It is a must-watch film for Downton Abbey fans.
Downton Abbey: A New Era release date: May 20, 2022
Chip 'n Dale: Rescue Rangers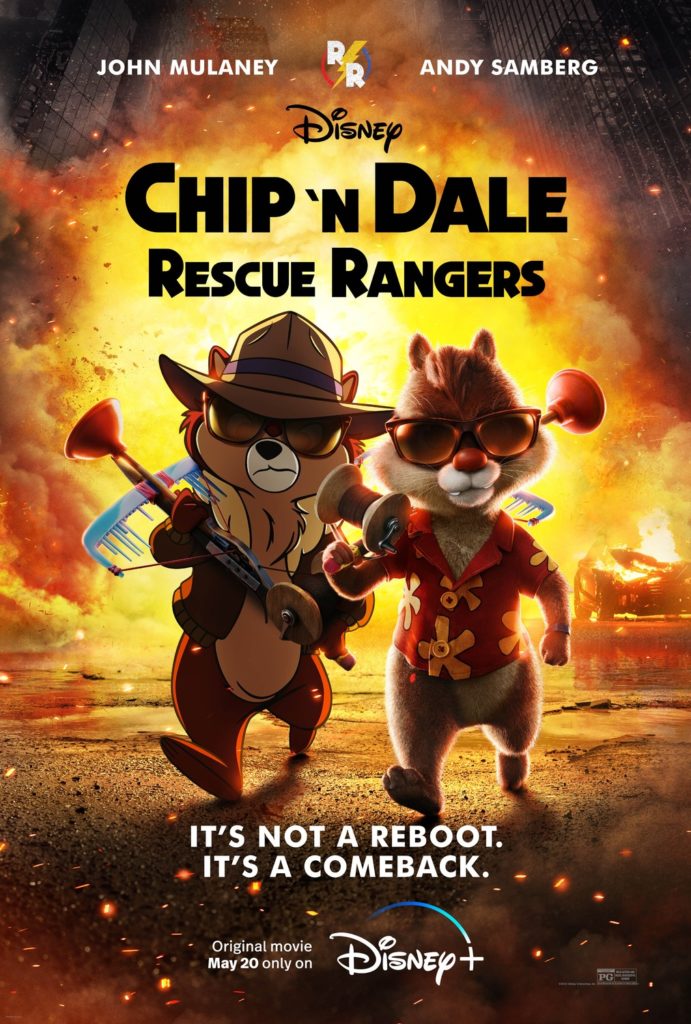 Chip 'n Dale: Rescue Rangers is a Disney+ original live-action/animated hybrid action-adventure comedy film based on the animated titular Disney characters of the same name and a continuation of the animated TV series of the same name. The film is directed by Akiva Schaffer and written by Dan Gregor and Doug Mand. It is a must-watch film for Chip 'n Dale fans and family audiences in general.
John Mulaney will voice Chip, Andy Samberg voices Dale, and Tress MacNeille voices Gadget Hackwrench. Other voice cast includes Seth Rogen, J. K. Simmons, Will Arnett, Eric Bana, and Corey Burton. Also, Tress MacNeille and Corey Burton, Chip's & Dale's series voices, will reprise their roles from the original series as well. Rogen also reprises his role as Pumbaa from the 2019 version of The Lion King.
Live-action cast includes KiKi Layne, Tim Robinson, Chris Parnell, Dennis Haysbert, Flula Borg, and Keegan-Michael Key. Samberg Dale's present-day appearance is depicted with photorealistic computer animation rather than cel-shaded animation like the other members of the team.
Synopsis: In "Chip 'n Dale: Rescue Rangers," Chip and Dale are living amongst cartoons and humans in modern-day Los Angeles, but their lives are quite different now. It has been thirty years since their successful television series was canceled, and Chip (Mulaney) has succumbed to a life of suburban domesticity as an insurance salesman.
Dale (Sandberg), meanwhile, has had CGI surgery and works the nostalgia convention circuit, desperate to relive his glory days. When a former castmate mysteriously disappears, Chip and Dale must repair their broken friendship, reunite with the rest of the group, and take on their Rescue Rangers detective personas once again to save their friend's life.
Chip 'n Dale: Rescue Rangers Disney+ release date: May 20, 2022
The Valet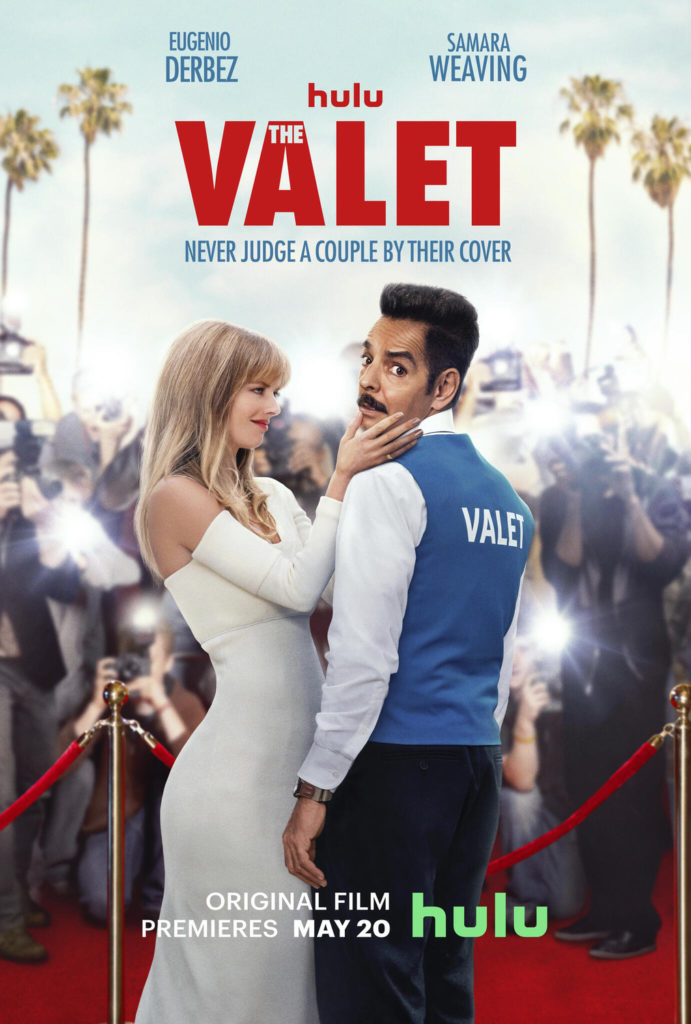 The Valet is Hulu's original romantic comedy directed by Richard Wong and written by Rob Greenberg and Bob Fisher. It is a remake of the French film The Valet (2006) by Francis Veber. In July 2021, Hulu acquired U.S. distribution rights to the film, with Disney+ set to distribute internationally through the Star content hub.
It stars Eugenio Derbez, Samara Weaving, Betsy Brandt, Carmen Salinas, Amaury Nolasco, Marisol Nichols, Diany Rodriguez, Tiana Okoye, John Pirruccello, Ravi Patel, Noemi Gonzalez, Lunay, Max Greenfield, Armando Hernández, and Carlos Santos.
Synopsis: A world-famous movie star, Olivia (Weaving) faces a PR disaster when a paparazzi snaps a photo of her with her married lover, Vincent (Greenfield). The hard-working valet Antonio (Derbez) accidentally appears in the same photo and is enlisted to pose as Olivia's new boyfriend as a cover-up. This ruse with Olivia thrusts Antonio into the spotlight and unexpected chaos. In this fish out of water romantic comedy, two worlds and cultures collide as both Olivia and Antonio start to see themselves more clearly than ever before.
The Valet Hulu release date: May 20, 2022
Top Gun: Maverick
Top Gun: Maverick is Paramount Pictures' action drama film directed by Joseph Kosinski. It was written by Ehren Kruger, Eric Warren Singer, and Christopher McQuarrie, from a story conceived by Peter Craig and Justin Marks. It is produced by Jerry Bruckheimer, Tom Cruise, Christopher McQuarrie, and David Ellison. It is the sequel to the iconic Top Gun (1986) film directed by Tony Scott and starring Tom Cruise.
The film stars Tom Cruise as test pilot Maverick, alongside Miles Teller, Jennifer Connelly, Jon Hamm, Glen Powell, Lewis Pullman, Ed Harris, Monica Barbaro, Charles Parnell, Jay Ellis, Danny Ramirez, Greg Tarzan Davis, Manny Jacinto, Bashir Salahuddin, Jake Picking, Raymond Lee, Lyliana Wray, Bob Stephenson, Chelsea Harris, and Val Kilmer. Jean Louisa Kelly portrays Carole Bradshaw previously portrayed by Meg Ryan in the first film.
Synopsis: After more than thirty years of service as one of the Navy's top aviators, Pete "Maverick" Mitchell (Cruise) is where he belongs, pushing the envelope as a courageous test pilot and dodging the advancement in rank that would ground him.
When he finds himself training a detachment of Top Gun graduates for a specialized mission the likes of which no living pilot has ever seen, Maverick encounters Lt. Bradley Bradshaw (Teller), call sign: "Rooster," the son of Maverick's late friend and Radar Intercept Officer Lt. Nick Bradshaw, aka "Goose". Facing an uncertain future and confronting the ghosts of his past, Maverick is drawn into a confrontation with his own deepest fears, culminating in a mission that demands the ultimate sacrifice from those who will be chosen to fly it.
Cruise and Kilmer are the only ones to reprise their roles from the first film. The soundtrack for the film includes a new song by Lady Gaga, "Hold My Hand"; she also composed the score alongside Hans Zimmer, Lorne Balfe, and Harold Faltermeyer. The trailers for this film have been awesome.
The film was originally scheduled to be released on July 12, 2019, but was postponed due to the requirement for more time to finish the complex flight sequences and then was further delayed by the pandemic and scheduling conflicts.
The film had its world premiere at CinemaCon on April 28, 2022. A global premiere was hosted in San Diego, California, on May 4. It will also have a screening at the Cannes Film Festival on May 18 in an Official Selection Screening. It is scheduled to be released in theaters worldwide on May 27.
Top Gun: Maverick is one of the highly anticipated films of 2022, fans of the original were eagerly waiting for its release and the movie is finally ready to take off. Top Gun is a kind of movie that will be epic to experience in a theatre. This is a must-watch film for everyone.
Top Gun: Maverick release date: May 27, 2022
The Bob's Burgers Movie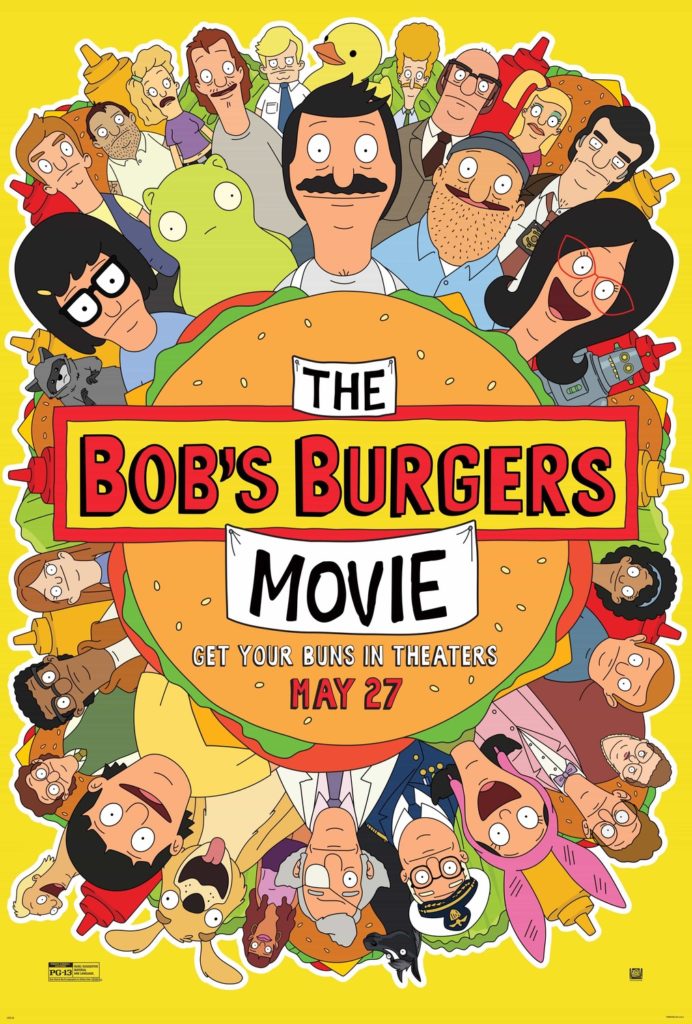 The Bob's Burgers Movie is 20th Century Animation's animated musical comedy film based on the long-running animated television series Bob's Burgers created by Loren Bouchard, who co-wrote, co-produced, and directed in his feature directorial debut with Bernard Derriman.
The original voice cast from the series reprises their roles including H. Jon Benjamin, Dan Mintz, Eugene Mirman, Larry Murphy, John Roberts, Kristen Schaal, Zach Galifianakis, and Kevin Kline. New cast includes
David Wain, Sam Seder, Aziz Ansari, David Herman, Gary Cole, Brian Huskey, Jenny Slate, Ron Lynch, and Stephanie Beatriz.
Synopsis: The story begins when ruptured water main creates an enormous sinkhole right in front of Bob's Burgers, blocking the entrance indefinitely and ruining the Belchers' plans for a successful summer. While Bob and Linda struggle to keep the business afloat, the kids try to solve a mystery that could save their family's restaurant. As the dangers mount, these underdogs help each other find hope and fight to get back behind the counter, where they belong.
The Bob's Burgers Movie is scheduled to be theatrically released worldwide by 20th Century Studios on May 27, after facing delays of almost two years due to the pandemic. Fans of the show shouldn't miss this movie.
The Bob's Burgers Movie release date: May 27, 2022
RELATED: THE BOB'S BURGERS MOVIE TRAILER TEASES THE 3 BIG M'S – MYSTERY, MEAT, MAYHEM!
Emergency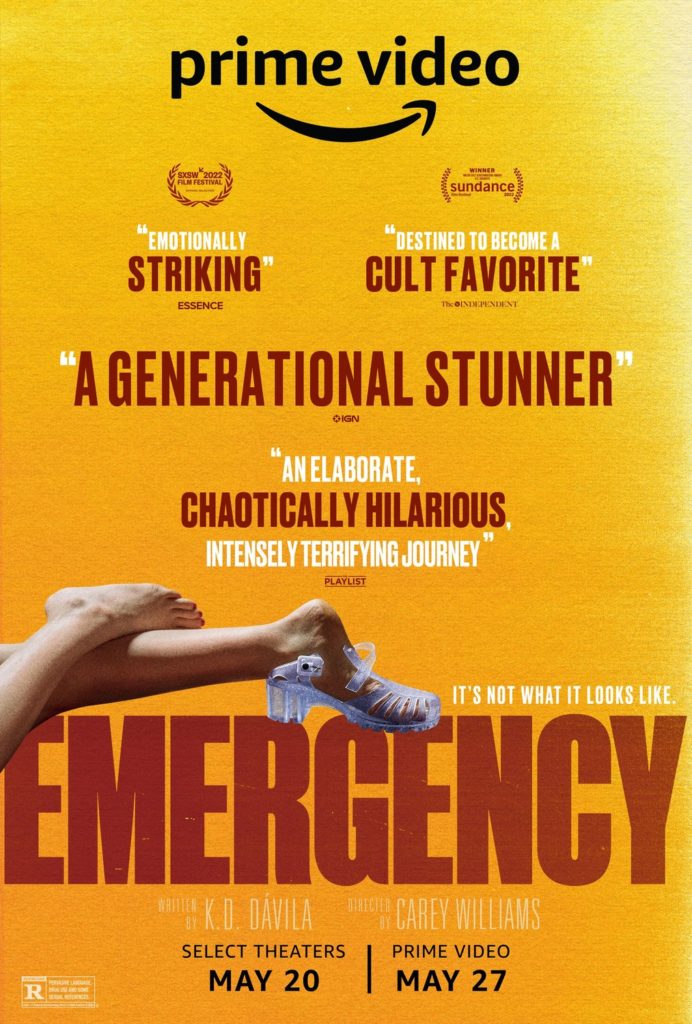 Emergency is Amazon Prime's original satirical thriller film directed by Carey Williams from a screenplay by KD Dávila. It is a feature-length adaptation of Williams and Dávila's 2018 short film of the same name.
It stars RJ Cyler, Donald Elise Watkins, Sebastian Chacon, Maddie Nichols, Sabrina Carpenter, Madison Thompson, Diego Abraham, Summer Madison, Gillian Rabin, Patrick Lamont Jr., Robert Hamilton, and Melanie Jeffcoat.
Synopsis: Kunle (Watkins) and his best friend, Sean (Cyler), are both seniors in college about to embark on an epic night of Spring Break parties. Sean has the whole night planned out, including every party they will hit on their "legendary tour." Kunle is down, yet mostly concerned with finishing up his mold experiment in his lab, as his acceptance to Princeton is hinging on the results.
They return to their apartment to pre-game, yet find that their roommate, Carlos (Chacon), left the door open. As they enter with trepidation, Sean and Kunle discover a drunk, semi-conscious White female they don't know on the floor, and an oblivious Carlos, who didn't hear her come in over the videogame blaring in his ears. 
Kunle wants to call the cops but Sean vehemently opposes the idea concerned about how it will look when the cops show up (two Black men, one Latino man, and a passed out White woman). Together, Carlos, Sean, and Kunle load the girl — who they nickname Goldilocks, but whose real name is Emma (Nichols) — into Sean's van, with the intention of taking her somewhere safe rather than calling the police.
Meanwhile, Emma's sister, Maddy (Carpenter), has realized that Emma left the party they were at, and begins to search for her in a drunk panic using Emma's phone's location. What ensues is a chaotic, hilarious, and tension-filled chase all over town as our trio grapples with their differences while attempting to bring Emma to safety.
It premiered at the 2022 Sundance Film Festival. It currently holds a 94% RT score based on 70 reviews with praise for its story. Distributed by Amazon Studios, it will have a limited release on May 20, 2022, followed by an Amazon Prime release on May 27.
Emergency Amazon Prime release date: May 27, 2022
Which new movies in May 2022 are you most excited about? Which movies will you be seeing during May? Let us know in the comments below or on our social media and be sure to come back to The Illuminerdi for more movie news!