Love, Guaranteed
Love, Guaranteed is a Netflix original romantic-comedy directed by Mark Steven Johnson (Ghost Rider) and written by Hilary Galanoy & Elizabeth Hackett (Falling Inn Love). The movie features Rachael Leigh Cook (Frozen in Love), alongside Damon Wayans Jr. (Big Hero 6) and Heather Graham (Hangover). The rom-com is produced by Leigh Cook. Also starring Kallie Hu (The Flash), Quynh Mi (The Flash), Stephanie Son, Lisa Durupt (Heartland), Jed Rees (Deadpool), Clare Filipow (Batwoman).
The story follows Susan (Cook) an earnest and assiduous attorney, who is endeavouring to rescue her impoverished law firm from an anticipated shutdown. Susan's life takes a turn (probably) for the better when debonair, affluent, and charming client Nick (Wayans Jr.) enlists her to bring a suit against a dating website that guarantees love. Nick hasn't found love even after 986 dates, much to Susan's astonishment. The surprised Susan hence takes up online dating to study the case from her client's perspective. But as the lawsuit heats up, so do Susan and Nick's feelings for each other, Cupid strikes and a passionate comedic romance ensues.
Cook, Johnson, and the film's screenwriters are all regulars in the rom-com genre and Love, Guaranteed looks to be a quintessential one. Cook's return to the genre and her pedigreed pairing with Wayans Jr. gives the movie a refreshing appeal. In summary, Love, Guaranteed may not be a hit with critics, but it still looks to be quite watchable as a budding love story pitched inventively against an entertaining legal drama.
Love, Guaranteed Netflix release date: September 3, 2020
---
Mulan
Mulan is a war/action fantasy drama film which is a live-action feature film adaptation of Disney's 1998 classic animated film 'Mulan'. It is directed by Niki Caro (North Country), with the screenplay by Rick Jaffa & Amanda Silver (Jurassic World), and Lauren Hynek & Elizabeth Martin (Christmas Perfection). It is the most expensive film ever made by a female director. The film stars Liu Yifei (The Forbidden Kingdom) in the title role, alongside Donnie Yen (Ip Man), Jason Scott Lee (Lilo & Stitch), Yoson An (The Meg), Gong Li (Miami Vice), Tzi Ma (The Farewell), Rosalind Chao (Plus One), Ron Yuan (Siren), and Jet Li (The Mummy 3) in supporting roles.
The film is based on the Chinese folk legend, "The Ballad of Mulan". When the Emperor of China issues a decree that one man per family must serve in the Imperial Chinese Army to defend the country from Huns, Hua Mulan, the eldest daughter of an honored warrior, steps in to take the place of her ailing father to battle northern invaders. She is fearless, spirited, determined, and quick on her feet. Disguised as a male warrior by the name of Hua Jun, she is tested every step of the way and must harness her innermost strength and embrace her true potential. It's an epic journey that will transform her into an honored warrior and earn her the respect of a grateful nation…and a proud father.
RELATED: MULAN SEQUEL RUMORED TO BE IN EARLY DEVELOPMENT
Almost all Disney's live-action remakes have had small changes to their stories and are not direct scene-to-scene remakes. However, Mulan's live-action remake has the most major changes compared to all of the other live-action remakes. Some major characters in the original animated movie like Mushu or Cri-Kee as sidekicks are removed, seemingly replaced with a mythological Phoenix in the movie. The cast will not be singing songs from the animated film, instead it will feature instrumental versions of original songs. They are trying to offer a movie that is more action-packed, culturally significant, and closer to the original legend.
The biggest change in this movie is the integration of a new villain Xian Lang (Gong Li), a powerful witch with the ability to shapeshift into a bird of prey. Mulan is one of the highly anticipated movies of this year. It's also the first Disney live-action remake to be given a PG-13 rating. Mulan's premiere was held on March 9th where it received positive first responses. Originally scheduled to be a wide theatrical release, it was delayed multiple times due to the ongoing COVID-19 pandemic.
RELATED: MULAN COMES TO DISNEY PLUS IN SEPTEMBER, BUT AT WHAT COST?
Disney eventually announced that it would instead be released on Disney+ for a premium fee in countries where the service had launched. The movie will be unlocked with a $29.99 price point (in the US) and will remain available to renters for as long as they stay subscribed to Disney+. It will still be released theatrically in countries where theaters have re-opened, such as China, as well as in other countries that do not have Disney+. The film looks stunning with gorgeous sets, costumes, makeup & cinematography along with great action.
Mulan Disney+ PVOD release date: September 4, 2020
---
i'm thinking of ending things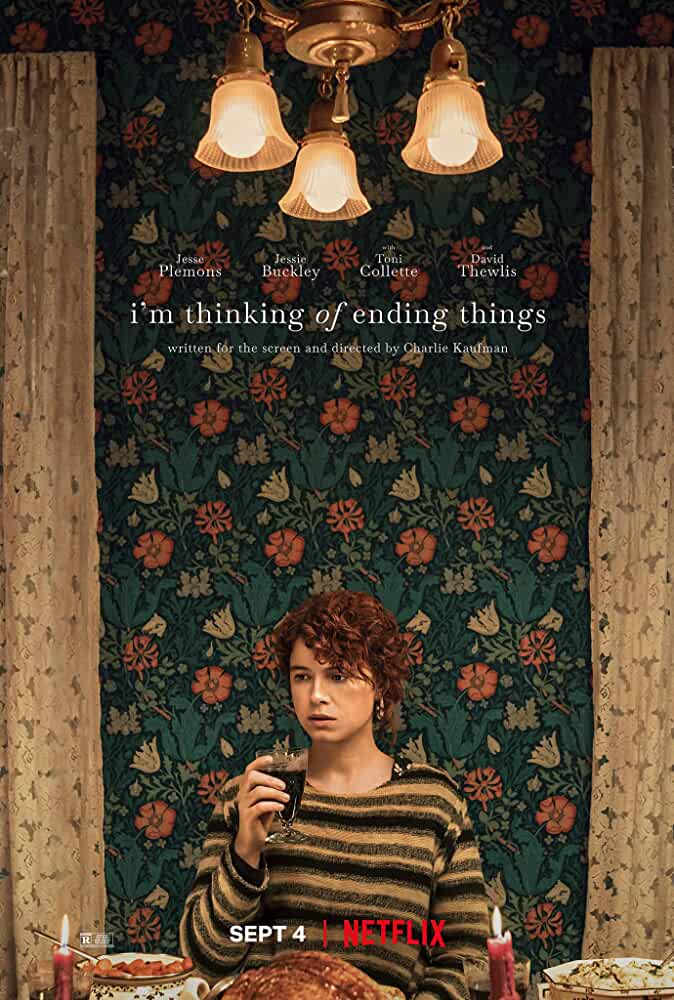 I'm thinking of ending things is a Netflix original psychological horror/ drama thriller directed, written, and co-produced by Charlie Kaufman (Synecdoche, New York & ETERNAL SUNSHINE OF THE SPOTLESS MIND). It's based on the 2016 bestselling novel of the same name by Iain Reid. It's an exploration of regret, longing, and the fragility of the human spirit. The film stars Jessie Buckley (Chernobyl), Jesse Plemons (The Post), Toni Collette (Knives Out), David Thewlis (Harry Potter), and Colby Minifie (The Boys).
The premise is as follows. Despite second thoughts about their relationship, a young woman (Buckley) takes a road trip with her new boyfriend (Plemons) to meet his parents at their remote farm. Trapped at the farm during a snowstorm with Jake's (Collette) and father (Thewlis), the young woman begins to question the nature of everything she knew or understood about her boyfriend, herself, and the world as nothing is as it seems.
As Buckley's character wrestles internally with an ineffable desire to end her relationship, this classic horror film setup soon breaks down, and Buckley's world starts to fall apart. It is Kaufman's version of a horror movie, which is both everything and nothing like what you'd expect from the genre.
Wrapped up in Kaufman's spin on Reid's horror novel, serving as more of a jumping-off point for Kaufman's off-kilter and more comedic vision, is a study in loneliness, a breakup story, and the writer/director's own searching journey through his career. Charlie Kaufman won an Oscar for Best Original Screenplay for Eternal Sunshine of the Spotless Mind. This is his third feature, his other directorial work includes critically acclaimed Synecdoche, New York, and stop motion animated film Anomalisa.
The film holds an RT score of 87% based on 39 reviews with praise for the performances of Buckley and Plemons and the writer-director and the stunning cinematography by Łukasz Żal. It was released in select theaters on August 28, 2020, and is now scheduled to be released on Netflix and this one is not be missed.
I'm thinking of ending things Netflix release date: September 4, 2020
---
The Owners
The Owners is RLJE Films' horror-thriller directed by debut director Julius Berg, with a screenplay by Mathieu Gompel and Berg. It was adapted from the graphic novel Une Nuit de Pleine Lune by Hermann & Yves H. The Owners stars Maisie Williams (The New Mutants), Sylvester McCoy (The Hobbit), Rita Tushingham (The Pale Horse), Ian Kenny (Sing Street), Stacha Hicks (The Children Act), Jake Curran (Fury), and Andrew Ellis (Teen Spirit). The movie is coming to video-on-demand platforms and it looks like a distinctive thriller movie.
The story follows a group of friends who think they found the perfect easy score – an empty house with a safe full of cash. But when the elderly couple that lives there comes home early, the tables are suddenly turned. Things don't go well from there. As a deadly game of cat and mouse ensues, the would-be thieves must fight to save themselves from a nightmare they could never have imagined.
The Owners VOD release date: September 4, 2020